DATES ANNOUNCED FOR 2015 AAU BASEBALL GRAND NATIONALS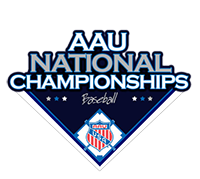 The AAU Baseball Grand Nationals will played June 15 – June 27, 2015, at ESPN Wide World of Sports. The 9U, 10U, and high school players will compete June 15 – 20, followed by the 11U, 12U, and 13U June 21 – 27. Registration for week 1 will be held on June 14, and for week 2 on June 20. All games will be played on ESPN Wide World of Sports fields and no offsite locations will be used. That means there will be limited berths available so you'll want to sign up early and not get left out.

To file your Intent to Participate, go to www.aaubaseball.org and click on the red box that says AAU National Championships. The entry fee is only $850 for a 7-game guarantee. You won't find that deal anywhere else!
124th AAU NATIONAL CONVENTION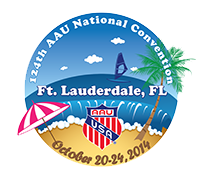 October 20th – 24th
Ft. Lauderdale, Florida
Convention Schedule:
Click Here

Attendee & Guest Online Registration: Click Here

Hotel Reservations: Click Here

Travel Information: Click Here
2015 AAU TAEKWONDO TEAM TRIALS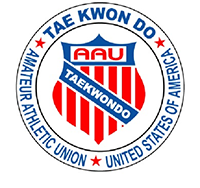 The 2015 AAU Taekwondo Team Trials will take place this weekend in Ft. Lauderdale, Florida at the Greater Ft. Lauderdale/Broward County Convention Center. Team Trials are conducted for Cadet (12-14) and Junior (15-17) athletes who placed 1st, 2nd, 3rd at the 2014 AAU Taekwondo National Championships in their respective weight class and division along with returning team members.

This year, over 140+ athletes will be competing for the one spot in each weight division for both male and female on Saturday, September 6th and Sunday, September 7th. To download the schedule of events, Click Here or to see who is registered for Athletes (Click Here) or Coaches (Click Here)

For more information on the event, visit www.aautaekwondo.org.
2014 WEST COAST AAU JUNIOR OLYMPIC GAMES BEACH VOLLEYBALL CHAMPIONSHIPS
On July 26th and 27th, nearly 500 AAU members flocked to the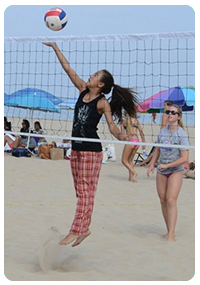 beach to compete in the West Coast AAU Junior Olympic Games' Beach Volleyball competition. More than fifty courts were set up on Hermosa Beach in California for the 241 teams from three different countries to show off their skills.

Most of the teams came from California, but a whopping 51 teams traveled all the way from Texas to compete in the two day event! Florida had the third most with 26 teams. One of the Florida teams was invited to the USA HP Camp in Hermosa but decided they wanted to compete in the West Coast AAU Junior Olympic Games instead.

They were unable to qualify in their own area, so they traveled to a neighboring state to participate in a qualifying tournament! Although this may not be uncommon for other sports, it is a testament to the growth of beach volleyball and the quality event of the West Coast AAU Junior Olympic Games and we are so ecstatic that they chose to participate in our AAU event!

CLICK HERE for FULL RESULTS

CLICK HERE for ACTION PHOTOS!
AAU CROWNS NEW BEACH VOLLEYBALL NATIONAL CHAMPIONS
Originally posted on DailyBreezeVolleyball.com by Thuc Nhi Nguyen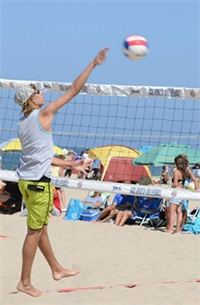 The final whistle blew and the celebration for a gold medal commenced. But Jon Minsberg wasn't thinking like a champion.
After he and partner Noah Dyer won the U16 boys division at the 21st AAU Beach National Championships at Hermosa Beach on Sunday, Minsberg thought, "Gosh, I suck."

If that was indeed the case Minsberg, who admitted to being nervous toward the end of the match, was lucky he had Dyer with him. The pair, one of about 250 teams to play in the two-day event, was playing in its first season together on the beach and beat Jackson Bacil (El Segundo) and Sebastian Roca (Tierra Verde, Fla.) 21–14 for the championship.

The duo met at Saddleback Valley Christian High School and took their talents to the beach. Their chemistry off the sand transfers into the matches and helped them win their first national championship together.

"We're good friends, so we really mesh well together," Dyer said.
Added Minsberg: "He puts up good sets, and if I put up a decent enough set he's going to put it away, no matter what."

In the U16 girls division, another new duo took home the championship. Chicago's Brooke Burling and Josie Herbst of Davenport, Iowa won 21-19. They had two missed chances for the championship before Herbst sealed the win on a kill she tapped over her would-be blocker.

It was the first national championship for Burling and Herbst, who said adding a national title to their beach volleyball resumes was their greatest accomplishment on the sand. The pairing may be new, but the chemistry came almost instantly because their games complement each other.

"I love our energy together," Burling said. "She's a great hitter and I'm a better shooter. She's a great blocker and I'm the defender.
"We just click."

In the U18 girls division Jo Kremer and Julia Mannisto, who were named beach volleyball All-Americans this past season, came up short of the championship and lost to Arizona's Madeline Mertz and Madalyn Roh 21-19.

Kremer, a Harvard-Westlake graduate, will play collegiately at Notre Dame. Westlake's Mannisto is bound for South Carolina, where she will play sand volleyball.

Hermosa Beach's Luke Grafton and Manhattan Beach's Dane Johnson won the U14 boys' division. Marissa Ramsey (Laguna Niguel) and Presley Forbes (Manhattan Beach) won the U15 girls' championship.
2015 MEMBERSHIPS NOW AVAILABLE
SIGN UP TODAY!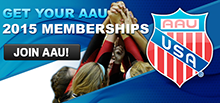 Youth Athlete fees are $14 for regular or $16 for *extended benefit Memberships.
READY SET PARTICIPATE!
Be Prepared
Background screening a new benefit of membership for all Adult and Non Athlete Members.
(Adult and Non Athlete Membership are not instant). Non Athlete fees are $16 for regular or $18 for *extended benefit Memberships.
JOIN NOW: CLICK HERE
KNOW YOUR BENEFITS OF MEMBERSHIP!

Insurance Coverage click here for our insurance summary
Only ONE youth membership required for Participation Opportunities in more than 30 sports
Click here for the find an event list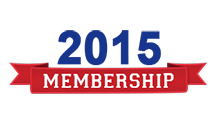 The AAU is one of the largest, non-profit, volunteer sports organizations in the United States. A Multi-sports organization that is dedicated exclusively the promotion and development of amateur sports and physical fitness programs for it's members.
*The Extended Coverage (AB) coverage program was developed to extend coverage for AAU members while participating in events hosted by organizations that are not member clubs of the AAU. Coverage in this program is provided for properly registered athletes or non-athletes for events in the United States of America (including its territories and possessions) and Puerto Rico.
2014 AAU CLUB NATIONAL CHAMPIONSHIPS–WRAP UP

All eyes were on AAU Track and Field Club National Championships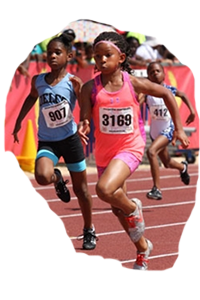 the week of July 7th through 13th as nearly 5,000 athletes representing 324 teams with coaches and families in tow, took to ESPN's Wide World of Sports to compete for the title of Club National Champion.

This year, not only was this tournament the largest it has ever been, but there was a great representation from the United States and abroad. Athletes traveled from a number of countries including Puerto Rico, Jamaica, Bahamas, the United Kingdom, Finland, Norway, Canada and Colombia to participate.

Competition saw some incredible displays of athleticism this year with over 75 total meet records broken in running and field events over the week span.

Sisters Rachelle, and Charmaine De Orbeta, of Bayamon Club, broke the 3000 meter racewalk records. Rachelle (14:38.44) in the 14 year old 3000m racewalk and Charmaine (15:06.66) in the 15-16 year old 3000m racewalk.

Nicole Green of the Young Achievers broke a record held for fifteen years in the 17-18 year old women's high jump with a jump of 5 feet 10 inches.

(For the full records list CLICK HERE.)

The 100 meter prelims were run on Wednesday, where 213 heats were run in two hours and fifty-seven minutes. 37% of athletes registered for the meet ran in the 100m prelims.

On Thursday, The 200 meter prelims ran 266 heats in three hours and twenty-five minutes averaging 45 seconds per heat with 45% of athletes registered in the meet participating. This is the largest number of athletes competing in the 200 in this meet and also the AAU Junior Olympic Games.

Combined, athletes ran 82,000 meters or 17 miles of 400 meter races on Friday. For the first time in an AAU track meet, two races were being timed on the track simultaneously during the 400's, drastically cutting the time to four hours and five minutes total. 34.8% of athletes competing ran in the 400 meter prelims.

After a grueling week of competition, on Sunday when the final race wrapped up on the track, the club awards were announced. Track Houston took home the overall Club Championship team award with a team total of 590.50 points. Miami Gardens Xpress came in second with a score of 286 points and Cupey Track Club just trailed them in third with a score of 322.50 points.

Congratulations to ALL of the athletes who participated in the Club National Championships and a special congratulations to all of our newly crowned National Champions and All Americans! We hope to see everyone back on the track in Des Moines for the AAU Junior Olympic Games and once again at Club Championships in 2015!
2014 PRIMARY NATIONALS RECAP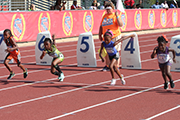 With over 550 athletes ages 5-8 (and some even younger)! coming from all over America as well as Puerto Rico, the 2014 AAU Primary Nationals saw incredible talent over the two-day event, July 5-6.

From the triathlon (long jump, shot put, and either a 55m or 100m sprint), to hurdles, to field events, to all distances of running events, these kids showed their fearlessness and tenacity in every event they entered. A lot of records were broken.

CLICK HERE for the FULL RESULTS from the event!

Special congratulations to Antanyiah Brown from Metro-Dade TC who broke her own record in the 55 Meter Dash that she had set in the prelims on Saturday, July 5th at 9.30. On Sunday, she ran a 9.20 in the finals.

Another shoutout to Sidi Njie of AMP Track Club who broke all three sprint records in the Boys' 55m (8.87), 100m (15.54), 200m (30.99) in 2013. He then broke all of these again in 2014 in the Boys' 7 year old 100m (14.64), 400m (1:06.02) and 200m (29.89). Since beginning his training with AMP Track Club at the age of four, Sidi has not lost a race in a championship to a child his own age in the 200m.

Thanks again to everyone who came out to participate, congratulations on all of your awards and honors, and we can't wait to see you in 2015!

Have any photos or updates from the event? Be sure to check out Facebook ,Twitter, and Instagram and share with us all of your memories from the event!
2014 AAU SCHOLASTIC DUALS RECAP

The BIGGEST Scholastic Duals that AAU has ever seen wrestled its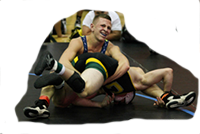 way into the ESPN Wide World of Sports in Orlando, FL June 27-July 1. Roughly 150 wrestling teams and over 3,000 wrestlers competed for the title of NATIONAL CHAMPIONS over the five-day event. These wrestlers proved they were the best of the best, fighting through the pain until the very end.
Special congratulations to the division winners:
1. Community DI: Dakota Wrestling Nation (46-16) over Avon WC.
2. Community DII: Yorktown Tigers (38-22) over Oak Harbor Rockets.
3. District All-Star: Young Guns Black (37-21) over Iowa Black.
4. Developmental: Middle Atlantic Red (41-15 over PA Rampage.
And a BIG shoutout to anyone who took home the Outstanding Wrestler, Technically Superior, or Sportsmanship awards! What an honor!

Take any photos during the event? Be sure to share them with us on Facebook, Twitter, or Instagram, and be sure to use the hashtag #AAUDuals!

Thanks again to everyone who came out to participate, and we can't wait to see you next year!

Below, check out the results from every division as well as our photo galleries from the event:

CLICK HERE to see ALL RESULTS from the event!

CLICK HERE to see the ACTION photos from the event!

CLICK HERE to see the AWARDS photos from the event!
RECAP: 2014 AAU BOYS' JUNIOR NATIONAL VOLLEYBALL NATIONAL CHAMPIONSHIPS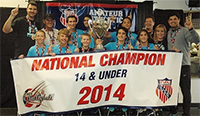 On June 19th - 22nd, more than 60 boys' volleyball teams from around the nation, including several teams from Puerto Rico, flocked to Orlando, Florida for the 2014 AAU Boys' Junior National Volleyball Championships! On June 22nd, the top boys' teams battled against each other in some intense competition to try to claim the gold.

The 14U Championship Division started at eight in the morning with eight teams vying for the gold. Tampa Bay Volleyball Academy glided to a victory, 25-8 and 25-7 and Warriors Volleyball Club also put away their opponents easily, 25-10 and 25-7. Vaqueros and 352 Elite Boys 14 were more evenly matched but ended up moving on the semifinals. In the semifinal games, Tampa Bay Volleyball Academy once again defeated their opponents, Vaqueros, easily, 25-7 and 25-10. The Warriors, on the other hand, had a tight match, moving on to the Championship Game with a 25-23 and 25-19 victory. The Championship Game was won in only two sets, both of which were dominated by the Tampa Bay Volleyball Academy. Tampa Bay clinched their National Championship title with a 25-14 and 25-17 win. In the tournament, they only lost one match out of nine played, and had a 17-3 record in sets. Congratulations, Tampa Bay Volleyball Academy!

In the 16U Championship Division, the day kicked off with two games that each needed three sets to determine a winner! Ocean Bay 16 Quicksilver defeated Orlando Gold 16 Black (13-25, 28-26, 20-18) to move on to the semifinals against Team Island Volleyball, who had a bye. Avoli 16 Carlos defeated Vaqueros (23-25, 25-21, 15-11) to move on to the semifinals and face their fellow team Avoli 16 Eduardo. Ocean Bay 16 Quiksilver pulled off their second win of the day, defeating Team Island Volleyball (25-17, 25-22), who had only lost one match in the entire tournament before then. Avoli 16 Eduardo defeated their brother team, Avoli 16 Carlos (27-25,25-13), to move on to the Championship Game against Ocean Bay Quiksilver. It was a close match in the Championship Game between Ocean Bay 16 Quiksilver and Avoli 16 Eduardo, but Avoli managed to get the win in two sets, 25-22, 25-20. Avoli only lost one set in the whole tournament, winning all eight of their matches and going 16-1 in sets. Congratulations, Avoli 16 Eduardo!

Vaqueros, Top Select 17 Black and Playeros started the day in the 17U Championship Division with a victory and all moved on to the semifinals. Gigantes Carolina joined them in the semifinals after having earned a bye from pool play. In two close semifinal games, Gigantes Carolina and Top Select came out the winners after defeating their opponents 25-21, 25-20 and 25-19, 27-25, respectively. They faced each other in the Championship Game, where they went point for point nearly the entire match. Top Select came out on top in both sets, 27-25 and 27-25, and took home the hardware. Top Select went 7-2 in their matches for the duration of the tournament. Coincidentally, Top Select had faced Gigantes Carolina in their first match of the tournament and lost in two sets, 25-19 and 25-20, but they ended up winning their entire division by winning the games that counted. Congratulation, Top Select 17 Black!

Last but certainly not least, in the 18U Championship Division, it came down to four teams to start off Sunday's championships action. 352 Elite 8 took their first game against Orlando Gold 18 Black, 25-21 and 25-15, to move on the semifinals against Ocean Bay 17 Quiksilver, who had a bye. Ocean Bay 17 Quiksilver shut down 352 Elite 8 in two sets in their semifinal game, 25-24 and 25-14, earning themselves a spot in the Championship Game. In their first game of the day, South Indy Club defeated Ocean Bay 18 Quiksilver in three close sets, 25-20,24-26, 21-19, to move on to the semifinals and face the Missouri Thunder 18 Green, who made their National Championship debut this year. Missouri Thunder dominated the semifinal game, winning both sets, 25-19 and 25-23, earning them the second spot in the Championship Game. The first set of the 18U Championship Game was a close one, with Ocean Bay scraping out the win 25-22. They turned their game around and dominated the Missouri Thunder in the second set, easing to a 25-10 victory to take home the gold medals and first place trophy. Ocean Bay 17 Quiksilver won all of their matches during the tournament and only had to play three sets in one game, making their sets record 16-1. Congratulations to Ocean Bay 17 Quiksilver!

For more information on AAU Volleyball, visit www.aauvolleyball.org.

Be sure to LIKE us on Facebook, FOLLOW us on Twitter and on Instagram @AAUVolleyball for the latest updates, results and awards photos from the championship events.
YOU ARE INVITED TO THE 2014 AAU JUMP ROPE HOLIDAY WORKSHOP TOURNAMENT

Join us in Orlando, Florida December 29-31, 2014 and let's have some jump rope fun in the sun! Come Beginners!

Come Experts! Come Individuals! Come Teams!

The AAU Jump Rope Committee is excited to offer this new event to our jump rope community. Make a holiday vacation out of this event and enjoy all that Orlando has to offer.

All the Information you need to know:
Flyer – Click Here
Information Packet – Click Here
Hotel Reservations – Click Here
Registration – Click Here
Visit the website at www.aaujumprope.org
EVENTS
---
Girls' Basketball
(listed in date order)
---
GIRLS' FALL AAU CLASSIC
AAU Girls' Basketball
Date:
Oct. 4 & 5, 2014
Location:
Boston, MA
Entry Deadline:
Sept. 27, 2014

Information Flyer:
Click Here
---
Boys' & Girls' Basketball
(listed in date order)
---
THE SHOWDOWN
AAU Boys' & Girls' Basketball
Date:
Sept. 13 - 14, 2014
Location:
Alameda, CA
Entry Deadline:
650-898-4499

Information Flyer:
Click Here
---
FAIRFIELD BALLERS & NBBA DOUBLE HEADER LEAGUE
Date:
Sept. 14, 21, 28 & Oct. 5 & 12, 2014
Location:
Benicia, CA
Entry Deadline:
Sept. 7, 2014

Information Flyer:
Click Here
---
Hockey -
(listed in date order)
---
BLUE COLLAR HOCKEY
Date:
November 7-9, 2014 Grand Rapids, MI
January 16-19, 2015 Detroit, MI
March 13-15, 2015 Ann Arbor, MI
April 24-26, 2015 Chicago, IL
May 15-17, 2015 Chicago, IL
Entry Deadline:
248-399-1694

Information Flyer:
Click Here
---
AAU TURKEY TOURNAMENT
Date:
Nov. 28, 29 & 30, 2014
Location:
Oak Park, MI
Entry Deadline:
Nov. 1, 2014

Information Flyer:
Click Here
---
AAU TOP SHELF HOLIDAY TOURNAMENT
Date:
Dec.. 27 & 28, 2014
Location:
Saint Clair Shores, MI
Entry Deadline:
Nov. 22, 2014

Information Flyer:
Click Here
---

As a member of the Amateur Athletic Union, you can save with special discounts on Nationwide® auto insurance.
Click here
to take advantage of your exclusive members-only discount or call
1-866-633-5747
---
NATIONAL EVENT RECAP GALLERIES

21st AAU Junior National Beach Volleyball Championships
2014 AAU Golf National Championships
2014 AAU Track & Field Club Chamionships
AAU Primary Nationals Action Photos
2014 Wrestling Scholastic Duals
2014 AAU Basketball 8th Grade National Championships
2014 AAU Basketball 3rd & 4th Grade National Championships
2014 AAU Boys' Basketball 11th Grade Nationals & Super Showcase - Around The Courts
2014 AAU Baseball Grand Nationals - Week 1 Action
2014 AAU Baseball Grand Nationals - Week 2 Action
2014 AAU Boys' Basketball National Championships - 11th Grade Semi- Final & Final
2014 AAU Boys' Basketball National Championships - 10th Grade Semi-Final & Final Action
2014 AAU Girls' Junior National Volleyball Championships - Action
2014 AAU Girls' Junior National Volleyball Championships
---