94fifty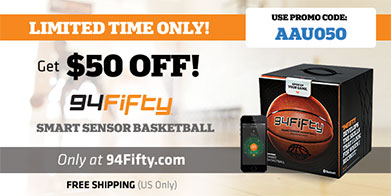 Use code AAU050 on www.94fifty.com to redeem your discount!
GET SUCKED INTO THE VORTEX VOLLEY MARCH MADNESS
The Vortex Volleyball Club will be hosting the Vortex Volley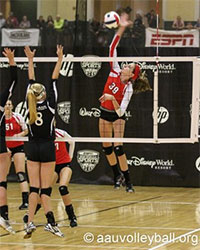 March Madness tournament in King of Prussia, Pennsylvania. This is a one day tournament on March 2nd and will only feature 16U and 17U teams. The entry fee is $200 per team and is due by February 20th. The fee includes pool play followed by bracket play with the first and second place teams receiving medals.
For more information on this event, please
CLICK HERE
.
SHOW YOUR SKILLS AT THE SOLAR EXPLOSION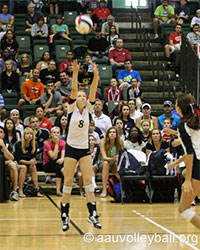 The Big House in Tavares, Florida will host the 2014 Solar Explosion May 31 and June 1st. Girls' ages 12U through 18U will play in Open and Club divisions. Each division must have at least eight teams entered or they may be combined. The entry fee is $300 per team due by May 1st. Pool play will be on Saturday, followed by bracket play on Sunday.
For more information on this tournament,
CLICK HERE
.
BE A PART OF THE XPLOSION WINTER WARZ
Beach Xplosion will be having the Xplosion Winter Warz in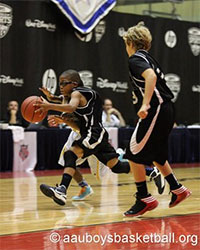 Virginia Beach on Saturday, February 8th. This tournament will host boys' and girls' teams ranging from 3rd-8th grades. The entry fee is only $175, and there is a multi-team and early bird discount available. The deadline to enter is Monday, February 3rd. Each team is guaranteed three games and a first place trophy will be awarded.
For more on this event,
CLICK HERE
.
HIGH SCHOOL SULLIVAN
The AAU Sullivan Committee is proud to announce the 2014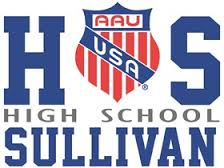 AAU High School Sullivan Award and Scholarship Program.
The Committee will be awarding a total of $35,000 in Scholarship Funds to eight (8) High School Seniors; four (4)
male and four (4) female athletes.
The AAU will be awarding the 4th AAU High School Sullivan Award and Scholarship. This award is to honor AAU member athletes in a particular sport who is a well-rounded individual, shows outstanding athletic abilities, leadership skills, great sportsmanship and strength of character; not only during sporting events but in their community as well.
Apply today on the AAU High School Sullivan Website –
Click Here
.
INTERNATIONAL MEN'S FASTPITCH A MEMORABLE TOURNEY
The International Men's Fastpitch tournament came to an exciting conclusion on Sunday afternoon when the New York Gremlins faced off against the Venezolanos in the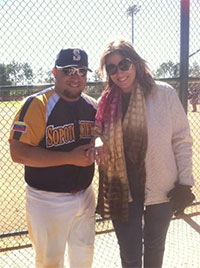 Championship game. It was a nail-biter but the Venezolanos ended up grabbing the win over the Gremlins, 4-3.
The two quarterfinals were played Sunday morning, with the Equipo Aguilos de Venezuela beating the Oriundo Soy, 6-2, and the Venezolanos taking the victory over the Lanceros DE Venezuela, 4-2. Both winning teams advanced to the semi-finals later that day where the Venezolanos grabbed another win, this time against the Equipo Aguilos DE Venezuela, 6-2. The New York Gremlins played their first game of the day against the New York Swashbucklers, with the Gremlins taking the game 9-2.
In other exciting news surrounding the tournament, Rafael Flores of Sopotocientos de Venezuela proposed to his girlfriend, Luz Manna Rodriguez, at home plate prior to kicking off the AAU Men's International Fastpitch Championships! She said yes and threw out a ceremonial first pitch!
Congratulations to everyone that came out to ESPN Wide World of Sports to participate in the tournament and a very special congratulations on your new engagement Rafael Flores and Luz Manna Rodriguez!
FORMER AAU MEMBER JOINS OLYMPIC BOBSLED TEAM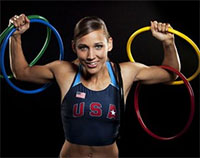 Lolo Jones, former AAU Athletics member, will be a part of the U.S. Olympic bobsled team in the 2014 Winter Olympics in Sochi. The track and field star competed on the Louisiana State University track team and went to the 2008 Olympics in Beijing for track and field. She will serve as a brakeman on the U.S. bobsled team in the 2014 Olympics.

CLICK HERE
for the full Chicago Tribune article on Lolo Jones competing in the Olympics.
Good luck to Lolo Jones and the entire U.S. Bobsled team!
JOIN THE AAU LICENSENED 2014 SPRING LEAGUE
The 2014 Spring League is hosted by the Chino Valley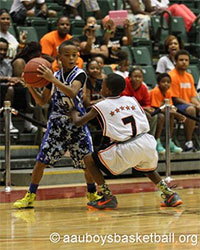 Basketball Academy and will be held from March until May of 2014. Grade groups include 3rd all the way up through 8th and includes JV and Varsity as well. Both boys' and girls' teams are welcome. The entry fee is $550 per team, which includes free parking and admission, or $525 if you register multiple teams. The entry deadline is March 1st and the fee will include eight games plus playoffs. First and second place medals will be awarded to individuals along with a team trophy.
For more information on how to register,
CLICK HERE
.
CHICO SPRINGTIME SHOWCASE RETURNS FOR 9TH YEAR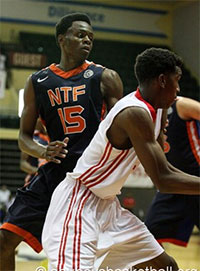 The AAU Girls' and Boys' Chico Springtime Showcase Basketball Invitational is back for the 9th year! The event will be held in Chico, California on April 12th and 13th. Girls and boys grades 3rd through 9th, JV, and Varsity may participate.
There is a $325 entry fee for one team, $300 fee for 2 teams, and $275 fee for three or more teams. Each team is guaranteed a three game minimum of pool play. The deadline to register is March 28th.
Last year, 150 teams participated, so make sure you register now to grab your spot!

CLICK HERE
for more information!
GRAB YOUR SPOT IN THE ALLEYOUP SLAM
BumFrog Sports Blackout Elite presents the Boys' and Girls'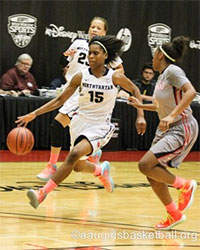 Basketball Alleyoup Slam! The event will take place on February 22 in Stockton, California. The tournament will include 10U-14U through Middle School. The entry fee is only $190 per team and you can pay online through PayPal. The deadline to register is February 19th. The event will be played in the Stockton area's high school gyms and trophies will be given out to first place teams. Every team will have a three game minimum guarantee.
Don't miss out on this great opportunity,
CLICK HERE
for more information!
SHOOT FOR THE GOLD IN ARIZONA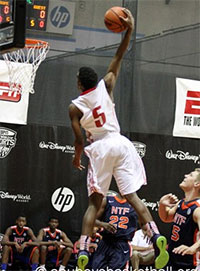 The Boys' Basketball District State Championships for Arizona will be May 16-18 in Phoenix. Boys ages 8U through 17U are invited to participate on the road to nationals. The event will be held at the Kroc Corps Community Center and will follow AAU Boys' Basketball rules.
The entry fee to play is $300 per team, due by May 10th. This fee includes a three game minimum of pool play followed by bracket play. The fee also ensures that the first place teams will receive trophies, while second and third place teams get medals.
All Arizona clubs must participate in this tournament in order to earn a bid to the National Championships. Bids are accepted based upon prior AAU in-state and out of state participation and status as well as order of request and deposit.
For more information on this tournament, please
CLICK HERE
.
TRAVEL OPTIONS FOR AAU EVENTS ARE AVAILABLE
Official travel options for AAU events in Orlando are now

available online at
AnthonyTravel.com
. As the Official Housing Provider for AAU events at the ESPN Wide World of Sports Complex, Anthony Travel is offering discounted hotel rooms and vacation homes, specially-priced Walt Disney World® Theme Park Tickets and assistance with group air travel and car/van rentals.
For more information about official travel offerings, visit
AnthonyTravel.com/AAU
and search for your event. Anthony Travel looks forward to seeing you in Orlando!
.
APPLY FOR THE REGIONAL QUALIFIER TODAY

Attention AAU Athletics Event Hosts! The Regional Qualifier Bid Application is now available! All bids must be submitted by February 28th, 2014, so don't delay. A $800 non-refundable bid fee must accompany your application.
All athletes must compete in the same Regional Qualifier as they did for the District Qualifier.
For more information on how to submit your bid, please visit
www.aauathletics.org
or
CLICK HERE
.
INLINE HOCKEY DATES ANNOUNCED
The 2014 Inline Hockey AAU Junior Olympic Games dates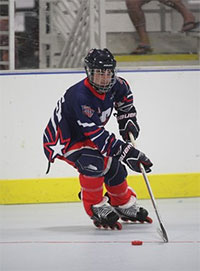 have been announced! This top of the line event will take place July 10th – 20th, 2014 in Las Vegas, NV. Competition will be available for US teams ages 6U to Adult and International teams ages 10U to Adult. The entry fee for this event is $895 if you register before May 1st and $975 after May 1st. All teams will be guaranteed 5 games, with at least one being a play off game!
For more information on how to register for this event, please
CLICK HERE
.
USARS HOCKEY IN THE 2014 WINTER OLYMPICS

You might recognize a few faces in the Winter Olympics if you've been around USARS at all the last few years. This year 41% of the long track and 87.5% of the short track skaters that have been nominated for the Olympic Team came from USARS! Overall, 56% of skaters on the 2014 USA Olympic Team have a skating background with USARS.
Read More>>
SIGN UP EARLY FOR THE FROSH/SOPH NATIONAL DUALS
Are you looking for a Folkstyle Dual Championship for your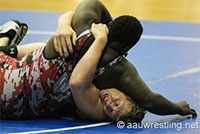 Freshmen/Sophomore athletes? Well look no further!
The 2014 AAU Frosh-Soph National Duals will be taking place April 18th – 20th, 2014 in Castle Rock, CO.
Your entry fee of $800 per team guarantees at least 7 duals! All participants must be current AAU Members.
To purchase your 2014 AAU Membership, please visit
www.aauwrestling.net
.
For event specific information,
CLICK HERE
.
AAU POWERLIFTING WORLD RECORD HOLDER, HONOR ROLL STUDENT, MULTI-SPORT CHAMPION, OVERCOMES ADVERSITY


The more you learn about Evan Pittman, the more you can see he has
the real winning edge
! He took up the violin at age 6–and rose to play in a university honor orchestra by the time he reached high school. He started in taekwondo at 6 also–and won six state championships. He began powerlifting at age 10–and set a world record in his first competition, followed by many more. In high school he started springboard diving--and became one of the top 20 divers in his state in his first year. He aspires to compete in the Olympics–either the summer games as a diver, or the winter games as a bobsledder/skeleton athlete. Besides all these talents, he's an honor roll student as well!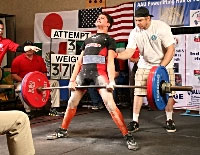 But all the trophies, medals and honors Evan has earned couldn't fill the emptiness he felt from the constant uprooting and moving required of military families, or the difficulties of his father's repeated overseas deployments. On top of these emotional burdens, he faced an obstacle in the classroom that affected every aspect of his life. See how he overcame his challenges through hope and faith when his profile airs next month on
TRWE
!
GEAR UP FOR THE WAR AT THE SHORE!
The Seaside Sizzle 5th Annual War at the Shore tournament is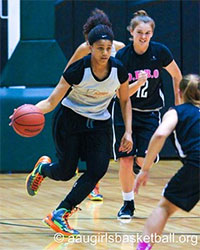 back! Scituate and Cohasset, Massachusetts will host 4th through 11th grade girls' basketball teams as they compete to win the gold! The event will take place May 10th and 11th and teams have until May 3rd to register.
The entry fee for this event is $425 per team, but if you register multiple teams, you are eligible for a discounted fee! Each team will play four guaranteed games with certified referees in great facilities.
For more information on this tournament and how to register for it, please
CLICK HERE
.
2014 MEMORIAL DAY TOURNAMENT WILL BE STREAMED LIVE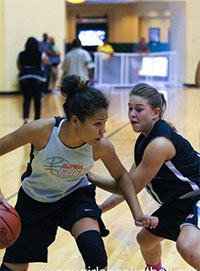 WatchMevents "Live" presents the 2014 Memorial Day Tournament! On May 24th-26th, girls' ages 11U-15U in Open divisions and the 17U Elite division will battle it out in Oregon trying to bring home the gold! A thirty second shot clock will be used for high school tournaments and the games will be recorded, some streaming live online!
This is a tournament you won't want to miss! Registration ends on April 28th and NO entries will be accepted after 4PM on April 28th. The fee to enter is $400 per team, which includes a 5 game guarantee.
For more information on this tournament, please
CLICK HERE
.