AAU ANNOUNCES THE 2014 AAU ACADEMIC ALL AMERICANS
LAKE BUENA VISTA, FL-- The AAU Volleyball National Executive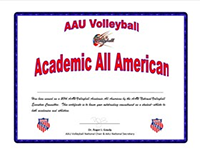 Committee is proud to announce the recipients of the 2014 AAU Volleyball Academic All American Award. Created in 2013, the award recognizes athletes of the AAU Volleyball program for their excellence in academics as well as athletics.
All recipients attended high school during the 2013-2014 school year and participated in the 41st AAU Girls' Junior National Volleyball Championships in Orlando, FL. Selections were made from nominations received during the event.
Congratulations to all of the honorees on their continued success in the classroom and on the court.
For a complete list of the 2014 recipients, please click here.
JUMP ROPE: 20 YEARS IN THE MAKING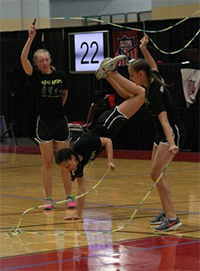 Twenty years ago, Jean Hodges and her husband, John, along with a small group of jump rope enthusiasts began the journey of making Jump Rope a sport in the AAU Junior Olympic Games. Now, Jump Rope is still going strong and Jean is still on the sidelines, taking part in organizing the competition. Hodges said she thinks Jump Rope is a great addition to the AAU Junior Olympic Games.
"I just thought it was really interesting and fun for the kids to be a part of the whole AAU Junior Olympic Games," Hodges said. "I was a swimmer when I was younger and I thought it was a great opportunity for the kids to be a part of a multi-sport event like this."
Now in its 20th year, Jump Rope is still thriving with more than 200 AAU members competing in this year's competition. Hodges said she is overwhelmed by the support she received while starting it and enjoys seeing the growth throughout the years.
"It makes me feel very proud that it has gone on this long," she said of Jump Rope in the AAU Junior Olympic Games. "When we first started out, we had made this a part of Aerobics. I think it was 1998 that we separated Jump Rope from Aerobics."
Hodges has been around Jump Rope for quite some time now and her daughters even participated in the sport when they were young.
KRISTEN BORK: COMPETITOR TO COACH
Kristen Bork has grown up around jump roping her whole life.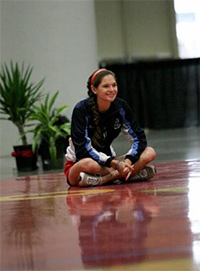 She started competing in the AAU Junior Olympic Games 11 years ago and hasn't missed one since. She competed for nine years as an athlete and for the past two years, she has taken the knowledge she gained during competition to the sidelines as a coach.
Currently, she is a coach with the Kangaroo Kids, a Precision Jump Rope Team from Howard County, Maryland. Bork said that it feels weird to be at the AAU Junior Olympic Games and not compete.
"Just being here coaching I'm just getting the same feelings watching the jumpers go on the floor [same as competing]," she said. "It's really cool being here at the AAU Junior Olympic Games because just for jump rope we have teams from all over the country and we even have some international teams here. So it's a really great opportunity to really meet jumpers from other teams and really get to know them. It's really cool and there's so many different things like even just watching the double dutch right now, you get ideas from seeing the other jumpers and it's kind of cool what we can learn from other people."
Transitioning from athlete to coach has been difficult for Bork, but also rewarding.
2014 EDITION OF THE BEST BASKETBALL PLAYERS OF AAU YEAR BOOK IS AVAILABLE!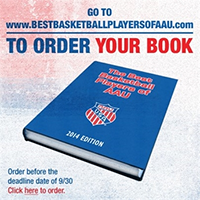 It's that time of year again! The 2014 Edition of The Best Basketball Players of AAU Year Book is looking for the BEST players to include in its pages! You can include YOUR talented player's stats and information and it will be published in the book. Get your orders in before the September 30th deadline! Books will be shipped 9-10 weeks after that, just in time for the HOLIDAY SEASON!

Everyone registered in these two AAU sports in 2014 can order the book. Boys' and girls' basketball members that submit their information are included for no cost in the book and there is no obligation to purchase.

Find out everything you need to know about this year's book HERE: www.bestbasketballplayersofaau.com!
2014 AAU JUNIOR OLYMPIC GAMES KUNG FU RECAP
That's a wrap for the Kung Fu competition at the 2014 AAU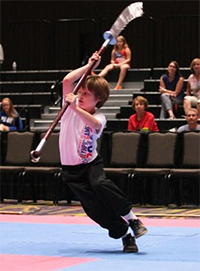 Junior Olympic Games! The one day event took place yesterday, July 24th at the Iowa Events Center in Des Moines. Twenty-one AAU members gave it all they had to try to claim a gold medal. At the end of the day, all participants took home a medal, with some claiming more than others.

We had some intense and exciting competition for the inaugural Kung Fu event in the AAU Junior Olympic Games! Boys and girls ranging from seven to sixteen years old were full of talent during this competition, but one boy, Ty Roberts was the eptiome of sportsmanship and maintained a great attitude throughout the event.

Roberts earned the first Joel Ferrell award ever given for Kung Fu in the AAU Junior Olympic Games. The AAU, along with the assistance and the guidance of the Joel Ferrell family, established the Joel Ferrell Outstanding Performance Memorial Award to recognize the athletic ability and sportsmanship of an athlete representing each official sport at the AAU Junior Olympic Games. In addition to the award presented at the Games, each recipient's name will be engraved on a special plaque at the AAU National Headquarters.

At the end of the day, everyone went home winners and we hope that everyone had a fantastic time. We hope to see you again next year and good luck in all of your future endeavors!

Read More >>
CURRENT NATIONAL CHAMPIONS LOOKING TO REPEAT TITLE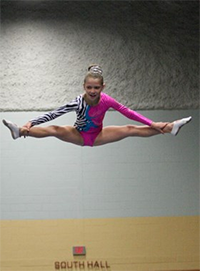 Trampoline and Tumbling competitors Noelani Mattson and Kira Deaver are no strangers to the location of the 2014 AAU Junior Olympic Games as they already call Iowa their home state. But it doesn't stop there. They are familiar with the competition as well, returning to this year's event as the reigning National Champions in Trampoline Sub Advanced Synchro.
Aside from leaving with gold around their necks, it's the atmosphere that keeps them coming back to the competition.
"It's fun to compete against people that you don't really know," Kira said.
Deaver started Trampoline and Tumbling at age three and Mattson started at age six, and they don't plan on stopping any time soon. They both agreed that they would continue competing for as long as they can.
Mattson got started with the sport because she followed in her mother's footsteps. Her mom competed in Trampoline and Tumbling when she was little and wanted her daughter to compete in the sport as well.
Deaver's start was a bit different. She had been begging her mom to join Gymnastics when her they happened to drive by Flip Squad and saw a note inviting beginners to join. Deaver was signed up that day.
Though their starts may have a different story, the two girls have come together and created something great: A National Championship with a quest for another. With a target on their back entering competition, can they leave Des Moines as champions?
2014 EDITION OF THE BEST VOLLEYBALL PLAYERS OF AAU YEAR BOOK IS AVAILABLE!
Want to show off your stats to fellow AAU members? The 2014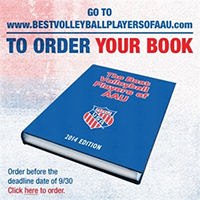 Edition of The Best Volleyball Players in AAU Year Book is the perfect way to do just that!

Enter YOUR stats and information into the form and it will be submitted into the book, forever marking YOU as one of the greatest Volleyball players in the AAU! Get your orders in before the September 30th deadline! Books will be shipped 9-10 weeks after that, just in time for the HOLIDAY SEASON!

Find out everything you need to know about this year's book HERE: www.bestvolleyballplayersofaau.com!
POWERLIFTER TAKES HER STRENGTHS TO THE OTHER SPORT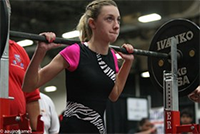 "Yeah, I can lift a little bit."
That's Ali Lazarus' go-to remark when someone judges her powerlifting abilities based on her appearance. In the 88 pound weight class at 13 years old, she's used to being judged by her small stature. But once she steps up to the bar, the people judging are put in their place.
In the Female Powerlifting competition at the 2014 AAU Junior Olympic Games, Lazarus has some shiny, new hardware to show those naysayers. She took home the silver in the Full Meet-Raw division.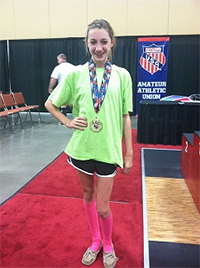 She will also be competing in Olympic Weightlifting, Combine and Feats of Strength over the weekend. Lazarus said her favorite sport out of all of those is powerlifting and her favorite event in Powerlifting is the deadlift.
Along with Strength Sports in the AAU Junior Olympic Games, she also competes on the Calvary Baptist Academy Middle School Cheer team. Combining the two sports has helped her excel in both.

"It actually helps you out a lot more than you'd think because I'm a flyer," she explains. "When they throw you up in the air it takes a lot of strength and you don't realize how much it takes. Once I started this, it started helping me a lot."
This is her first year at the Junior Olympic Games and she said so far she is having "a lot of fun."
Good luck in the rest of your competitions, Ali! We hope to see you again next year!
COMING FROM THE LAND DOWN UNDER TO JUMP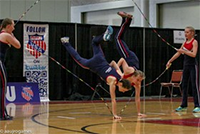 In this year's Jump Rope competition at the AAU Junior Olympic Games, there was one team who traveled all the way from Australia! The Jazzy Jumpers, coached by Lisa Buchanan, traveled nearly 30 hours altogether just compete at this event. Buchanan said the long flight is worth it though.
"It's different to Australia" she explained. "We only have two competitions a year in Australia, States and Nationals, so this is another chance for them to compete and they get to see a different stlye of skipping. And they get to meet other people as well."
With such a long distance to travel and with a 15 hour time difference, Buchanan said the adjustment is difficult but the athletes are taking it in stride. She said they all left a few days early so they would have time to adjust.
Buchanan explained that Jump Roping isn't as big of a sport in Australia so they make sure they attend the AAU Junior Olympic Games. It's the only event they feel is worth traveling such a long way for. They were introduced to the AAU Junior Olympic Games when it was in Des Moines back in 2009 and followed that up with the one in 2010 in Hampton Roads. Buchanan thought bringing the team back to Des Moines, where it all began, was a good idea to get prepared for other competitions.
"We decided to come again just to give these girls a bit more experience before they try for Worlds in two years time because we have the world championships in 2016," she explained. "We didn't feel that we were quite ready this year to go, so we thought this would be a good experience for them and we thought this would sort of build up to that."
The Jazzy Jumpers Australia had jumpers ranging in age from 10 to 13 years old. Thanks for taking the long trek here and we can't wait to see what kind of talent the Jazzy Jumpers bring the the AAU Junior Olympic Games next time they come!
2014 AAU JUNIOR OLYMPIC GAMES POWERLIFTING RECAP
Competing in three lifts: Squat, Bench and Deadlift, athletes of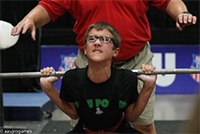 various ages and weight classes took the floor to show off their talents in the 2014 AAU Junior Olympic Games Powerlifting competition.
Between male and female divisions, athletes ranged from ages 6-22 and lifted as much as 610 kg. (20-year-old Male Eric Boomershine) as their total weight on the day.
Over 25 World Records were broken during the kick-off event for AAU Strength Sports at the AAU Junior Olympic Games. Up next is Weightlifting, followed by the Combine and Feats of Strength.
Many athletes were medal winners, and even more walked away with personal bests in all of their lifts.
Be sure to share your photos with us on Facebook The REAL AAU, Twitter @TheRealAAU, Instagram @aausports. Use the hashtag #AAULifting!
Be sure to check out all of our photos HERE!
SHREVEPORT TEAM EXCELS IN STRENGTH SPORTS IN IOWA
8/7/2014 10:56:13 AM | Written by: Hal Pittman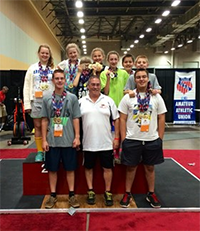 Jets Barbell, a team of weightlifting athletes from Shreveport, attended the Amateur Athletic Union (AAU) Junior Olympic Games in Des Moines, Iowa, in late July, and returned with a bevy of medals.
Although Olympic-style weightlifting is their primary sport, and nine Jets athletes participated in all four JO Games Strength Sports meets – powerlifting, weightlifting, Allsports combine and feats of strength. They were the only team that attempted to do this, and the nine Jets athletes were the only athletes to enter all four events.
Powerlifting was contested first on Friday, July 25, and consisted of competition in the squat, bench press and deadlift. Weightlifting followed on Saturday, with Jets lifters competing and supporting each other throughout a long day with nearly 100 lifters contesting the snatch and clean-and-jerk.
Sunday, July 27, marked the second AAU Junior Olympic Games Allsports Combine, a series of five athletic events designed to identify the best athletes at the games, operating under the slogan "Run, Jump, Lift;" all Jets Barbell athletes competed in the combine, earning a number of first and second place finishes.
2014 AAU RUNNING DAY WINNERS' INSIDER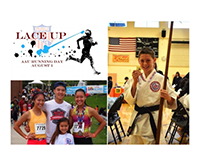 August 1st marked AAU's inaugural running day! Prior to that day, AAU members could enter a competition by submitting why they love to run using #RunAAU on Instagram and Twitter. One boy and one girl were chosen as the selected winners because of their enthusiastic responses about the love of running, and in turn, will receive a free pair of running shoes from the AAU.

Urbandale High School track and field athlete, Jamaica Lovan, from Urbandale, Iowa was selected as the female winner. In response to the Running Day campaign, she posted, "I love running because I get to meet athletes from all over the U.S. Not only this, but it allows me to explore new places and experience new things! Many may see running as a competition, but I see running as a way to bring people together. The feeling of unity surrounds me as I see athletes, coaches, and parents coming together as a whole to see and enjoy the sport we all love! #runaau".

Lovan, a triplet in her family, entered the sport when her sister began competing at the age of 10. "She won all these medals, and she always looked like she really enjoyed it, so I wanted to try out the sport as well" Lovan said.

Read More >>
EVENTS
---
Baseball
(listed in date order)
---
Dog Days Invitational
AAU Baseball
August 23-24, 2014
Freedom Florence, SC
Entry Deadline: August 19, 2014
Complete Info Flyer
---
A Poor Boys Dream & JamTown
AAU Boys' Basketball
August 23 - 24, 2014
Oakland, CA
Entry Deadline: Not provided
Complete Info Flyer
---

As a member of the Amateur Athletic Union, you can save with special discounts on Nationwide® auto insurance.
Click here
to take advantage of your exclusive members-only discount or call
1-866-633-5747
---
Boys' & Girls' Basketball
(listed in date order)
---
End Of Summer Swag
AAU Boys' & Girls' Basketball
August 23 - 24, 2014
San Francisco, CA
Entry Deadline: August 8, 2014
Complete Info Flyer
---
Powerlifting -
(listed in date order)
---
Las Vegas Powerlifting Championships

AAU Powerlifting
August 30, 2014
Las Vegas, NV
Entry Deadline: July 30, 2014

Complete Info Flyer
---
Volleyball -
(listed in date order)
---
ASIS SET IT UP AAU TOURNAMENT
AAU Volleyball
August 16, 2014
Rockwall, TX
Entry Deadline: August 13, 2014
Complete Info Flyer
---
2014 AAU Junior Olympic Games Photo Galleries

---