PRE-ORDER MEDAL LANYARD APPLICATION DEADLINE: SEPTEMBER 30th, 2014
First I would like to thank you for hosting AAU Sanctioned events in your District!
The end of the 2014 calendar year is quickly approaching us and we need your help ordering 2015 lanyards for your leftover medals. We would like for you to count your leftover medals and submit to us the number of 2015 lanyards you would like to order for the coming year. By purchasing these lanyards you will be able to utilize your leftover medals next year and save yourself lots of money.
If you pre-order your 2015 Lanyards and send your order to the National Office by Tuesday, September 30th, 2014 you will receive the lanyards for .75 cent apiece. After the pre-order special is over the lanyards will be $1.00 apiece.
Linked here is the order form with directions on how to submit your order.
Below is a picture of the 2015 Lanyards for your viewing.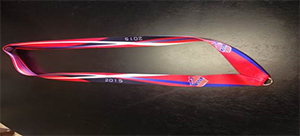 FIRST WAVE OF THE VOLLEYBALL CHAMPIONSHIP GAMES HAVE CONCLUDED!
The first wave of championship matches are in the books at the 41st Annual AAU Junior National Volleyball National Championships. In all, we crowned 19 national champions on Friday, June 20 in the 10u-15u, 18u and International divisions. Six matches were streamed live on ESPN3 – International, 18u Open, 12u Open, World Championship, 13u Open and 14u Open.

In the 10u-15u divisions, there was much to be excited about.
GVA from Puerto Rico made a statement in the younger divisions, taking home three AAU Volleyball National Championships. In the 10u division, they defeated Vaqueras in two sets (25-23, 25-20). GVA 11u Fonseca had to go three sets (23-25, 25-22, 15-8) in order to get by Queens Richard for the 11u national title. Then at 1:30 p.m., GVA Alex took center court on ESPN 3 versus Titanas Morovis for the 12u Open Final. They cruised in straight sets (25-8, 25-16) to secure the club's third title.

At 5:30 p.m. on ESPN 3, Vaqueeras 13-1 and Avoli 13 Kike suited up for the 13u Open National Championship. Avoli seemed to be in control early, going on a 6-0 run to go up 21-17. They would never look back, taking the first set 25-21. But Vaqueras was just getting started. They clawed back and took the second (25-11) and third sets (15-11) to be crowned the 13u Open National Champions.

In the nightcap game, Asics Kiva Red and TBVA 14 served up an intense, three-set match in the 14u Open Final for everyone to enjoy. Asics Kiva jumped out in front of No. 1 ranked TBVA 14, going on a 6-0 run to go up 19-11. They would take the first set 25-16. TBVA wasn't ready to bow out. They opened the second with a 7-2 lead and would cruise to 25-11 second-set victory. To the third they went. It was all TBVA from there. They downed Kiva Red 15-9 to take the 14u Open National Championship in the club's first year.

| | |
| --- | --- |
| 12u Classic Final: | Louisiana Volleyball 12 All-Stars defeated TBVA 25-9, 25-12 |
| 12u Classic Final: | OVA 12 Molten defeated Borinquen Coqui Eichia 25-16, 25-20 |
| 13u Club Final: | OVA 13 North elite defeated Wisconsin Juniors 26-24, 25-19 |
| 13u Classic Final: | Fusion South 13 Red defeated OVA 13 Molten 25-21, 25-21 |
| 14u Premier Final: | Milwaukee Sting 14 Black defeated TriVolley 25-23, 25-21 |
| 14u Club Final: | CC Crossfire 141 defeated Avoli 14 Alberto 17-25, 25-18, 15-11 |
| 14u Classic Final: | Asics Munciana Jaguars defeated Impact 14 Craig 25-16, 19-25-15-9 |
| 15u Club Final: | Xcel 15x Select defeated Mizuno Northern Lights 15-Black 17-25, 25-15, 15-13 |
| 15u Classic Final: | Prolink 151 Casey defeated Mizuno Northern Lights 15-Red 25-15, 25-23 |
For complete schedules and results from the 41st Annual AAU Junior National Volleyball tournament, CLICK HERE.

CLICK HERE to view championship photos.

Be sure LIKE AAU Volleyball on Facebook, FOLLOW us on Twitter and Instagram @AAUVolleyball for all the latest results, updates and exclusive photos from around the national championships.

RECAP: FINAL CHAMPIONSHIP GAMES OF AAU VOLLEYBALL NATIONALS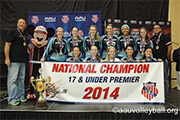 The 2014 AAU Girls' Junior National Volleyball Championships concluded in a big way on Monday and Tuesday as the 15, 16 and 17 divisions, along with the 18 Classic, finished up tournament play. The 15 and 17 Open and Premier Championship Games took place on Monday, June 23rd with the 17 Premier teams kicking it off!

Ocala Power United 17 Rox and the Carolina Islanders 17 Elite faced off in the 17 Premier Championship Game trying to take home the crown. Carolina Islanders played their first game at 8AM on Monday morning and then played again at 9AM, 11AM and 3PM. They won every game they played except for one match in pool play and the Championship Game itself, where they lost 25-16, 25-23. Ocala Power United 17 Rox won the game and the division, wrapping up the tournament where they went undefeated.

The 15 Open and 15 Premier Championship Games were next at 4PM. In the 15 Open division Asics Munciana and Mizuno Northern Lights 15-1 battled it out to see who would claim the crown. The match went three sets, with Mizuno taking the third to secure their win. Mizuno also went undefeated in the tournament and won every match in two sets except for the final Championship Game.

In the 15 Premier final, the Mizuno Northern Lights 15-2 team faced AP 15 PHD. Northern Lights had another long road the finals, starting their day at 8AM and fighting for the win in two close games at 9AM and 11AM. In the Championship game, cruised to a first set win, 25-13, and secured the match in the second set with a 25-21 victory.

In the 17 Open Championship Game, Mizuno Northern Lights were in it again, this time with their 17-1 team facing Illini Elite 17 Cardinal. Illini Elite started early, barely beating Avoli 17 Luis 27-25, 25-23 and then going three sets against Mizuno Vision 17-1, but ultimately pulling off the win. The Championship game was close, but Mizuno Northern Lights grabbed another National Championship title, making it the club's third National Championship of the day.

On Tuesday, competition was tense among the remaining teams. The championship games started at 3Pm with the two remaining 17U divisions.

Texstar and Premier Kayano faced each other in the 17 Club National Championship. Both teams only lost one game each in pool play, resulting in a bye going into the championship bracket. The Championship game was close, by Texstar managed to grab the win in two sets, 25-23, 25-21, becoming the new 17 Club National Champions.

Meanwhile, in the 17 Classic two teams fought their way to the Championship game. Both Mizuno Northern Lights and Tampa U17 Elite started at 8AM and didn't stop until the championship game was over. Tampa U17 Elite managed to pull out a win over Mizuno Northern Lights in two sets, 25-20, 25-21.

After those games, the 18 Classic and 16 Club divisions were in the hot seat. In a tough 18 Classic bracket that included Mizuno Sports Performance, Asics Munciana and Mizuno Northern Lights, Crossfire 18-1 ended up taking home the gold with a three set victory (20-25,25-16, 15-12) over the Asics Munciana Chameleons.

A court over, Gainesville Juniors 16 Elite and Illini Elite 16 Black were fighting for the gold in the 16 Club division. Gainesville Juniors cruised to a two set win, 25-12, 25-22. Gainesville Juniors 16 Elite won every set in the tournament, going 24-0 in sets and 12-0 in matches. Great job, girls!

In the final games of the day, and the tournament, the 16 Open, 16 Premier and 16 Classic divisions all came to play, making it an exciting end to a great tournament. Skyline 16 RSB Royal and Triangle 16 Black had a tough day to get to the championship game. Triangle went three sets in their first game of the day, ultimately defeating Viper 16 Elite Kat to move on to the semi-finals. Skyline won easily over Union 16 Asics Ken, 25-14 and 25-17. In their semi-final games, both teams went to three sets, with Triangle stealing the win from Mizuno Northern Lights and Skyline moving on after defeating OVA 16 Asics. In the championship game, Skyline took the first set easily, 25-16, and got the match win after winning the second set 26-24, making them the new National Champions in the 16 Open division.

Mizuno Northern Lights took home another gold after winning the 16 Premier division over Asics KIVA 16 White. Mizuno only lost one match the whole tournament, losing just four sets. Asics KIVA made it a close competition but Mizuno pulled through for the 25-21 and 25-22 victory.

Last but not least, the West Florida Waves and Sky High 16 Blue made it through to the championship game after a long day of volleyball. Games started at 9AM and the championship game didn't start until 7PM. But both teams persevered and made it to the final round, where Sky High claimed the gold with a 25-19 and 25-17 win. Sky High was another team that went the entire tournament without losing a match or a single set.
Congratulations to ALL the teams that participated in the 2014 AAU Girls' Junior National Volleyball Championships! We can't wait to see you again next year!
FOR FULL RESULTS FROM THIS EVENT, CLICK HERE.
FOR ACTION PHOTOS, CLICK HERE.
For ALL of YOUR AAU Volleyball information, visit www.aauvolleyball.org.
2014 AAU BASEBALL GRAND NATIONAL CHAMPIONSHIPS – WRAP UP

LAKE BUENA VISTA, FL – Saturday was the final wrap up for the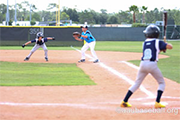 2014 AAU Baseball Grand National Championships at ESPN's Wide World of Sports at the Walt Disney World Resort in Orlando, Florida. Finishing out strong despite a few inclement weather and rain delays over the two week span.

During week one, 9U and 10U divisions and the inaugural Wood Bat Championships for 14U and Underclass divisions invaded the world renowned sports complex for an action packed week of AAU Baseball.

In the 9U Diamond division, the CFL Wolverines faced off against the Tampa Bay Bulls for the championship with the Bulls taking it all with 9 runs to the Wolverines 7.

The 9u Gold division championship featured the South Gwinnett Rattlers vs. the Georgia Heat. The Rattlers pulled through taking home the W with a final score of 14 to 8.

The Virginia Young Guns faced off against First Strike in the 10U Diamond division with First Strike earning the title with a close final score of 2-3.

The 10U gold championship game included the QBA Bad Boyz and team FS Elite. QBA brought the heat but it wasn't enough to stop the Elite with a final of 8-3.

It was the first year for the Wood Bat division of AAU Baseball Grand Nationals. The 14U and Underclass age groups enjoyed the crack of the bat and playing like the pros play, where the pros play with many of the wood bat games being held in Champion Stadium where the Atlanta Braves play for spring training.

In the 14U Championship, team Sharks Elite beat the Wiregrass Cardinals 5-2 to take home the hardware and the title.

Carrollwood Gators Blue took on the Orlando Assault in the High School Wood Bat division. The gators took home the championship and the beautiful Wood Bat shadowbox trophy with their final score of 7-3.

During week two, the 11U, 12U and 13U divisions rolled into ESPN for their chance to claim the crown in their age division. Opening ceremonies went off without a hitch and featured Mickey Mouse, a hip hop dance competition, and ended in true Disney fashion with an incredible fireworks display.
In the 11U Diamond division, the CBC Riverhawks blew out Team Florida with an 8 to 0 final score.
The East Cobb Braves had a close win over the Oviedo Knights in the 11U Gold Division with a final score of 6-5.

The 12U Diamond Championship featured the Hamden Yard Dogs who ran away with the championship against the Jax Rockets, 11 to 1. With their win at Grand Nationals, the Yard Dogs qualified to travel and compete later this summer in New York at the National Youth Baseball Championships.

The 12U Gold division had a close finish, 8 to 1, with the GPA Hooks beating the Ocala Venom for the title.

Mountain Expos Black beat Team Elite with a close finish, 5-4, in the 13U Diamond Division.
Finishing out the tournament strong, the Connecticut Capitals beat team Red Rage with a nail biting final score of 13-14.

Overall the AAU Baseball Grand National Championships were a success. Team pride, brotherhood, and sportsmanship were at an all-time high throughout the tournament. We would like to congratulate ALL of the athletes and coaches who participated and we look forward to seeing everyone back next year for the 2015 AAU Baseball Grand Nationals!

Let us know how your experience was at AAU Baseball Nationals LIKE us on Facebook at www.facebook.com/AAUBaseball and FOLLOW us on Twitter at @AAU_Baseball and leave us a comment, share any pictures – we'd love to hear from you.
2014 GYMNASTICS AGE GROUP NATIONALS RECAP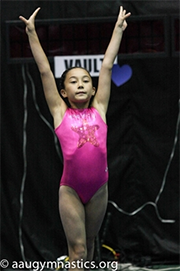 Gymnasts Salute! The 2014 summer events were kicked off this past weekend with the AAU Gymnastics Age Group Nationals! From July 12th through July 15th, over 115 gymnastics clubs and over 1,450 gymnasts from as far away as California competed for the title in their respective age group. Boys, Girls, Adults and Freestyle Gymnastics all focused, persevered, and pointed their toes on their way to claiming their medals.

Teams helped us kick off the event with the Parade of Champions and Dance party Thursday, July 12th. The Parade of Champions featured a special freestyle performance and the dance party, featuring a Disney DJ, was a huge hit! We were happy to see all of the gymnasts laughing and having fun to start off the event.

Did you compete this weekend or cheer on your favorite gymnast? Be sure to share all of your posts, photos, and videos of the event with us on Facebook (The REAL AAU), twitter (@AAUGymnastics) or Instagram (@aausports) and include the hashtag #AAUGymNatls!

The AAU is excited to announce that next year's Age Group National Championship that will be held in Las Vegas, NV in June 2015! Hope to see you there!

You can find all RESULTS below:
CLICK HERE for results from July 12th!
CLICK HERE for results from July 13th!
CLICK HERE for results from July 14th!
CLICK HERE for results from July 15th!

You can find all PICTURES here:

CLICK HERE for pictures from the Opening Ceremonies and Dance Party!
NOTICE TO ALL BASEBALL CLUBS AND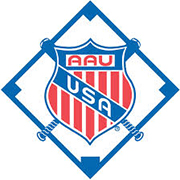 OPERATORS
Be sure to take advantage of the grace period for requesting practice, event, or AB insurance certificates. From September 1 until October 1, expedite fees for late requests for certificates are waived! Now is the time to request any certificates you may need. Remember, you can request up to 199 certificates at one time for just $35. Fees are per request, so you'll want to get all your requests in at once. If you have any questions, just contact Casey Todt (407.828.3710, casey@aausports.org) or Debra Horn (407.828.3459, debra@aausports.org).
CROSS COUNTRY DATES ANNOUNCED!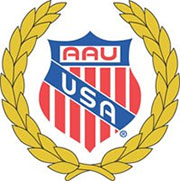 AAU Athletics is pleased to announce that the 2014 AAU Athletics Cross Country National Championship will take place December 6th, 2014 in Lawrence, KS.

The University of Kansas cross country course, Rim Rock Farm, will host this highly anticipated event. This facility has hosted the Rim Rock Classic, Kansas High School State Championships, as well as the Big XII Conference Championship!

As the event draws closer, more information will be posted on www.aauathletics.org. Be sure to keep the Sunflower State on your mind, and we will see you at the 2014 AAU Athletics Cross Country Nationals!
SIGN UP YOUR FOOTBALL LEAGUE TODAY!
Are you interested in starting an AAU Football league in your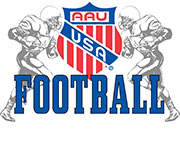 area? If so, do not delay!

All leagues interested in sending teams to the 2014 AAU Tackle Football League Based National Championship must have their leagues licensed and rosters locked by October 1st.

To license your league and/or purchase memberships, please CLICK HERE or visit www.aausports.org.
FREE COA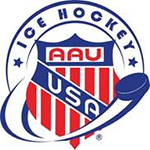 CHES TRAINING
AAU National Hockey Chair, Keith Noll is pleased to announce that AAU Hockey is offering a free online coaching program for Coaches, Players & Parents.

This course is brought to you by former Stanley Cup Champion, Mike Hartman! To learn the skills that will enable you to make the right choices to achieve your goals, CLICK HERE.
START A WRESTLING CLUB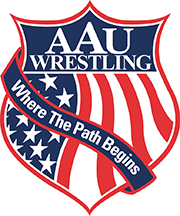 Not enough wrestling in your area? Why not start your own wrestling program? The 2015 AAU Membership year is officially underway, which means the 2015 Wrestling National Championships are quickly approaching!

Start a club in your area and begin preparing your athletes today! To register your club or for more information on wrestling events in your area, visit www.aauwrestling.net or CLICK HERE.
2015 AAU TAEKWONDO TEAM TRIALS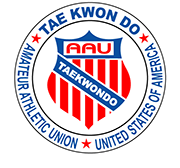 The 2015 AAU Taekwondo Team Trials took place this past weekend in Ft. Lauderdale, Florida at the Greater Ft. Lauderdale/Broward County Convention Center. Team Trials are conducted for Cadet (12-14) and Junior (15-17) athletes who placed 1st, 2nd, 3rd at the 2014 AAU Taekwondo National Championships in their respective weight class and division along with returning team members.
This year, over 140+ athletes competed for the one spot in each weight division for both male and female on Saturday, September 6th and Sunday, September 7th.

Click the following links to see the results!

Day 1 - Day 2 - Cadet & Junior Team Member

For more information on the event, visit www.aautaekwondo.org.
AAU BOYS' BASKETBALL NATIONAL CHAMPIONSHIPS- SUMMER RECAP
It was an action packed summer for AAU Boys' Basketball! For the first time in years, AAU Boys' Basketball Nationals were spread out in different locations all over the country! It was no surprise that, as in years past, the teams brought their best game and competition was at an all-time high! Teams came with one goal in mind: to take home the glory, the hardware and showcase their skills on the national stage. Congratulations to all who competed in 2014! Special shout-out to all of the newly crowned National Champions!
2nd Grade Nationals - Memphis, TN-
Champion - MN Spartans Elite
Runner-Up - NightRydas Elite
3rd Grade Division Nationals- Orlando, FL-
Champion - Riverside Hawks
Runner-Up - Maryland's Pride
4th Grade Nationals- Lexington, KY
Champion - Maryland's Finest
Runner-Up - Mathews Dickey Finest
5th Grade Nationals- Cocoa Beach, FL
Champion - We All Can Go Allstars
Runner-Up - NTX Tarheels Elite
6th Grade Nationals- Hampton, Virginia
Champion - Oakland Soldiers
Runner-Up - We All Can Go
7th Grade Nationals- Memphis, TN
Champion - Team CP3
Runner-Up- City Stars
8th Grade Nationals- Orlando, FL
Champion - Georgia United Elite
Runner Up- Sport U Izod
9th Grade Nationals- Little Rock, Arkansas
Champion- Team Penny Merriweather
Runner Up- Arkansas Wings Elite- 15U
10th Grade Nationals- Louisville, KY
Champion- Arkansas Wings Elite- EYBL
Runner Up- Nova Village Rockets
11th Grade Nationals- Louisville, KY
Champion- The Ville
Runner Up- Albany City Rocks EYBL
12th Grade Nationals- Louisville, KY
Champion- Team Michigan
Runner-Up- S'Shore Warriors Sidney
For ALL DIVISION Results- CLICK HERE
For Photo Galleries- CLICK HERE
LIKE AAU Basketball on Facebook HERE
Follow AAU Basketball on Twitter @AAU_Basketball and on Instagram @AAUBasketball
EVENTS
---
Athletics
(listed in date order)
---
2014 AAU Connecticut Cross Country National Qualifier
AAU Athletics
October 19, 2014
New Haven, CT
Entry Deadline: October 19, 2014
Complete Info Flyer
---
Baseball
(listed in date order)
---
Chaz Lytle Baseball Player Development Open House
AAU Baseball
October 5, 2014
Longwood, FL
Entry Deadline: None Given
Complete Info Flyer
---
Boys' Basketball
(listed in date order)
---
---
2014 BABC Veteran's Day Classic
AAU Boys' Basketball
Date: Nov. 8 & 9, 2014
Location: Roxbury, MA

Entry Deadline: October 25, 2014
Information Flyer:
Click Here
---
Girls' Basketball
(listed in date order)
---
GIRLS' FALL AAU CLASSIC
AAU Girls' Basketball
Date: Oct. 4 & 5, 2014
Location: Boston, MA

Entry Deadline: Sept. 27, 2014
Information Flyer:
Click Here
---
Boys' & Girls' Basketball
(listed in date order)
---
THE SHOWDOWN
AAU Boys' & Girls' Basketball
Date: Sept. 13 - 14, 2014
Location: Alameda, CA

Entry Deadline: 650-898-4499
Information Flyer:
Click Here
---
Halloween Hoops
AAU Boys' & Girls' Basketball
Date: Oct. 31 - Nov. 2, 2014
Location: Denver, CO
Entry Deadline: October 26, 2014
Information Flyer: Click Here
---
Hockey
(listed in date order)
---
BLUE COLLAR HOCKEY
Date:November 7-9, 2014 Grand Rapids, MI
January 16-19, 2015 Detroit, MI
March 13-15, 2015 Ann Arbor, MI
April 24-26, 2015 Chicago, IL
May 15-17, 2015 Chicago, IL


Entry Deadline: 248-399-1694


Information Flyer: Click Here
---
AAU TURKEY TOURNAMENT
Date: Nov. 28, 29 & 30, 2014
Location: Oak Park, MI


Entry Deadline: Nov. 1, 2014


Information Flyer: Click Here
---
AAU TOP SHELF HOLIDAY TOURNAMENT
Date: Dec. 27 & 28, 2014
Location: St Clair Shores, MI
Entry Deadline: Nov. 22, 2014
Information Flyer:
Click Here
---

As a member of the Amateur Athletic Union, you can save with special discounts on Nationwide® auto insurance. Click here to take advantage of your exclusive members-only discount or call
1-866-633-5747
---