APPLY FOR THE 2015 AAU HIGH SCHOOL SULLIVAN AWARD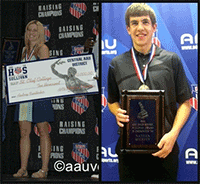 The 2015 AAU High School Sullivan Award is back and we need YOUR applications! This award is available to high school seniors who are or have been an AAU participant in any sport. The AAU High School Sullivan Award and Scholarship Program emphasizes certain qualities in the individual athletes, including leadership, character, sportsmanship, academics and accomplishments in their sports.

The AAU Sullivan Committee will be awarding a total of $35,000 in Scholarship Funds to eight (8) different recipients; four (4) male and four (4) female athletes. The top female and male winner will receive a $10,000 scholarship provided to the school they choose to attend the following year. The six remaining finalists will each receive a $2,500 scholarship to the school that they choose to attend.

Winners will be chosen through both electronic and personal reviews from all of the completed and properly submitted applications. The deadline to apply is April 1st, 2015 and the scholarship winners will be announced in June.

Last year, Audrey Faulhaber and Nathan Sherfey were recognized as the two winners of the 2014 AAU High School Sullivan Award. They were selected from hundreds of deserving applicants and were each awarded the top scholarship prize of $10,000 to the school of their choice. For the full story on Audrey and Nathan, CLICK HERE.

To apply for the 2015 AAU High School Sullivan Award, CLICK HERE.

Follow us on FACEBOOK to keep track of EVERYTHING AAU, including the Sullivan Award and High School Sullivan Award! Have a Twitter? Follow @TheRealAAU for all the latest updates and news about the AAU!

AAU ALUMNI BRING HOME WORLD SERIES TITLE
For the 37th time in Major League Baseball's history, the World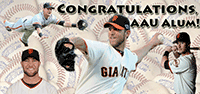 Series came down to a Game 7. The six previous games in the World Series meant nothing going into last night's game between the Kansas City Royals and the San Francisco Giants. It all came down to who had the highest score when the last out was recorded. In true Game 7 fashion, the Giants squeaked out a win against the Royals with a score of 3-2. While everyone contributed to this World Series title for the Giants, everyone at the AAU would like to especially congratulate five of its alumni that can add a World Series ring to their collection.

Joe Panik #12
Panik, a 6'1 second baseman from Yonkers, New York, played in a total of 17 games in the postseason, including all seven games of the World Series. In those 17 games, he racked up 73 at bats, with 17 hits and 26 total bases. He scored seven runs for the Giants in the postseason and drove in eight more. The 24 year old made his MLB debut just five months ago and managed to hold a .233 batting average during the entire postseason. A day after his team's World Series win, he will be celebrating his 24th birthday.

Congratulations, Joe and Happy Birthday!

Andrew Susac #34
Susac, another 24 year old that made his MLB debut back in May, played in four postseason games for the Giants. He stepped up to the plate four times, getting a base hit once. The 6'1 catcher from Oregon State has played in only 35 Major League games, so the fact that the Giants included him in their 25-man World Series roster goes to show that they see his full potential.

Congratulations, Andrew and good luck in the future!

Buster Posey #28
The former Florida State superstar played in 17 total games in the postseason and all seven games of the World Series. He racked up 69 at bats over the course of the postseason, reaching base 17 times with a hit and driving in seven runs. He scored another five runs himself and drew six walks. The former AAU Sullivan Award nominee averaged .246 and maintained a .312 on base percentage throughout the postseason.

Congratulations to Buster Posey!

Hunter Strickland #60
The 6'4 right hander pitched in eight postseason games for the Giants, with four of those in the World Series. Strickland didn't start any of those games, but he did earn one win and received credit for a save. He pitched a total of 8.1 innings and gave up nine hits and seven earned runs throughout the postseason. Strickland racked up eight strikeouts and had a 7.56 ERA.

Congratulations on your World Series title, Hunter!

Madison Bumgarner #40
Last but certainly not least, Madison Bumgarner, a 6'5 left hander, was the talk of the World Series after pitching in three games, starting two of them. His numbers were phenomenal throughout the postseason, where he pitched in 7 total games, starting six of them. Two of those games were complete games, and he had two shutouts. He added a save to his stat line and racked up 52.2 innings pitched. He allowed only 28 hits and seven runs in the entire postseason and struck out 45 batters. In the three games he pitched during the World Series, he maintained a .043 ERA over 21 innings pitched. Of his nine hits allowed, one was a home run, the only run he allowed in the World Series. Bumgarner struck out 17 batters in the World Series alone and only walked one. In Game 5, he pitched a 117-pitch shutout and three days later, came into Game 7 with a one-run lead in the fifth. He dominated for five scoreless innings, retiring 14 batters in a row and holding the tying run on third base in the ninth.

This is the Giants' third World Series title in five years, the other wins coming in 2010 and 2012.

Congratulations to the entire San Francisco Giants team on your World Series win!
MORE AAU ALUMNI TAKE TO THE HARDWOOD FOR NBA DEBUT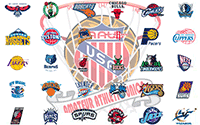 Wednesday was the first game of the NBA season for several teams, and a new season means more NBA debuts. Ten former AAU Basketball members stepped on the court for the first time as an NBA player, some of them having impressive games and playing for nearly the whole game. 38 of the 60 players in the 2014 NBA Draft were AAU members at some point in their young basketball careers and this week was the week they've been dreaming of their wholes lives. Dreams came true as they showed their talents on the hardwood and vied for a spot in the starting lineup. Below is a breakdown of the ten players who played last night.

Jabari Parker #12
Parker was selected as the second pick overall in the NBA this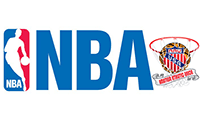 year by the Milwaukee Bucks and they took full advantage of their impressive draft pick. The 6'8 small forward played for 37 minutes and scored eight points. He was 3-for-9 in attempts and was 2-2 in free throws. Parker grabbed four rebounds on the night, with one assist and a steal. Unfortunately, his strong performance wasn't enough to get the victory; the Bucks fell to the Hornets, 108-106. The Bucks play the 76ers next, where he will potentially face K.J. McDaniels, a fellow AAU alum.

Marcus Smart #36
Smart was given the opportunity to shine as the Celtics' point guard for 28 minutes in last night's game against the Nets. He made 3 of his 7 field goal attempts and sank a three pointer, totaling ten points. The 6'4 first round pick chalked up two rebounds, two assists and three free throws on the night, helping the Celtics grab a 121-105 victory over Brooklyn. With four steals, he is ranked fifth in the league. The Celtics have two day break, but will face the Rockets on November 1st.

Doug McDermott #3
The 6'8 small forward was drafted 11th overall by the Bulls and put up some impressive numbers against a strong Knicks team. McDermott played for 24 minutes, shooting 5-for-9 in attempts and sinking two of his five 3-point shots, totaling 12 points. He tacked on five rebounds, two assists and a steal to his stat line and put one in the win column for his Bulls team, defeating the Knicks 104-80. The Bulls have a rest day and then will come back full force to play the Cavaliers on Friday.

Rodney Hood #5
Utah picked this 6'8 Duke shooting guard 23rd overall in Draft and gave him 21 minutes of playing time in his NBA debut Wednesday night. Hood made 2 out of his 6 field goal attempts and sank one of his four 3-pointers, ending with five points in the game. He grabbed two rebounds, put up two blocks and a steal to add to his stats. Overall, not a bad debut, but unfortunately his team couldn't pull off the win, dropping the game to Houston 104-93. The Jazz play again tonight against the Mavericks.

K.J. McDaniels #14
McDaniels, a 6'6 shooting guard from Clemson, was picked in the second round by Philadelphia but the 76ers wanted to see what he was capable of, giving him 20 minutes of playing time. McDaniels only scored two points on the night, but grabbed two rebounds, one assist, a block and a steal in a 103-91 loss to the Pacers. The 21 year old from Mobile, Alabama will hopefully have a chance to play again Friday night when his team plays the Bucks.

Jordan Clarkson #6
It wasn't Clarkson's first time on the professional stage last night. His NBA debut was Tuesday against the Rockets, where the Lakers fell 108-90. In that game, Clarkson logged 20 minutes of playing time, grabbing eight points, with four rebounds, two assists, and five free throws. In last night's game against the Suns, the 6'5 point guard played 15 minutes, putting four points on the board, along with two rebounds and two assists. Unfortunately, his efforts weren't enough and his Lakers team lost to Phoenix 119-99. Friday, the Lakers will play their city rivals, the Los Angeles Clippers at the Staples Center.

Shabazz Napier #13
The first round draft pick from Roxbury, Massachusetts played for 15 minutes in the Heat's first game of the season. Napier tacked two points to the overall score, and added three rebounds, two assists and a steal to his personal stats. His Miami team starts the season with a winning record, beating the Wizards 107-95. The Heat are back in action on Saturday against the 76ers.

Tyler Ennis #4
The 6'2 point guard logged 13 minutes of play during his NBA debut, putting two points on the board, along with three assists and a block. Drafted by the Phoenix Suns 18th overall, he'll undoubtedly get plenty of playing time over the course of the season, with the Suns next game on Friday against the Spurs.

Spencer Dinwiddie #8
In the 89-79 loss to the Denver Nuggets, Dinwiddie got eight minutes of playing time. He made one shot in those eight minutes, and didn't score, but he did get credit for an assist. The Pistons will face the Timberwolves tonight at 8PM.

Cleanthony Early #17
In his seven minutes of playing time, the 6'8 small forward made his only shot, putting two points on the scoreboard. Although his Knicks team lost to the Bulls, they'll go for the win against the Cavaliers tonight at 8PM.

Congratulations to ALL of the AAU Alumni who are making the NBA debuts!
AAU MEMBERS EARN COVETED GOLD GLOVE AWARD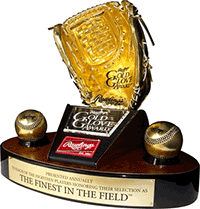 Nine of the 18 Major League Baseball players that won the Gold Glove Award this year played AAU Baseball at some point in their careers. Two players from the National League and seven from the American League took the skills they developed in AAU Baseball to the Major League spotlight when they were chosen for the coveted award. The SABR Defensive Index, a statistical component, counted for 25 percent of the vote, with the remaining votes coming from major league managers and coaches. See the list below for highlights on the AAU members who won!

Zack Greinke
Pitcher Zack Greinke grabbed his first Golden Glove of his career. In October, he pitched seven innings, allowing only two hits and two walks. He had seven strikeouts and didn't allow any runs.

Jason Heyward
The 6'5 right fielder led the league in Defensive Runs Saved with 32 and earned his second Gold Glove of his career. At the plate in the 2014 regular season, he came to the plate 573 times, averaging .271. He added 11 home runs and 58 RBIs to his stat line, along with 20 stolen bases. According to ESPN, Heyward has a good shot at being named the Platinum Glove winner, with his biggest competition being Adrelton Simmons, who grabbed his second Golden Glove this year after being named last year's NL winner.

Dallas Keuchel
The 6'3 left hander earned his first Gold Glove of his career after having an impressive year with Houston. The 26 year old from Tulsa, Oklahoma was one of the leaders in Defensive Runs Saved. He had a total of 29 starts and five complete games. Keuchel pitched 200 innings, allowing 71 runs, 65 of them earned. He racked up 12 wins and 146 strikeouts and maintained a 2.93 ERA throughout the 2014 season.

Eric Hosmer
One of three Royal to take home the award, Hosmer earned his second Gold Glove, becoming the only Royals first baseman to win one. In the 2014 postseason, the 6'4 first baseman played in 15 games and stepped up the plate 57 times. Out of those at bats, he had 20 hits and 12 RBIs with another eight runs scored. Hosmer averaged .351 in the postseason, with two home runs, a triple and three doubles, along with 16 stolen bases.

Dustin Pedroia
Despite a struggling Red Sox team, Pedroia managed to snag his fourth Gold Glove, winning in back to back years for the first time. The only other two Red Sox players to win more times than him is Dwight Evans (8) and Carl Yastrzemski (7). In the 2014 season, the 5'8 second baseman had 551 at bats, with 153 hits, 33 doubles, and seven home runs. He knocked in 53 RBIs and scored another 72 runs. He drew 51 walks and racked up six stolen bases.

JJ Hardy
Hardy claimed his third Gold Glove of his career, passing Cal Ripken Jr. and becoming the Orioles' shortstop with the second-most Gold Gloves won. At the plate, Hardy had 25 at bats in the postseason, with three RBIs, a home run, a double and six hits. He drew 3 walks and scored three runs, but his team ultimately fell to the Kansas City Royals in the American League Championship Series.

Kyle Seager
According the ESPN, the biggest surprise of the night was Mariners' third baseman Kyle Seager, who beat out division rivals Josh Donaldson (Athletics) and Adrian Beltre (Rangers) to win his first Gold Glove. Donaldson had 20 Defensive Runs Saved, twice as many as Seager, but Seager was most likely awarded for his overall improvement defensively. He went from a minus-7 and minus-8 Defensive Runs Saved in his two previous seasons to 10 Defensive Runs Saved in 2014. Seager is the first Mariners third baseman to win since Beltre in 2008.

Alex Gordon
Gordon was another Royals' player who grabbed Gold Glove honors, making it his fourth consecutive win in a row. His four wins are the most by a Royals outfield, edging out Amos Otis' three. The left fielder was the AL leader in Defensive Runs Saved for an outfielder.

Adam Jones
Jones won for a fourth time, becoming the seventh Orioles player and second Orioles outfielder to win at least four Gold Gloves. Although the Orioles fell to the Royals in the ALCS, Jones knocked in three runs and scored another six for the Orioles in the postseason. He totaled six hits with one home run and a stolen base, and maintained a batting average of .222.

Congratulations to all of the AAU members who received a Gold Glove and good luck next season!
AAU BASEBALL MOVES TO MLB (AL) Rules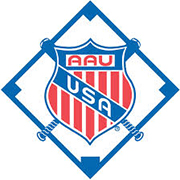 At the 2014 AAU Convention, the Baseball Sport Committee approved a proposal to use Major League Baseball – American League rules for the sport rather than NFHS, except where amended by AAU. The rationale behind the move is that in the NFHS, each state is free to amend their rules as desired. Therefore, when teams come to AAU Nationals and it is said that NFHS rules are used, teams are expecting the rules that are in place in their home state. This results in confusion and frustration so Baseball has gone to a universal rule set available to all teams.
To view MLB – American League rules, click here.
UPCOMING CROSS COUNTRY DISTRICT CHAMPIONSHIPS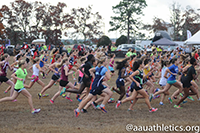 Next weekend, three cross country district championships will kick off across the country!

On November 15th, 2014 the Michigan Blazers Track Club will host the Michigan Cross Country District Championship at Victory Park in Albion, MI. Also on the 15th, Slipstream Track & Field Club will be hosting the Southeastern Cross Country District Championship. This event will take place at Daniel Boone High School in Gray, TN. On November 16th, the Gulf Cross Country District Championship will be hosted by High Velocity Youth Track at Sugar Land Memorial Park in Sugar Land, TX.
Each of these events will qualify athletes for the 2014 AAU Cross Country National Championship taking place on December 6th in Lawrence, KS!
For more information or to find a district championship in your area, please visit www.aauathletics.org or CLICK HERE.
REGISTER TODAY FOR THE TACKLE FOOTBALL UNRESTRICTED NATIONALS!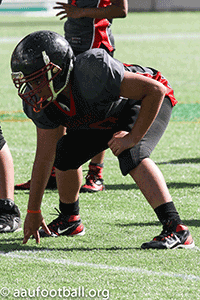 Attention AAU Football athletes, coaches, and parents! Registration for the 2014 AAU Tackle Football Unrestricted National Championship is now open! This event will take place from December 19th – 21st, 2014 in San Antonio, TX and is open to any football team within the age limits with valid 2015 AAU Memberships! This event offers tackle football competition for ages 6U, 8U, 10U, 12U, and 14U. It also features a 6U Flag Football division.
For more information on how to register your teams, visit www.aaufootball.org or CLICK HERE.
NEW RINK TO OPEN IN DETROIT AREA
It's official The Motor City Chiefs have acquired the lease to the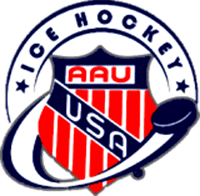 Canfield Ice Arena located at 2100 Kinloch, Dearborn Heights, MI 48127. The rink is being retro fitted to be the first real hockey arena dedicated to inline hockey.

This arena will allow for play on a full size NHL surface, longer period times, locker room for team storage/use, showers in all locker rooms, and the ability to operate its own facility. This will now become the home for Motor City Hockey Club (Inline & Ice), the Great Lakes Inline Hockey League, an AAU Licensed Facility, as well as a USARS Licensed Facility.

The GLIHL will provide competitive play for all ages from Mites to Pro Level. M.C. Chiefs will provide skating opportunities from 5 years of age to Pro level teams including High School & College Inline Teams. Join as an individual or bring in your own team!
ONLINE REGISTRATION NOW AVAILABLE!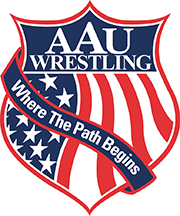 Registration is now open for the 2015 AAU Winter Youth Nationals! This highly competitive event is taking place from January 3rd – 4th, 2015 in Ralston, Nebraska at the Ralston Arena. The entry fee of $45 per athlete is due by January 2nd, 2015 at noon. Late registration will be available for an additional $20 per athlete if the tournament limit of 1200 athletes is not met.
Do not delay! CLICK HERE to register your athletes today!
SAVE THE DATE!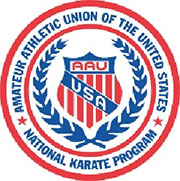 2015 AAU Karate National Championships
Join us in Raleigh, North Carolina for the 2015 AAU Karate National Championships! Nationals will be held at the Raleigh Convention Center from June 30th – July 4th . Make sure to qualify at your district and/or regional events so that we can see you in Raleigh!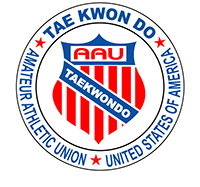 SAVE THE DATE!
2015 AAU Taekwondo National Championships
The 2015 AAU Taekwondo National Championships are back in Fort Lauderdale, Florida from June 29th – July 4th . Check back at www.aautaekwondo.org for updates as we near closer to the event. We look forward to seeing you back at the Greater Fort Lauderdale Broward County Convention Center!
EVENTS
---
---
---
---
---
---
---
---
---
---
---
---
2015 OKLAHOMA AAU STATE POWERLIFTING MEET
AAU Powerlifting
Date: May 16 & 17. 2015
Location: Tulsa, OK
Entry Deadline: May 15, 2015
Information Flyer: Click Here
---
---
---
---
---