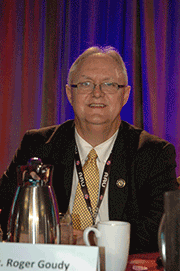 LAKE BUENA VISTA, FL. – Last week, the Amateur Athletic Union of the United States held their 124th National Convention at the Harbor Beach Marriott in Fort Lauderdale, Florida. It was the largest convention held in AAU history with an overwhelming number of volunteers and delegates who traveled from districts all over the United States to cast their votes for what was the first full election in over 20 years.
More than 800 votes were cast for the office of President in congress on Friday. Candidates consisted of President Henry Forrest and AAU National Volleyball Chairman, Dr. Roger Goudy. When the result came in, 462 votes were cast in favor of Dr. Goudy, making him the new President of the Amateur Athletic Union.
Dr. Goudy who lives with his family in Madison, Ohio, is the first AAU President from Ohio since former Ohio Governor James A. Rhodes. He has been the Superintendent of the Madison School District since 2008. Prior to that, he was the Director of Business Affairs at South Euclid Lyndhurst Schools for 10 years. On October 2nd 2014 he received an award from the Buckeye Association of School Administrators (BASA) which is the Ohio Superintendents Association, for exemplary leadership as a school superintendent. He has been volunteering with the AAU for over 35 years and has served on the board of directors as the National Volleyball Chairman for 23 years and the National Secretary for 6 consecutive terms.
President Goudy, whose campaign slogan boasted a "New Day" for the AAU, is looking forward to launching the organization into the future.
"I've always been a part of the AAU", said Goudy. "My entire family has participated, from member athletes to volunteers, and I believe we will always continue to be part of it. My son, Brian, is the Lieutenant Governor of the Lake Erie district and I look forward to having the opportunity to work with him, along with hundreds and thousands of volunteers across the country and the wonderful AAU staff."
One of his first major plans that will be ongoing throughout his tenure as President is to restructure and repair relationships with organizations such as Disney, the United States Olympic Committee (USOC), the National High School Sports Federation and the NCAA.
Along with Dr. Goudy, four other officers were elected in congress. Rusty Buchanan was elected First Vice President, making it his second term in that position. Matt Williams was elected Second Vice President and Cynthia Trombly and Jo Mirza were elected as National Secretary and National Treasurer, respectively. The officers are ready to get to work and believe that with teamwork, they will be able to work with National Chairs and volunteers in the organization to grow the AAU and reach one million members.
For more info on the Amateur Athletic Union visit www. AAUSports.Org to watch the first official interview with President, Dr. Roger Goudy visit
www.youtube.com/TheRealAAUVideo
Or
CLICK HERE
.
AAU BOYS' BASKETBALL PROGRAM AGE BASED (17U-14U)

On Thursday, October 23rd at the AAU National Convention in the Boys' Basketball General Session meeting, over 66% of the District Sport Directors voted to make the AAU Boys' Basketball program age based (7U-14U). There was no change in the high school ages. Below are the age/grade divisions of play for the 2015 season.
Age/Grade Divisions
Age based divisions shall be used in boys' basketball for the following: 7U, 8U, 9U, 10U, 11U, 12U, 13U, 14U. Age/Grade based divisions shall be used in boys' basketball for the following: 15U/9th grade, 16U/10th grade, 17U/11th grade, 19U/12th grade.

| | |
| --- | --- |
| 7 & Under: | An athlete can be no older than 7 on August 31, 2015 |
| 8 & Under: | An athlete can be no older than 8 on August 31, 2015 |
| 9 & Under: | An athlete can be no older than 9 on August 31, 2015 |
| 10 & Under: | An athlete can be no older than 10 on August 31, 2015 |
| 11 & Under: | An athlete can be no older than 11 on August 31, 2015 |
| 12 & Under: | An athlete can be no older than 12 on August 31, 2015 |
| 13 & Under: | An athlete can be no older than 13 on August 31, 2015 |
| 14 & Under: | An athlete can be no older than 14 on august 31, 2015 |
| 15U/9th Grade: | An athlete can be no older than 15 on August 31, 2015. Grade Exception: An athlete who is in the 9th grade as of October 1, 2014 and who is no older than 16 on August 31, 2015 is eligible to play in the 15U/9th grade division |
| 16U/10th Grade: | An athlete can be no older than 16 on August 31, 2015. Grade Exception: An athlete who is in the 10th grade as of October 1, 2014 and who is no older than 17 on August 31, 2015 is eligible to play in the 16U/10th grade division |
| 17U/11th Grade: | An athlete can be on older than 17 on August 31, 2015. Grade Exception: An athlete who is in the 11th grade as of October 1, 2014 and who is no older than 18 on August, 31 2015 is eligible to play in the 17U/11th grade division |
| 19U/12th Grade: | An athlete can be no older than 19 on August 21, 2015. Grade Exception: An athlete who is in the 12th grade as of October 1, 2014 and who is no older than 20 on august 31, 2015 is eligible to play in the 19U/12th grade division |
BASEBALL VOLUNTEERS APPLAUDED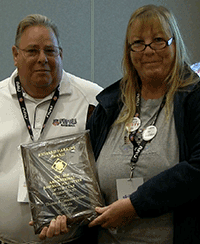 At the 124th AAU Convention in Ft. Lauderdale this past week, three Baseball volunteers received the highest accolades Baseball, and the entire AAU, offers.
Honored during the Baseball General Session, Tom and Gerri Milner were awarded the Richard Harkins Baseball Volunteer of the Year award for their long and dedicated service to AAU Baseball. Mr. and Mrs. Milner live in Sarasota, Florida and been involved with AAU for many, many, years. Tom sits on the Executive Committee but this award speaks to the Milner's tireless efforts during AAU Baseball Nationals. Tom handles awards presentations at Nationals and Gerri works behind the scenes to prepare the awards. They both played a key role in the organization of this year's 4U/Underclassmen/Upperclassmen Baseball Nationals in Sarasota.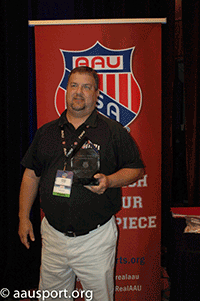 North Carolina Baseball District Director was awarded the prestigious AAU President's Award. Those receiving this award each Convention are chosen by the President of AAU. When Chad took office as District Director in the 2012 season, Baseball in that district had 303 memberships. At the end of 2014, there were over 3,500 members. Now, just two months in to the 2015 membership year, there are over 2,500 baseball memberships in North Carolina.
AAU Baseball, as well as every sport in the Union, has awesome volunteers!

Congratulations to Tom, Gerri, and Chad!
SOUTH JERSEY BOYS BOX LACROSSE LEAGUE LOOKS TO EXPAND
Note: The next session of the South Jersey Boys Box Lacrosse League will begin later this month in Mt. Laurel and Cherry Hill, SJBBLL hopes to expand the age groups into the 14 and up age range, allowing older players that opportunity to experience the Canadian game.
Games are played Saturdays and Sundays for various age teams and offer a unique indoor training opportunity for the winter months. For more information visit their website at www.sjbbll.com
Phillylacrosse.com, Posted 10/17/14
From the SJBBLL
As the clock ticked down on the World Championships of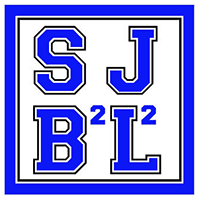 Lacrosse this year in Denver, Colorado, many in the lacrosse community were left to wonder how that upset could have happened.SJ Box league.
The road to Denver was littered with tell tale signs that US supremacy in the game of Lacrosse was being challenged. Only two years prior in Denver the Canadians had beaten the assembled US squad in an international friendly. How did a country one tenth the size of the US command an impressive win over an elite US squad?
According to Brodie Merrill, it came from their blue collar upbringing in Box Lacrosse. Box Lacrosse is the traditional format of the game as it is played in Canada. Local youth programs gather at their local hockey rinks rather than outdoor fields to practice and play, there isn't much thought to whether it is the correct, or the "right way" to play, it is just how it is done.
The game took on many of the traits of the most popular of Canadian sports while ice hockey rinks were dormant for the summer months. So from the rough and tumble, the tic-tac-toe passing, and the padded goal keepers, the game inherited a distinct flavor of hockey while there was no ice. In the US, box lacrosse is often misunderstood or mischaracterized by those that aren't familiar with it.
Twenty Five years ago the influence of Canadian players here in the US was heralded by the twins from Esquimalt Legion British Columbia, Paul and Gary Gait redefined the game during their years at Syracuse University, breaking records and displaying a unique style of passing, shooting, and teamwork. Since that time the game has grown exponentially adding thousands of players a year to its ranks taking sticks and helmets out on the fields in the spring and into the fall. The indoor or Box game has remained for the most part a winter pastime while the weather prevents the outdoor game from being played.
More recently the success of Canadian players in the college and professional ranks has sparked interest in the box game, players and coaches looking to develop some of the high level skills seen on display from players developed in the indoor game. For one local coach, that meant starting an entire new league for kids to play lacrosse.
MAXPREPS 2014 NATIONAL VOLLEYBALL POY WATCH LIST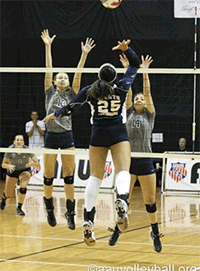 14 of the 18 players on the MaxPreps.com 2014 National Volleyball Player of the Year Watch List are or were AAU members! For the FULL Story, with stats, see the original story below.
Originally posted by Tom Mauldin on MaxPreps.com
One libero, four setters and 13 front row standouts highlight the MaxPreps 2014 Volleyball Player of the Year Watch List.
The libero, Amber MacDonald, is also the team's shortest player at 5-foot-4. But on the court, she puts up big numbers and ranks second on Georgia's all-time digs list.
On the other end of the height chart is Yaasmeen Bedart-Ghani of Redondo Union. She is 6-4 and so dominant that many teams triple-team her. Many say she is among the most graceful players in the nation and it doesn't matter if she is in the front row or back.
It is likely that MacDonald, who has committed to Wisconsin, and Bedart-Ghani, who has committed to Texas, will see plenty of each other in college.
Three players on the POY Watch List were members of the gold-medal winning U.S. Junior National Team: Alexa Smith, Mikaela Foecke and Jordyn Poulter.
The 18 players are all seniors and represent 13 states. California, Texas, Tennessee, Illinois and Missouri have two players each on the POY Watch List.
The Player of the Year, along with MaxPreps All-Americans, will be named in December.
SEVERAL AAU MEMBERS MAKE NBA DEBUT
Several AAU alumni made their NBA debuts in the opening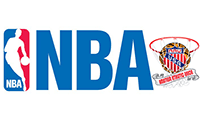 games of the season last night. Eighteen of the thirty players that were drafted in the first round of the NBA Draft played AAU Basketball at some point in their careers and they were ready to take their talents to the highest stage.

The first NBA game of the season, between the Magic and Pelicans, featured Magic rookies Aaron Gordon and Elfrid Payton tipping off their careers. Payton, the 20 year old Louisville-Lafayette point guard, played for 31 minutes and scored 4 points. Not only was he able to make his NBA debut, but his first game was in New Orleans, Louisiana, just a few miles away from Payton's hometown of Gretna. Family and friends poured into the Smoothie King Arena to watch his first professional game and the crowd went wild when his name was called in the starting lineup. He added five rebounds, 7 assists and a steal to his stat line.

Payton's teammate, Aaron Gordon, also checked into the game, making his first appearance in the NBA. He played for a total of 28 minutes, totaling 11 points and making 5 of 8 shots. The power forward from Arizona racked up three rebounds, a block and a steal. Gordon also sank a three pointer from the corner to give the Magic an early lead in the game.

Devyn Marble, who was chosen in the second round and 56th overall, had his first opportunity to play in an NBA game. He only came in for three minutes, but he managed to add four points to the board, making both of his shot attempts. He also grabbed a rebound and was fouled, although he was 0-2 on free throw attempts. Despite the solid performances from the rookies, the Magic fell to the Pelicans, 101-84. Orlando will play again Thursday, October 30th against the Wizards at home in the Amway Arena.
FOOTBALL MATTERS; GOOD NEWS IN THE GAME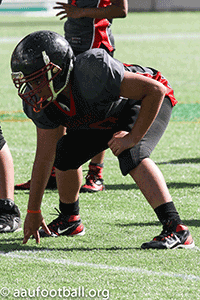 It was only about five years ago that football fans feared the onslaught of concussion claims and that early stage dementia in a small subset of former players might doom the sport. But the initial feelings of panic and cynicism have begun to fade, as the voices of doctors and athletic trainers have emerged, calming the public and appropriately refocusing the conversation on the science of concussion and broader health issues of student-athletes in all sports. The game isn't going to go away, they declared, but it must be made safer.
To read the complete article on how the sport of football is evolving, CLICK HERE.
WEST VIRGINIA CROSS COUNTRY DISTRICT QUALIFIER COMING UP SOON!
The Capital City Striders, Inc. is hosting the West Virginia Cross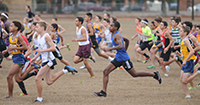 Country District Qualifier on November 8th, 2014 at Coonskin Park in Charleston, WV.

By participating in this event, your athletes can qualify for the 2014 AAU Cross Country National Championship taking place on December 6th in Lawrence, KS!
To register for the West Virginia Cross Country District Qualifier, CLICK HERE. For more information, please visit www.aauathletics.org.
H-BOX PARTNERSHIP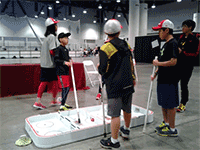 AAU Hockey is proud to announce a new partnership with H-Box, a recreational hockey game for all ages! Using H-Box on a regular bases, strengthens forearms, wrists, and hands, enhances reflexes and hand/eye coordination, and improves basic hockey skills.
To purchase your own H-box or find out how H-Box can improve your game, CLICK HERE.
ATTENTION WRESTLING ATHLETES, PARENTS AND COACHES!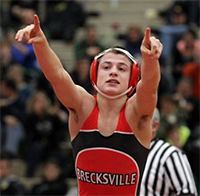 The dates for the 2015 AAU Folkstyle World Championships are now available! This individual event, which allows athletes of all ages to compete, will take place March 20th – 21st, 2015 in Billings, MT at Black Hills State University.
For more information on this top of the line event, continue to check www.aauwrestling.net.
EVENTS
---
---
---
---
---
---
---
---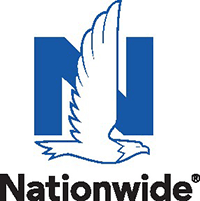 As a member of the Amateur Athletic Union, you can save with special discounts on Nationwide® auto insurance. Click here to take advantage of your exclusive members-only discount or call
1-866-633-5747
---
---
AAU TURKEY TOURNAMENT
AAU Hockey
Date: Nov. 28, 29 & 30, 2014
Location: Oak Park, MI
Entry Deadline: Nov. 1, 2014
Information Flyer: Click Here
---
---
2015 OKLAHOMA AAU STATE POWERLIFTING MEET
AAU Powerlifting
Date: May 16 & 17. 2015
Location: Tulsa, OK
Entry Deadline: May 15, 2015
Information Flyer: Click Here
---
---
---
---