NATIONAL TEAM TRAINING
Ft. Myers, Florida – This past weekend, January 16-19, the National AAU Taekwondo Program hosted its' Annual Team Training Weekend in warm and sunny Fort Myers, Florida, and it was a resounding success on all levels!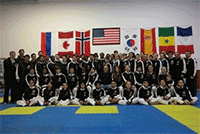 "This was the best turnout for team training that we have ever experienced", said National Chairman, Mike Friello. "Thirty-nine of forty Cadet and Junior Team members made the commitment to attend along with nine of eleven mini-cadets (10-11 year olds) and nine of sixteen Senior Team members for a total of 57 AAU Team members. And those twenty eight cadets were each joined by an accompanying parent as required by AAU policy."
The weekend was hosted at the World Championship Taekwondo Center in Fort Myers under the direction of Master Toby Oliver, a member of the AAU Taekwondo Regional Coaching staff, what a great facility it is! A total of 11,000 square feet of nothing but state of the art equipment and supplies including closed circuit flat screen TV viewing of the entire training regimen and sparring which made spectator viewing most comfortable and readily accessible.
Heading the training was National Head Coach Greg Tubbs of Dallas, TX along with the rest of the national coaching staff; Arlene Limas (Stafford, VA), Luciano Medina (Chicago, Il), and Georgie Martinez (Arora, CO). This outstanding group of coaches was joined, for the first time, by members of our newly formed Regional Coaching Staff Dennis White and Toby Oliver-both of Florida, John Paul Noyes from Montana, and our newest Regional coach Dennis Kim of VA.
"I just can't say enough about the talent and expertise this coaching staff brings to the table. Everyone in the country recognizes the high level of coaching these people represent. And their dedication to the AAU Taekwondo Program and our athletes is without question. We just could not have enjoyed the success we have without the untiring efforts and selflessness our coaches have brought to AAU Taekwondo."
This year's training Program participants also had a surprise guest training right alongside of them the entire weekend as he was making his way over to Orlando, FL for the US Open–Mr. Aaron Cook. As everyone in Taekwondo knows, Mr. Cook holds the WORLD #1 Ranking for the men's -80 KG weight class. He is also a three-time European Champion (2010, 2012 & 2014) as well as the 2008 Olympic Games representative for Great Britain at the 2008 Olympic Games in Beijing.
"I had run into Aaron at the Pan-Am championship in Oregon, last month and mentioned that the AAU Team would be meeting in Ft. Myers this weekend. Aaron simply asked if he could join us. Aaron has been a friend of the AAU Program since we first met a few years back at the Costa Rican Open Championship. He was staying at the same hotel as our team and asked if he could work out with us while we prepared for the event. He also joined us for our typical Saturday night Team dinner and we've been 'buds' ever since", said Mr. Friello.
And what a treat! Needless to say the Team was thrilled to have him training with us and he was a real joy to be around–working as hard, if not harder, than anyone else the entire training time. He was also most generous with his time during the break times readily making himself available for pictures and autographs. "Aaron is a great champion who knows what it means to be a champion. And we wish him the best of luck next week in Orlando and look forward to the next time we have the chance to be together."
After last year's Junior Team captured First Place at the German Open and the Cadet Team's success in Montreal at the Canadian Open, I really believed that this year's team had its' work cut out for them trying to follow that lead. But the coaches assured me in September following Team Trials and now I believe-- this year's team is even better!
Of course there are some returning members from last year who bring extremely strong credentials to the 2015 team. Most notable among them are Brandon Ivey, Junior World Champion and Joshua Koslowski, Cadet World Champion.
This year's training camp began with a two hour session on Friday evening comprised mainly of discussions laying the groundwork for the weekend and the rest of year in general as well as a general warm-up of sorts to help get them in the game. Team Rules were reviewed with the cautionary tale of AAU's total inflexibility when it came to the most serious of rules regarding curfews, bed checks, and a 100% totally drug free/alcohol free environment. Master Friello and the coaches also reaffirmed AAU expectations when it came to work ethic, staying on weight, and giving 100% at all times. "We give 100% and we expect our team members to do so as well."
Saturday's training was more than a full day – 9:00 AM to 5:00 PM with a one hour lunch break and it was totally awesome. Saturday also marked the time for the annual Team Training dinner. A total of 98 people attended the 'party' hosted at Bucca di Bepppo in Fort Myers and included both Ceasar salad, traditional Italian salad, Fettuccini Alfredo, spaghetti with marinara sauce, chicken parmesan, cheesecake, along with soft drinks, coffee, etc ... All paid for by the AAU Taekwondo Program. "The dinner party is an integral part of the weekend. It's here that the athletes of all our teams get to mix socially along with the coaching staff and their parent supporters in a relaxed environment. "It helps build the team spirit and camaraderie necessary for us to be a team", says chairman Friello.
On Sunday the teams met at 9 AM once again for another two hours of training followed by a full four hours of sparring utilizing the KP&P PSS System. More than 40 non-team members from throughout Florida also made the trek in to take advantage of the opportunity to spar with the AAU Team.
The weekend wrapped up around 4:00 PM with closing statements from the coaches, Master Friello, and lots and lots of photos!
NEXT STOP: the Spanish Open in April!
To view additional photos from the event, Click Here.