AMATEUR ATHLETIC UNION APPOINTS NEW EXECUTIVE DIRECTOR
Lake Buena Vista, Fla. – During the Board of Directors meeting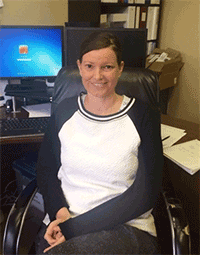 in December, Dr. Roger Goudy, President of the Amateur Athletic Union of the United States Inc. announced that Debby Batz was chosen as the new Executive Director. This announcement comes only weeks after Dr. Goudy was elected as the new President of the AAU.

Batz, an AAU Staff member of 17 years, was promoted from her former position as Senior Sports Manager of the AAU volleyball department and AAU Junior Olympic Games. This new position will include overseeing the day to day operations of the AAU National Office as well as implementing directives from the AAU President and Board of Directors.

Dr. Goudy determined she was the best fit for the job after working with her in the volleyball department. "Volleyball has grown to AAU's largest sport after basketball and we hope Debby can have the same impact on other programs in AAU," stated Dr. Goudy.

"I am very honored to be considered for this position and look forward to the new opportunity to work with the National Officers, Board of Directors, Districts and all of the staff at the AAU National Office," said Batz. "The AAU is truly a unique organization and continues to be a leader in the industry. This is an exciting time for AAU under the leadership of Dr. Goudy."

Batz looks forward to her new role with the AAU and said she hopes to continue to help grow the organization.
NEW AAU BANNERS ARE AVAILABLE
New AAU banners, which include a team photo, are available for sale through AAU's banner store.

To order one you now have the option to input your team name and then upload a photo.

Click Here for the Banner Store NOW!

MY AAU STORY:WRITTEN BY LANCE LENARD OF NEK TRACK CLUB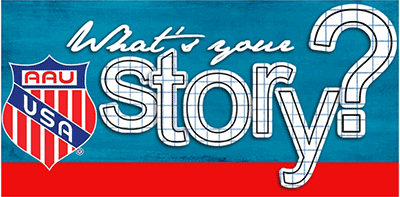 I experienced my first AAU track & field meet in 1975, as a soon to be 6 year old athlete, in launching an involvement in the sport and organization that will hit 40 full years next summer. As a college athlete, I became an assistant coach of a local AAU program, and am serving in my 16th year as a coach for my current program; North East Kansas Track Club.

In the summer of 2001, I became the parent of an AAU athlete, as my then, soon to be 6 year old daughter ran in her first AAU meet. Her competitive career included 45 national medals in 8 different events, and making what seemed like a thousand friends from around the United States & Puerto Rico. During those years we traveled to more than 20 states for athletic competitions, and connected not only as coach & athlete, but also as father & daughter. We swam in the Atlantic, Pacific, and the Gulf. We dined on the local favorites, rode every thrill ride at the local amusement parks, and stayed in accommodations that ranged from 5 star, to what I could only term as "star challenged". We visited historical museums, swam with dolphins in the wild, learned about other cultures, and even caught food poisoning the night before a big race.

For us, the competing was awesome, but the memories made, friendships built, and life lived, will far outshine any medals won. I have been blessed to have hundreds of my athletes get to experience the thrill of making it to the awards stand, and it has been rewarding to witness them all. But that little girl stepping on to the stand for the very first time in 2005 in New Orleans, and that young woman stepping off the stand in 2013 in Detroit will forever be my very best memories.

Keara has now taken up the thrilling aspect of coaching, and got to experience a few of her athletes earning hardware last summer in Des Moines, so this cycle will hopefully outlive me. She was so proud of her athletes, earning medals, breaking records, and setting P.R.'s. She swears that it can't get any better than the pride that a coach has in watching these kids accomplish their dreams but it does. Wait until she gets to experience what I have!
UPCOMING AAU DAN PROMOTION TEST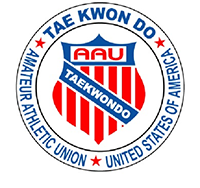 AAU Region 3 (Georgia, Southeastern, North Carolina and South Carolina) has announced that they will be hosting an AAU Dan Promotion Test in Atlanta, Georgia! This event will take place on January 25th, 2015 and will give current AAU members of all ages an opportunity to certify with top level certifiers of both AAU and Kukkiwon. This Dan Promotion test is open to all those testing for 2nd Dan – 7th Dan and is open to WTF, ITF and Tang Soo Do practitioners. Pricing, testing criteria and participant qualifications can be found by clicking here. The application deadline is January 18th, 2015 so register today!
12 DAYS OF AAU GIVEAWAYS ONLY TWO MORE DAYS REMAINING TO ENTER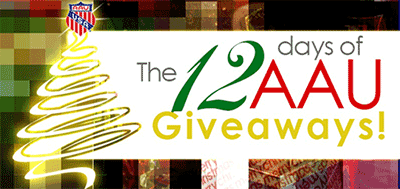 This holiday season we want to give back and say thank you to YOU our members. What better way than with:

FREE AAU Swag
Five (5) $25 Visa Gift Cards
FREE Club membership (Level 1)
FREE Membership (Athlete or Non)

Here's how it'll work: Once a day, from December 9 through December 20, you can enter for a chance to win prizes by clicking on the appropriate link found HERE. Once you have the code, enter it on our Facebook page HERE.

Check back EACH DAY for a new code to be revealed. Every day there will be a NEW CODE and a NEW PRIZE to enter to win!

Remember, you must enter that day's code in order to be eligible to win.
MAKE SURE YOU'VE LIKED OUR FACEBOOK PAGE TO ENTER!
*Code will be updated daily at 9am EST.

*All winners will be contacted at the conclusion of the giveaway, starting December 22, 2014.
AAU NATIONAL OFFICE HOLIDAY SCHEDULE
The National Office will be closed all day on December 24th, 25th and 26th for Christmas.

Additionally, the office will be closed on December 31st, January 1st and 2nd while we all regroup with family and friends and ring in the new year!
AAU SULLIVAN AWARD; GUIDELINES FOR NOMINATION OF AN AMATEUR ATHLETE

What do Michael Phelps, JJ Reddick, Tim Tebow, Missy Franklin and John Urschel have in common? They are ALL AAU Sullivan Award Winners!

Nominate YOUR favorite collegiate or Olympic athlete TODAY for the 85th Annual James E. Sullivan Award!
Guidelines:
1.
Any amateur athlete (collegiate or olympic level and above), in any sport, may be considered.
2.

Qualities of individuals nominated should emphasize leadership, character, sportsmanship, and their accomplishments in the world of sport.

3.
The AAU Sullivan Award Committee may take nominations based on information from anyone.
4.
The athlete must be in attendance for the award presentation, except for extraordinary circumstances, in order to receive the award.
5.
AAU Sullivan Award recipients are eligible for re-nomination for this honor.
6.
Required Materials: head shot, 1-2 action pictures in their sport, a paragraph bio of their 2014 accomplishments, and a highlight video (preferably 3-5 minutes long with 5 varied action shots). We would like to create a 30 second video for each nominee at the Award Presentation.
7.

Deadline for nomination submission is March 2nd, 2015.



For additional information, please contact Pam Marshall with the AAU National Office at (407) 934-7200 or via email at sullivan@aausports.org.
HOLIDAY WORKSHOP & TOURNAMENT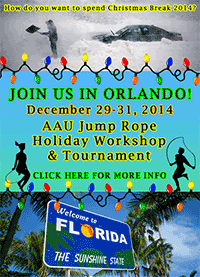 Escape the snow and join us down in warm Florida for the AAU Jump Rope Holiday Workshop & Tournament!

This event takes place December 29-31 in Orlando! There is a special offer for Florida Students, click here to see if you qualify.
CLICK HERE for more info about this event
AAU TAEKWONDO MEMBER NOMINATED, VOTE TODAY

Make sure you vote for 2014 National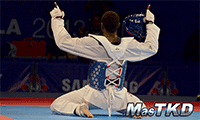 TeamMember,JackieGalloway!
She has been nominated as one of six finalists for the Best Female Athlete of 2014! Click the link below to cast your vote!

CLICK HERE to cast your vote!

2nd Annual AAU Football "Battle of the Border"
Texas - Arkansas - Tennessee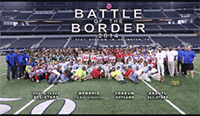 AT&T Stadium, the home of the Dallas Cowboys just held the 2nd annual AAU Battle of the Border youth All Star football games with Texas AAU vs. Arkansas AAU were held on December 14th, 2014 with 4 exciting games. Special thanks to the All Star Event Coordinators, Rod "Chico" Tanner (San Antonio, TX) and Reggie Swinton (Little Rock, Arkansas) on behalf of AAU Football with putting this event together in 2013 and again this year to host the AAU special football All Star Games in Arlington, Texas. AAU Football is very proud to provide this opportunity for these young athletes including the excitement in playing in the USA's premier Football Stadium. The first event was held December 27th, 2013 and the event grew tremendously with and additional game of the 12u Yoakum Texas Outlaws against the Memphis Pure Athletes that Memphis, TN which was won in dramatic fashion 8-7 in overtime. With a huge crowd on hand to witness this historical event, the 8u game was won by the Yoakum Texas Outlaws (STAAUYFL) defeating the AAAUFL 8-6 in overtime in a hard hitting battle. The AAAUFL came back and represented Arkansas well with the 10u winning 18-0 and 12u winning 12-2. The winner of 2 of the 3 games is considered the champions.

On behalf of AAU President, Roger Goudy and AAU National Football Chair, Keith Noll we are proud to announce that the event coordinators will continue to work to grow this event even larger in 2015 at AT&T (Dallas Cowboys) Stadium. For additional pictures and scores go to www.aaufootball.org.
NORTHERN INDOOR NATIONAL DATES ANNOUNCED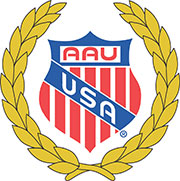 AAU Athletics is proud to announce the dates for the 2015 AAU Northern Indoor National Championship! This event will taking place from
January 16th – 18th, 2015 in Rockford, IL at the newly renovated Auburn High School Fieldhouse. Packet pickup will take place on January 16th and 17th and competition will run from
January 16th – 18th, 2015. The entry fee is $40 per athlete and the deadline to register is January 12th at 9pm CST.
Visit www.aauathletics.org for more information on how to register.
REGISTER TODAY FOR THE TACKLE FOOTBALL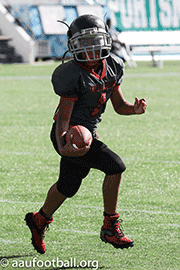 WEST COAST NATIONALS!

Attention AAU Football athletes, coaches, and parents! Registration for the 2014 AAU Tackle Football West Coast National Championship is now available!

This event will take place from January 3rd – 4th, 2015 in Los Angeles, CA and is open to any football team within the age limits with valid 2015 AAU Memberships! This event offers tackle football competition for ages 8U, 10U, 12U, and 14U.
For more information on how to register your teams, visit www.aaufootball.org or CLICK HERE.
INLINE HOCKEY OFFICIALS TEST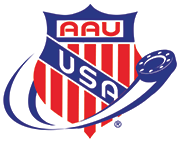 Attention Inline Hockey Officials! The Officials test for 2014-2015 is now available! Please visit www.aauhockey.org, to complete the test and become certified to officiate this season.

To find upcoming Officials Clinics in your area, please contact AAU National Hockey Chair, Keith Noll, at slapshot@wwt.net.

CLICK HERE to view the 2014-2015 USARS Handbook.

WINTER YOUTH NATIONAL DEADLINE APPROACHING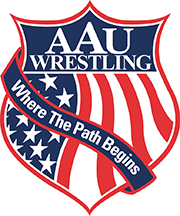 Registration is now open for the 2015 AAU Winter Youth Nationals! This highly competitive folkstyle event is taking place from January 3rd – 4th, 2015 in Ralston, Nebraska at the Ralston Arena. The entry fee of $45 per athlete is due by January 2nd, 2015 at noon. Late registration will be available for an additional $20 per athlete if the tournament limit of 1200 athletes is not met.
Do not delay! CLICK HERE to register your athletes today!
EVENTS
---
---
---
---
---
---
---
---
---
---
---
---
---
---
---
2015 OKLAHOMA AAU STATE POWERLIFTING MEET
AAU Powerlifting
Date: May 16 & 17. 2015
Location: Tulsa, OK
Entry Deadline: May 15, 2015
Information Flyer: Click Here
---
---
---
---
---
---
---
---
---
---
---
---
---
---
---
---
---