NORTH CAROLINA TEEN HITS MIRACLE SHOT, WITH ASSIST FROM LATE FRIEND

Originally posted by Steve Hartman on CBSNews.com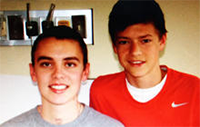 GREENSBORO, N.C. – Just outside Greensboro, N.C., Bishop McGuinness boys' basketball team is coming off what may be the most remarkable game in school history.
"I still can't believe that even happened," one player says.
"I felt like there was no one who could stop us," says another.
"I will remember this game for the rest of my life," a third player says.

The game was against their archrivals, Mount Airy High School, but to fully appreciate what happened here, you first need to know how Coach Josh Thompson prepared them for this night.
It all started a few days earlier with an old ball and a gold Sharpie. Coach Thompson told each player to pick someone to dedicate the game to – could be an uncle, a grandpa, one kid picked his parents. They all joined the exercise, but safe to say no one took it more seriously than junior guard Spencer Wilson. He picked his friend Josh Rominger.

"Josh's passion for life really drew me towards him," Spencer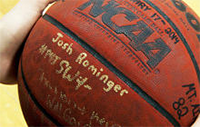 says.

Spencer and Josh were two great friends with one lousy thing in common: they both had cancer. The difference was Spencer beat his, and Josh didn't. He died nine months ago.

Before the game, Spencer wrote a letter to Josh's mom, explaining what they were doing and why he would be playing for Josh.
"His joy illuminated the room, and it was always apparent to me that he was special," Spencer wrote. "Just wanted to let you know the impact your son has on my life still to this day. I will never forget him. Play for Josh."
"I read it and cried," says Josh's mom, Denna Rominger. "They just had that bond. Nobody else knew how Josh felt except for Spencer."

Spencer says he still thinks about Josh every day. That's why this opportunity meant so much to him.

"During timeouts, when we touched the ball, I found where I wrote 'Josh,' and I looked for that," Spencer says. "Put my hand on it every single time."

Spencer thought of his friend, who he says "meant a whole lot to me."

Which brings us to the end of that game. With two seconds left on the clock, Bishop down by a point and their archrivals at the free-throw line, Bishop needed a miracle. And some say that's exactly what they got.
In the official record book, Spencer Wilson will get credit for that remarkable Hail Mary. But the boys here at Bishop believe Spencer's friend Josh deserves at least an assist. And no matter what you believe, you've got to score one for friendship.
PEE WEE PROS: AAU HOCKEY ATTRACTS YOUNG TALENT
Originally Posted on Minnesota.cbslocal.com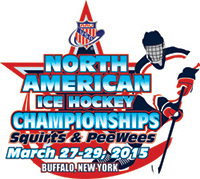 MINNEAPOLIS (WCCO) – The Minnesota boys state hockey tournament is next weekend.

That same weekend, Minnesota will also host a national tournament, the AAU Mite National Championships – that's 7- and 8-year-olds.

That's more significant than you might think. It's part of a national trend that has the potential to change youth hockey.
For as long as there's been youth hockey, kids have played for their hometown team. Nowhere more so than in Minnesota.
"Minnesota has a very strong traditional community-based hockey program," said Bernie McBain, who runs Minnesota Made in Edina.

But when you look at what's happening nationally, you wonder if that could be changing.

"I think there is just a push for an alternative," McBain said.
That alternative? The Amateur Athletic Union, better known as AAU – club teams based only on talent, instead of geography, so the best compete with the best instead of for their community.
An alternative surging in popularity.

"There were almost no AAU teams three years ago," McBain said. In just three years, AAU Hockey has gone from nonexistent to rapid expansion across the country, doubling in membership every year – now boasting 30,000 kids nationwide and adding more by the week. The vast majority are Mites – 7 – and 8-year olds.

That's what's happening nationally – not a good sign for community hockey. But what about Minnesota?
That alternative is already here.
"It's not the best fit for every family," McBain said. "But it's a good fit for kids that maybe are looking for a little bit more."
McBain's Minnesota Made program is the only one like it in the state.

"There's a little bit more ice time, it's a little bit higher skill level," he said.

He started his "Choice Leagues" six years ago with just six Mite teams. It took off right away and has been building ever since.
They've expanded from Mites into Squirts and PeeWees, added a third rink outdoors, even started renting ice in Ramsey County.
"And so now I think we're up to 46 teams," McBain said.

They joined AAU last year, for its insurance coverage and the chance to play in national tournaments, like the Mite National Championships here in March, where about two dozen teams from 10 states are scheduled to play. McBain is now vice-chair of the AAU national committee.

There is a reason AAU's growth is, for now, primarily at the Mite level – they play full-ice games, which is attractive to families unhappy that community hockey recently switched to half-ice.
"Families that are involved here, they love it," he said.
Not everyone shares that feeling.

"It would put us in danger if all of these entrepreneurs popped up and were doing this and a parent looked at hockey and said, 'well, in order for my kid to have any success... 'said Glen Andresen, the executive director of Minnesota Hockey, which oversees the state's community associations. "I guess what we want to guard against is "checkbook hockey," the thought that parents need to spend tons of money and tons of time to get their kids to develop. Really that's not needed and that's proven out through the kids that have had success."

Andresen argues Minnesota's community model is best for kids, and says if it is indeed put in danger, it'd hurt the state of hockey.
"Because what it does is allows the most kids to play, it's cost effective," he said, adding that the switch to half-ice hasn't hurt Minnesota – last year it had its largest increase in new Mite players in five years. "We don't base our success off the number of kids that made it to Division I or NHL hockey. But we do feel that the reason we have the most, by far more than any other state, is because kids are having fun and there's not those barriers."

Not to worry, says McBain, because while AAU may very well keep expanding outside Minnesota, it won't here.

"In Minnesota, it's a little bit different," he said.

McBain points to Minnesota's unique model of community-owned, publicly funded rinks – state of hockey indeed – which are obligated to sell ice time first and foremost to their local association.

"So unless someone is going to build a rink, like we have here, it'd be very difficult for someone to get enough ice to develop an AAU program similar to what we have here," he said. "To duplicate what we have here would probably be somewhere between $12-16 million. Anybody who has that much money is probably not going to put it into an ice arena."

And since McBain can't expand any more either – again, a lack of available ice – he maintains AAU is not a threat to community hockey in Minnesota.

"I never want to be involved (in) or do anything that would hurt the game," he said. But what about elsewhere? There is a precedent.
Look no further than AAU basketball, which has basically taken over as the pipeline to college and the pros the last 20 years. Will we see the same thing happen in hockey?

As participation in AAU Hockey increases, will too its influence?
"I'm not a basketball player, and I really have no insight into basketball," McBain said through a smile. "So I have to take your word on it that they are super influential in basketball. But in hockey, I think it's just like anything. If you provide a better service, and you serve people better, and you give 'em more, people are going to come to you.

If you mail it in and you don't do a good job, then they won't come to you.

"AAU does a good job, people will come. If they kind of go, 'OK, we've got some hockey teams and we're just going to be status quo from here on out,' then people will probably stop coming."
If they don't stop coming, the question then becomes: How long can Minnesota stay the exception to a national movement?
NEWEST CLASS TO BE FRONT AND CENTER AT WNBA DRAFT 2015 PRESENTED BY STATE FARM® ON APRIL 16

NEW YORK, Feb. 25, 2015 – WNBA Draft 2015 presented by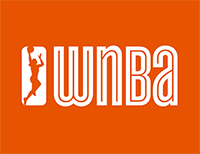 State Farm will be held on Thursday, April 16, at Mohegan Sun Arena in Uncasville, Conn. ESPN2 will provide coverage and analysis of the first round beginning at 7 p.m. ET, and ESPN3 will air the second and third rounds beginning at 8 p.m. ET.
"We are excited that the WNBA Draft 2015 presented by State Farm will, once again, be televised on ESPN2 in front of a live crowd at the Mohegan Sun," said WNBA President Laurel J. Richie. "Our draft is a pivotal moment in the lives of these young women, and we look forward to welcoming the best collegiate players into the WNBA."
"We are thrilled to once again present the WNBA in prime time on ESPN2," said Doug White, ESPN senior director, programming & acquisitions. "Each year ESPN enjoys showcasing a new crop of talented athletes who will fuel the league for years to come."
The Seattle Storm holds the top pick in the draft for the third time in franchise history after winning this year's WNBA Draft Lottery presented by State Farm, which was conducted live on ESPN2 during halftime of Game 1 of the Eastern Conference Semifinals between the Washington Mystics and the Indiana Fever in August 2014. Rounding out this year's top five picks are the Tulsa Shock (second), Seattle (third, from the Connecticut Sun), Connecticut (fourth, from the New York Liberty) and the Chicago Sky (fifth).
"There is no doubt that our fanbase is extremely knowledgeable and enthusiastic about the women's game, so we are really happy that we can once again bring the WNBA Draft to Mohegan Sun Arena," said Connecticut Sun CEO Mitchell Etess. "Last year was an amazing event and this is another outstanding opportunity for our fans to witness history as some of the best collegiate players take the next step in their careers."
Last year, the excitement generated by the WNBA's newest additions made the 2014 Draft the second-most-viewed draft in league history, behind only the 2004 Draft that aired on ESPN. Chiney Ogwumike, selected No. 1 overall by the Sun, went on to earn the WNBA Rookie of the Year presented by Samsung. Ogwumike and her older sister, Nneka (2012), became just the second set of siblings ever selected with the top overall pick in an American professional sports draft. Odyssey Sims, taken by the Shock with the second pick, and Kayla McBride, selected third by the San Antonio Stars, each went on to make the 2014 WNBA All-Rookie Team.
The draft will also be available through WatchESPN, accessible online at WatchESPN.com, on smartphones and tablets via the WatchESPN app, and streamed on televisions through Amazon Fire TV and Fire TV Stick, Apple TV, Chromecast, Roku, Xbox 360 or Xbox One to fans who receive their video subscription from an affiliated provider.

Mohegan Sun Arena has hosted the WNBA Draft once before (2014) and the WNBA All-Star Game three times (2005, 2009 and 2013).
WNBA.com, in addition to providing comprehensive draft-day coverage, will serve as the web destination for fans who want to track the top seniors in advance of the draft.
The current order for WNBA Draft 2015 presented by State Farm is as follows: Click Here
LONGTIME AAU BASEBALL COACH INDUCTED INTO HALL OF FAME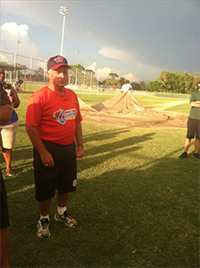 Sammy Frichter, head of the powerhouse club Wiregrass Cardinals, was recently inducted into the Alabama Baseball Coaches Hall of Fame. Frichter's club is a staple at AAU Baseball Nationals and Showcases each year. The Cardinals have won numerous Nationals and are always contenders for the title. Coach Frichter's son, Michael, is always at his side during Nationals on the mini-John Deere tractor that Michael uses for mobility. Michael shares his father's love for baseball and is an avid participant in the Dothan Miracle League of which his father serves as vice-president. National AAU Baseball Chair Ed Skovron and Southeastern District Director Mark Miller were on hand at the event to support Coach Frichter.
AAU Baseball extends a hearty congratulations to Coach Sammy Frichter! It is an honor well deserved.
Read the FULL story from DothanEagle.com below.
First and foremost Sammy Frichter describes himself as a "teacher."
He's a teacher on the baseball field, served as a teacher in the classroom and continues to teach lessons in life.
"I didn't get paid one penny for coaching – not a penny," Frichter said of his 17 years as head baseball coach at Wallace Community College. "I got a teaching salary. If I couldn't go out to practice every day and teach them something new, I wasn't doing my job."
On Sunday afternoon at the Westgate Recreation Center in Dothan, many of Frichter's former players filled the room for a reception to pay tribute to the longtime coach, who was inducted with four others into the Alabama Baseball Coaches Association Hall of Fame during a ceremony on Friday in Birmingham.
"I figured it up the other day that we've got over 60 of them that are either coaching or teaching in schools," Frichter said of past players." We've got 18 of them that are college coaches."
"We've got guys who are superintendents of education. It's just astronomical how many of them are still in the community and in service areas."
A native of New Orleans, Frichter has been a fixture in the Dothan area since 1974 as a baseball coach and mentor to hundreds of players ranging from the youth league level through college.

At Wallace, Frichter's teams compiled a 482-275 record while winning six conference championships – including a 227-113 mark in league play. He was named JUCO Coach of the Year in the state on five occasions.

Frichter also started the American Legion baseball program in Dothan and coached Dothan Post 12 from 1974 until 1988. Post 12 won eight state championships during that time.

"We had so many championships," Frichter beamed. "I'd put our record with anyone in the country in the 1980s."

Gil Anthony was the play-by-play radio announcer for Frichter's teams at Wallace College and on the American Legion baseball level.

He marvels at the coaching expertise of Frichter, but even more so at how the coach prepared his players for the future.

"What Sammy's legacy is all about is what these guys have done with their lives," Anthony said. "Sammy has coached so many who have gone on to be successful in businesses.

"He was really important in shaping their life and showing there was no shortcut in getting things done. That was the thing. They worked for it on the baseball field.

"I just recently talked to a guy up in Montgomery who played for L.B. Wallace when Sammy coached the Governors, and he said he sat on the bench just wishing he could have played for Sammy, because he knew what his players would do for Sammy. He said they would run through the wall for Sammy, and that's just the way he coached.

"A few years back you could look at coaches in the Wiregrass and almost all of them had some sort of connection with Sammy Frichter."

Frankie Pittman is an example of someone Frichter coached who benefitted not only as a player, but later in life as a businessman. After two years of playing at Wallace, Pittman went on to be a standout during his final two years of college eligibility at Auburn University-Montgomery. Now a successful businessman in Dothan, Pittman has also served as a coach in the area.

"He really taught me the game of baseball like it should be played," Pittman said. "Taught me the fundamentals and that's why I was able to go on and play from there.

"I think it helps you with all aspects of life – with your family, your business, being a team player, working hard and doing what it takes. I think it carries over to every part of life."

Read More >>

RECAP: AAU PUERTO RICO GRAND PRIX
Last weekend, Orlando Volleyball Academy hosted the 2015 AAU Puerto Rico Grand Prix in San Juan, PR. Over 80 teams competed in divisions 10U – 18U for a chance to win a free entry
to the 2015 AAU Girls' Junior National Volleyball Championship! Below are the teams that took home first place:
10U - Vaqueras 10 Camacho
11U - Vaqueras 11 Roman
12U - Queens Richard 12U
13U - OVA 13 Asics
14U - OVA 14 Asics
15U - VolleyTop 15-1 Under
16U - Borinquen Coqui 16F Steven
17U - GEVA 17
18U - PREVA 18
For the complete results, CLICK HERE.
2015 AAUVOLLEYBALL CLASSIC
The deadline is quickly approaching for the 2015 AAU Volleyball Classic! This event which takes place at the ESPN Wide World of Sports Complex in Orlando, FL will feature competition for girls ages 10U – 18U. Pool play will take place on March 28th and single elimination will be on March 29th.

The entry deadline is March 11th, so do not delay! CLICK HERE for more information on how to register your teams.
FREE COACHING WEBINARS NOW AVAILABLE!
AAU Volleyball is happy to announce that free online volleyball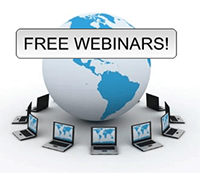 coaching webinars are now available through our partners at the Junior Volleyball Association (JVA). The three webinars below will be offered to AAU Members at no cost from March 4th–18th.
March 4, 2015 – 11am CT/12pm ET–"No Fear" A Simple Guide to Mental Toughness Presented by Dr. Robert Bell, Sports Psychologist & Author of "No Fear" & "The Hinge"
March 11, 2015 - 11am CT/12pm ET–We Own/Lease Our Own Facility. How Do I Keep it Open? Tips from Seasoned Owners on how to Maximize your Profits & Minimize your Expenses. Presented by Tim Kuzma (Munciana), Rick Butler (Sports Performance) & Sherry Fadool (Triangle VBC)
March 18, 2015 - 11am CT/12pm ET–Using the AVCA VPI to Train Your Players & Improve their Chances of Making a College Roster Presented by Kathy DeBoer, Executive Director of AVCA
2015 AAU GEORGIA GRAND PRIX – REGISTER TODAY!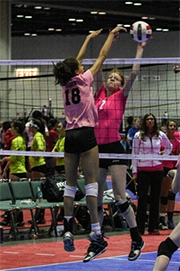 Volley One will be hosting the 2015 AAU Georgia Grand Prix from May 9th–10th at the Volley One Training Center in Kennesaw, GA. Divisions are available for girls from ages
13U – 18U.
The winning team in each age division with 12 or more teams will have their entry fee waived for the AAU Nationals in Orlando, FL or the West Coast AAU Championships in Las Vegas, NV. For divisions with less than 12 teams, a portion of the entry fee will be waived based on the number of teams.
The entry fee is $350 per team. CLICK HERE to register your team today!
APPLY FOR THE 2015 AAU HIGH SCHOOL SULLIVAN
AWARD

The 2015 AAU High School Sullivan Award is back and we need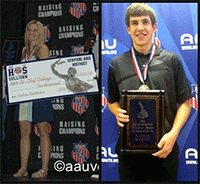 YOUR applications! This award is available to high school seniors who are or have been an AAU participant in any sport. The AAU High School Sullivan Award and Scholarship Program emphasizes certain qualities in the individual athletes, including leadership, character, sportsmanship, academics and accomplishments in their sports.
The AAU Sullivan Committee will be awarding a total of $35,000 in Scholarship Funds to eight (8) different recipients; four (4) male and four (4) female athletes. The top female and male winner will receive a $10,000 scholarship provided to the school they choose to attend the following year. The six remaining finalists will each receive a $2,500 scholarship to the school that they choose to attend.
Winners will be chosen through both electronic and personal reviews from all of the completed and properly submitted applications. The deadline to apply is April 1st, 2015 and the scholarship winners will be announced in June.
Last year, Audrey Faulhaber and Nathan Sherfey were recognized as the two winners of the 2014 AAU High School Sullivan Award. They were selected from hundreds of deserving applicants and were each awarded the top scholarship prize of $10,000 to the school of their choice. For the full story on Audrey and Nathan, CLICK HERE.
To apply for the 2015 AAU High School Sullivan Scholarship Award, CLICK HERE.
Scholarship Management System provided by WizeHive
Follow us on FACEBOOK to keep track of EVERYTHING AAU, including the Sullivan Award and High School Sullivan Award! Have a Twitter? Follow @TheRealAAU for all the latest updates and news about the AAU!
PREVIEW: 14 - UNDER YOUTH INDOOR TRACK AND FIELD NATIONALS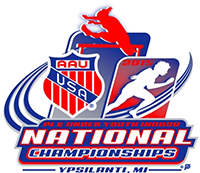 Entries are finally in and there are approximately 50014 & Under athletes that will take over Bowen Field House at the University of Eastern Michigan In Ypsilanti, Michigan this weekend! You can expect great competition at this inaugural event. Athletes will travel from far and wide to compete for their chance at AAU National Championship glory in the hopes of taking home the honor and the hardware.

Meet Director Darnell Hall and National AAU Athletics Secretary, Karen Hall, the Event Management Staff, Officials, Volunteers, National AAU Track & Field Committee, Michigan AAU Track & Field and Eastern Michigan University,thank you in advance for attending the inaugural event of the AAU 14-Under Youth National Championship.
We wish you all safe travels to and from home as well as the best to you and your athletes during the competition.
There have been a few changes with packet pick up times as well as clarification concerning age groups.

Click Here for complete Information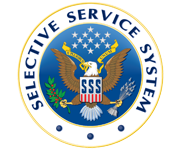 IS YOUR ATHLETE READY?
All young men in the U.S. must register with Selective Service when they turn 18. If they fail to register, they can lose eligibility for: Federal college loans, Government jobs and Job training programs.
Educational materials available at: sssresources.us


REGISTRATION IS NOW OPEN FOR TWO AAU ATHLETICS NATIONAL CHAMPIONSHIPS!
AAU Primary Nationals Registration Now Available

Do you have an athlete 8 years old or younger? If so, get excited! The online registration for the 2015 AAU Primary
National Championships is now available! This event allows athletes 5, 6, 7, and 8 years old to compete against their own individual age groups! This unique event will take place from July 9th–11th, 2015 at the ESPN Wide World of Sports.
For more information or to register your athlete, please visit www.aauathletics.org or CLICK HERE
Online Registration Now Open for the 2015 AAU Club Championships!

Attention AAU Athletics Athletes, Coaches, Parents and Clubs, registration for the 2015 AAU Club Championships is now live! This event taking place from July 12th–18th, 2015, will feature athletes and clubs from across the country, as well as, some international teams!
In addition to being the only AAU Track & Field National Championship that awards an overall Club Champion, this is also the last chance for athletes to qualify for the 2015 AAU Junior Olympic Games.
For more information on how to register for this event, please visit www.aauathletics.org or CLICK HERE.
FREE COACHES TRAINING
AAU National Football Chair, Keith Noll is pleased to announce

that AAU Football is offering a free online coaching program for Coaches, Players & Parents.
The solution lies in the development of your life skills. No amount of knowledge can propel you through your challenges if you do not have the necessary skills to assess your strengths and weaknesses, develop a vision, and implement measurable goals. You must learn the skills that will enable you to make the right choices to achieve your goals.
Better Life Training Playbook for Life & My 100 Ways Journal will help provide you with those skills. CLICK HERE for more information.

LEE PAMULAK MIDDLE SCHOOL DUALS, REGISTRATION NOW AVAILABLE

Registration for the 2015 AAU Lee Pamulak Middle School Duals is now available! This event allows teams comprised of wrestlers in Middle School or 6th grade only to compete in folkstyle duals against teams from across the country. The AAU Lee Pamulak Middle School Duals will be held in Des Moines, IA at HyVee Hall B & C from April 3rd – 5th, 2015. The Ohio Grapplers - Scarlet captured their 3rd straight championship in 2014. Can your team dethrone them in the 2015 event?
Visit www.aauwrestling.net, or CLICK HERE for more information, as well as to register your team!
AAU SULLIVAN AWARD NOMINATIONS CLOSED
Nominations for the AAU Sullivan Award are officially CLOSED! Thank you to everyone who nominated and stay tuned to our social media pages and our website to find out who the semi-finalists will be.
Remember, once the semi-finalists are chosen, they'll need YOUR votes to make it to the final round! Like us on Facebook, follow us on Twitter (@TheRealAAU and show us some love on Instagram (@AAUSports for all of the LATEST #AAUSullivanAward news!
2015 ORCHARD POWERLIFTING MEET
Nebraska Powerlifting will be hosting the 2015 Orchard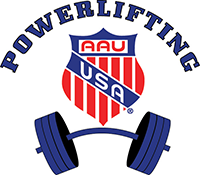 Powerlifting Meet from April 11th at Orchard School in Orchard, NB.

Divisions are available for : Mens Open, Womens Open, Mens Teen, Womens Teen, Mens Master & Womens Master.

Team awards will be presented as follows, Boys team; Girls team; Co-ed team.
The entry fee is $40 per athlete if submitted prior to April 1, 2015.

For a copy of the rules, please contact Jeff Shabram, jshabram@esu8.org or visit www.aaupowerlifting.org

CLICK HERE for complete information!