AAU BASEBALL ANNOUNCES COLLEGE SHOWCASE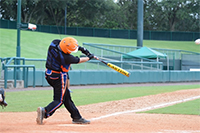 Be the first of 20 teams to register for the 2015 AAU Baseball College Showcase. This inaugural event will be held at ESPN Wide World of Sports at Walt Disney World® resort June 15-20, 2015. All high-school aged teams may participate.

The entry fee is $1,000, but the first 10 teams to submit their entry fee will receive a $200 discount. College coaches and pro scouts throughout the southeastern United States – as well as other areas – will be in attendance and will help run the combine portion of the event. The showcase will include a multi-skill combine and a tournament to display game-situation performance. This opportunity will be limited to 20 teams in order for each team to receive maximum exposure.

For more information, contact Debra Horn at 407.828.3459, or debra@aausports.org.
AAU ANNOUNCES 2015 EUROPEAN GLOBAL CHALLENGE
For the third consecutive year, AAU Volleyball would like to extend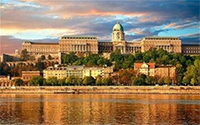 the opportunity to participate in the European Global Challenge to its members. This year, a 17U team will be formed to compete against teams from all over the world! Last year's competition included USA HP teams from various regions, the USA Youth National Team, and Hungarian, Croatian, Czech Republic, and Slovenian Junior National Teams, to name a few!
The 2015 trip which lasts from July 8th – July 18th, will begin in Budapest, Hungary where the team will spend its pre-tournament training time practicing against Hungarian Junior teams. They will then journey to Pula, Croatia for the Opening Ceremonies on July 12th. The competition will take place from July 13th – 16th. Afterwards, the team will spend a day in Venice enjoying delicious food and the beautiful sights of Italy!
Once again, 2-time Olympic setter, Debbie Green, will be joining the tour in a mentor role for both players and coaches. Debbie is a member of the Volleyball Hall of Fame and the AVCA Coaching Hall of Fame, among many other things!
This is a once in a lifetime opportunity that you do not want to miss! For information on how to apply, CLICK HERE.
To find out how last year's 16U and 19U teams did, CLICK HERE.
2015 AAU ATHLETICS REGIONAL QUALIFIER DATES ANNOUNCED!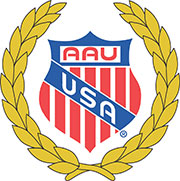 AAU Athletics is proud to announce the dates and locations for the 2015 Regional Qualifiers for the Outdoor Track & Field season. These are the events that qualify athletes into the 2015 AAU Junior Olympic Games, being held August 1 – August 8, 2015 at Norfolk State University. To advance to the 2015 AAU Junior Olympic Games from a Regional Qualifier, an athlete needs to finish in the top six (6) in running events, top five (5) in field events, or the top four (4) in Relays or Multi-Events.

For the complete list of 2015 Regional Qualifiers,
please CLICK HERE.
AAU GIRLS' BASKETBALL 2015 REGIONAL CHAMPIONSHIPS
| | |
| --- | --- |
| Springfield, Missouri | June 9-14 |
| Birmingham, Alabama | June 12-14 |
| Charlotte, North Carolina | June 25-28 |
| Yakima, Washington | June 25-28 |
| Las Vegas, Nevada | July 16-19 |
Flyer: Click Here

For more information visit www.aaugirlsbasketball.org
SEVERAL AAU ALUMNI WILL APPEAR IN MCDONALD'S ALL AMERICAN GAME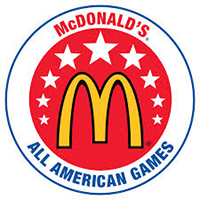 Boys'
At the end of January, the rosters for the 38th annual McDonald's All American game were unveiled on ESPNU. The game will be split by East and West, with the East boasting the nation's top two prospects and former AAU members, Ben Simmons and Jaylen Brown. On the other bench, #4 Malik Newman (also an AAU alumnus), along with five of the top 10 seniors in the country, will lead the West team.

Of the 12 players on the East's roster, all but one of them are former AAU members and ten of those 12 are in the top 25 on the 2015 ESPN Top 100 list. For the West, only two members are not former AAU members and everyone on the roster is in the top 25 on the 2015 ESPN Top 100 list.

These top players came from several different AAU teams, but Each 1 Teach 1 had the most in the ESPN Top 100 with five. Meanstreets, Nike Team Florida, Oakland Soldiers and the Texas Titans all had three players each on the Top 100 list.
California boasted the most athletes on the Top 100 with 12 players, followed closely by Florida with 10. Texas brought eight players to the table and Georgia and Illinois each had six.
Of the ESPN Top 100 list, 89 athletes had previously played in the AAU.

The McDonald's All American game will take place on April 1st at the United Center in Chicago.


Girls'
As with the boys' rosters, the girls' McDonald's All American teams were released late last month. This game will also be split by East and West, the former of which will be led by Asia Durr, the #2 prospect on the 2015 HoopGurlz Recruiting Rankings – espnW 100.

The West will be led by Katie Lou Samuelson, who is ranked #1 in the nation. Both top prospects are former AAU members, as are all of the girls' that will be participating in the McDonald's All American game. The East has four players in the top 25 of the Top 100 list, while all of the West's athletes are in the Top 25.

These athletes came from AAU teams all across the nation, but Fairfax County Stars and the North Atlanta Girls' Basketball Club each had three of their players make it on the Top 100 list. Colts Neck Basketball Club, Garner Athletic Association, Team Indiana and the Merrillville Lady Magic each had two players.

Texas has the most athletes representing their state with nine, followed closely by Indiana and North Carolina with eight and seven, respectively. Florida, California and Virginia all have five players each in the Top 100 list, while Illinois, Missouri, Georgia and New Jersey each have four. Three athletes on the list aren't from the United States, but play in Canada.

A total of 89 athletes from the 2015 HoopGurlz Recruiting Rankings - espnW 100 list have played AAU previously.

The McDonald's All American game will take place on April 1st at the United Center in Chicago.
AFCA WEEKLY – HAWK-STYLE: KEEPING THE HEAD OUT OF TACKLING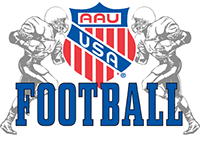 The American Football Coaches Association (AFCA) has promoted a style of tackling, Hawk Tackling, that was originally made popular by a viral video created by the Seattle Seahawks in July 2014. The main goal of Hawk Tackling is to keep the head out of hitting, with a distinct focus on shoulder techniques, wrapping up and rolling to the ground.
To read the full article and watch the video,CLICK HERE.
ZIGGY ZIUPSNYS: THE MAN BEHIND THE MVP AWARD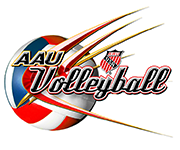 Every year, AAU Volleyball gives out an MVP award at the AAU Girls' Junior National Volleyball Championships in remembrance of Ziggy Ziupsnys. This award is granted to the Most Valuable Player of each division in each age group from 15U – 18U.

Ziupsnys was played with the Neris Volleyball Club, which started in 1955 with women's and men's teams. Neris was started as a Lithuanian volleyball club which also won many Lithuanian North American Championships. His teams have toured Europe, Australia and Lithuania and he played into his fifties.

After he was done playing, he won numerous National Championships as a coach and was one of the founders of Midwest Junior Men's Volleyball, which was the first Junior men's team in Illinois. Ziupsnys ran most of the first Junior men's tournament in the Chicago-midwest area.

In 1975, his team that he coached beat a team from California in the final, clinching the first AAU Boys' National Championship. Ziupsnys' son, Ritas, also played was the first MVP.

For many years, there was no charge except for registration fees to play for the club. Many times, Ziupsnys would use his own money for players who could not afford anything.

You can find a list of last year's Ziggy Ziupsnys MVP Award winners below.
To see winners from previous years, please Click Here, and then select "All American/All Star Awards" under the year you would like to view.
NEW BASEBALL OPPORTUNITIES IN TENNESSEE

A new exciting venture has made its way into Knoxville, Pigeon
Forge, and Tri Cities, Tennessee! NET Elite Baseball has licensed AAU Super Regional qualifiers for a national bid to the AAU National Championships in Sarasota to be played at the Baltimore Orioles Spring Training Complexes. NET Elite will also be running college showcase events with numerous colleges in attendance, as well as invitational tournaments. Age groups for these events range from 13u-19u depending on the tournament.
All tournaments will be played on college fields and the best high school fields in area. College umpires will be umpiring the games and many college scouts will be in attendance for all of the tournaments. AAU membership will be required for all players.
For further information on these events, please visit www.netelitebaseball.com, or contact Wes Jones at jone3912@gmail.com, phone 423.943.8297.
FREE COACHES TRAINING

AAU National Football Chair, Keith Noll is pleased to announce that AAU Football is offering a free online coaching program for Coaches, Players & Parents.
The solution lies in the development of your life skills. No amount of knowledge can propel you through your challenges if you do not have the necessary skills to assess your strengths and weaknesses, develop a vision, and implement measurable goals. You must learn the skills that will enable you to make the right choices to achieve your goals.
Better Life Training Playbook for Life & My 100 Ways Journal will help provide you with those skills. CLICK HERE for more information.
2015 AAU SQUIRT/PEEWEE NORTH AMERICAN CHAMPIONSHIP
Register today for the 2015 AAU Squirt & PeeWee North American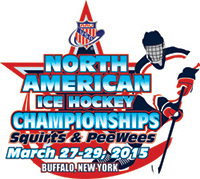 Non-Checking Championships! This event will be taking place from March 27th - 29th at Niagara University and Hockey Outlet Sports Complex in Buffalo, NY. Competition will be available in the following divisions: 2004 Major, 2005 Minor, 2005/2004 Elite, 2005/2004 Mixed, 2002 Major, 2003 Minor, 2003/2002 Mixed, and 2003/2002 Elite.
For more information, visit www.aauicehockey.org or CLICK HERE.
FOLKSTYLE WORLD CHAMPIONSHIP REGISTRATION NOW AVAILABLE!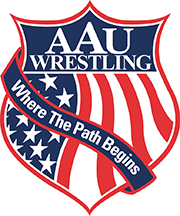 Online registration for the 2015 AAU Folkstyle World Championships is now available! This event allows athletes of all ages to compete against top competitors from around the country in the Folkstyle form of wrestling.

The Folkstyle World Championships will be held in Spearfish, SD at the Donald E. Young Center at Black Hills State University in Spearfish, SD from March 20th – 22nd, 2015.
CLICK HERE to register your athletes!
SMU PLAYER SCORES OFF COURT WITH "COACHING FOR LITERACY"
originally posted by CBSDFW
DALLAS (CBSDFW.COM) – SMU sophomore walk-on Jonathan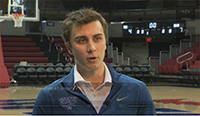 Wilfong calls it the highlight of his season, a late game slam dunk last month that rocked Moody Coliseum.

"You would have thought it was the 1st white dunk in the history of basketball," Wilfong said. So, white men can jump? "They can a little bit."

"He can play," said SMU Head Coach Larry Brown, "but he's also an unbelievable teammate and an unbelievable roe model."

Wilfong's been an unbelievable teammate and role model since at least the 8th grade. That's when, while playing AAU basketball in Memphis, Jonathan and his family noticed something about a teammate.

"My parents realized he couldn't read," Wilfong said. "We were in the 8th grade, and he was reading at a 3rd grade level."

"Jonathan's dad asked the kid to read a Sports Illustrated," Brown said, "and he couldn't do it."

That kid, Frank Herron, was placed in a literacy program, and by his senior year in high school, he was able to sign a football scholarship with LSU. In September, Herron was honored as LSU's Student Athlete of the Month.

"He said, 'Honestly, I thought I'd be like my brother and work at McDonalds.' Instead, he's now going to have a college degree," Wilfong said.

Frank Herron's story motivated Wilfong to start a non-profit program called Coaching for Literacy.

Wilfong said, "What if we harness the power that sports provide and use that to raise awareness and provide financial support."

Brown says the Mustangs have a player on their current team who was reading at a 7th or 8th grade level, and through about a nine month literacy program, he is already up to a 12th grade reading level.

With the full support of Brown, SMU has now joined the Coaching for Literacy program. At a recent home game, an anonymous donor provided the funding, and Erin Carter and Esmerelda Ortiz of SMU's BUDD Center were assistant coaches for a day. The Coaching for Literacy assistant coach program allows donors to participate in all the team's game day activities, which includes gaining access inside the Mustang locker room.

"The BUDD center is focused on West Dallas, a program called The School Zone," said Erin Crosby, Director of Operations of The BUDD Center. "There are so many kids who can't read by third grade."

Wilfong said, "We want to unify literacy work across the country because there are so many people doing incredible work."
"They ought to build a statue for this kid," Brown said. "It's just the beginning of something that's going to be really meaningful."
If you think last month's highlight reel dunk was meaningful for a walkon, imagine the reaction if Jonathan Wilfong can slam dunk illiteracy.

"So many kids that play on the college level are challenged academically," Brown said. "If you can read, you can be successful, and this kid is going to have an impact on our sport way beyond what he believes."

To donate to the non-profit, Click here CoachingForLiteracy.org
AAU SULLIVAN AWARD; GUIDELINES FOR NOMINATION OF AN AMATEUR ATHLETE

What do Michael Phelps, JJ Reddick, Tim Tebow, Missy Franklin and John Urschel have in common? They are ALL AAU Sullivan Award Winners!

Nominate YOUR favorite collegiate or Olympic athlete TODAY for the 85th Annual James E. Sullivan Award!
Guidelines:
1.
Any amateur athlete (collegiate or olympic level and above), in any sport, may be considered.
2.

Qualities of individuals nominated should emphasize leadership, character, sportsmanship, and their accomplishments in the world of sport.

3.
The AAU Sullivan Award Committee may take nominations based on information from anyone.
4.
The athlete must be in attendance for the award presentation, except for extraordinary circumstances, in order to receive the award.
5.
AAU Sullivan Award recipients are eligible for re-nomination for this honor.
6.
Required Materials: head shot, 1-2 action pictures in their sport, a paragraph bio of their 2014 accomplishments, and a highlight video (preferably 3-5 minutes long with 5 varied action shots). We would like to create a 30 second video for each nominee at the Award Presentation.
7.

Deadline for nomination submission is March 2nd, 2015.



For additional information, please contact Pam Marshall with the AAU National Office at (407) 934-7200 or via email at sullivan@aausports.org.
AAU GIRLS' BASKETBALL ALUMNI

RESERVE WITHERSPOON SHOWS POTENTIAL FOR SYRACUSE AS FRESHMAN CENTER
Originally posted by The Daily Orange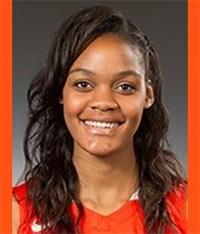 From around the summer of 2009 until the spring of 2014, Mac Irvin's Chicago-based AAU basketball team, the Fire, ended all its practices the same way: with a dunk from its 6-foot-4 center Amber Witherspoon.
When the routine began, Irvin gave Witherspoon five attempts to dunk a volleyball. If she couldn't convert, the team ran sprints. In a little over a year, Witherspoon dunked volleyballs with ease, and graduated to a full-sized basketball.
"By the time she was a junior in high school, it became really consistent," Irvin said. "I started to make her dunk with two hands. The one hand got a little easy for her, so I had to make it a little tougher."
A reserve center for No. 23 Syracuse (17-7, 7-4 Atlantic Coast), Witherspoon has played in 16 of SU's 24 games. Though she averages just over five minutes a game, the freshman possesses a skill set that once led Orange head coach Quentin Hillsman to call her "the best natural athlete" in the entire 2014 high school class.
When Irvin first saw Witherspoon in seventh grade, he saw what everyone else saw, and what years later Hillsman would see: a lanky center with a defensive prowess and an offensive game that lagged behind. Irvin saw a clean slate, someone who didn't have any deficiencies. He saw the "gracefulness" of how she ran.
He thought to himself, "We can do some good things with this kid."
Irvin, whose program produced Jabari Parker and Jahlil Okafor on the men's side, worked with Witherspoon every other day from seventh grade to her high school graduation. They worked on "Mikan Drills," which help post players develop rhythm, time jumps for rebounding and score in the paint.
Defensively, Witherspoon immediately became a forceful shot-blocker. Offensively, the long center lacked superior back-to-the-basket skills, so Irvin used her in pick-and-rolls with Linnae Harper – now a Kentucky guard – and took advantage of her height with over-the-top lobs.
"She had pretty good timing and a lot of blocked shots," Irvin said. "Offensively, she never brings the ball down. She keeps it high."
In an AAU tournament in Las Vegas before her senior year of high school, Witherspoon dunked in a game for the first time. The Fire was on a fast break, and the point guard threw an outlet pass up the right side. Out of nowhere, Witherspoon slashed down the middle, caught a pass in stride and dunked in rhythm.""The whole gym went crazy," Irvin said.
Witherspoon's AAU development mimics her progression now at Syracuse. The center, who continues to work on her footwork with SU assistant Sasha Palmer, has eight points in 85 minutes and has shot just 2-of-8 from the free-throw line.
For Hillsman, Witherspoon possesses the one attribute coaches can't coach – athleticism. Witherspoon has had two blocks in a game three times and averages just over a rebound per game.
"When I finally got to play and I started getting more comfortable with the different types of footwork, that's when (I felt like I could compete in college)," Witherspoon said.
And on the offensive glass, SU forward Taylor Ford said, she's closer to 6 feet, 9 inches with her arms out.
Then there's the dunking factor, something that has never been done by an Orange player during Hillsman's nine-year tenure. On Jan. 29, before Syracuse played then-No. 8 Louisville, Witherspoon showed a glimpse into the future and dunked during the Orange's pregame warm-up.
"You don't see a lot of girls dunk," Ford said. "I think if she were to do that in a game that would be fantastic. I think it would shock us and I think it would definitely shock the other team."