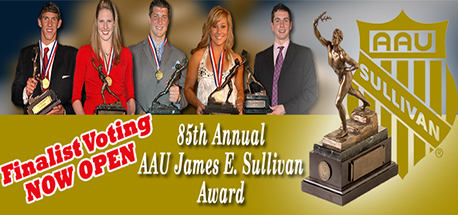 The FINALISTS for the AAU Sullivan Award are in and they need YOUR votes! Finalist voting will be open until Wednesday, March 25th at 11:59PM! Let YOUR voice be heard and cast YOUR vote today!
Don't forget to like us on Facebook (fb.com/realaau), follow us on Twitter (@TheRealAAU) and show us some love on Instagram (@AAUSports) for all of the LATEST #AAUSullivanAward news!
SPALDING PARTNERS WITH AAU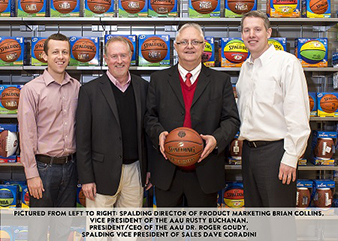 DEAL MEANS OFFICIAL BALL STATUS, CO-BRANDED MARKETING AND RETAIL OPPORTUNITIES
BOWLING GREEN, KY (March 18, 2015) -- Spalding and the Amateur Athletic Union (AAU) announced today a multi-year partnership in which the premier sporting goods provider and largest basketball equipment supplier in the world will serve as the official ball of AAU for basketball, baseball, football and softball including championship play.
The partnership will also provide Spalding and the AAU with co-branded marketing and retail opportunities across advertising, digital and grass roots platforms.
"Our alignment with AAU is a natural fit given our shared philosophy of competitive play and passion for sport," said Paul Sullivan, Senior Vice President and General Manager of Spalding. "With more than 670,000 participants, AAU assembles some of the nation's most elite amateur competitors and presents a great opportunity for Spalding to expand its reach with an important demographic."
The AAU is one of the largest, non-profit, volunteer, sports organizations in the United States. A multi-sport organization, the AAU is dedicated exclusively to the promotion and development of amateur sports and physical fitness programs.
"We are pleased to align with Spalding, an iconic and innovative sporting goods brand because we are committed to providing our athletes with a best in class experience including equipment that enables them to play their best game. Spalding delivers across multiple categories," said Dr. Roger Goudy, president of AAU.
About Spalding
Spalding is the largest basketball equipment supplier in the world, and America's first baseball company. Spalding is the official basketball of the National Basketball Association (NBA) and Women's National Basketball Association (WNBA), the official backboard of the NBA and NCAA, the official baseball of the Little League World Series® and the official volleyball of the King of the Beach® Volleyball Tour. In addition to being the leading producer and marketer of basketballs, footballs, volleyballs and soccer balls, Spalding produces softballs under the Dudley® brand. The SPALDING® and DUDLEY® trademarks are owned by Russell Brands, LLC. For more information, visit www.spalding.com.
About AAU
Founded in 1888, the Amateur Athletic Union (AAU) is one of the largest, non-profit, volunteer, sports organizations in the United States. The "Sports for All, Forever" philosophy is shared by over 670,000 participants and over 50,000 volunteers. The AAU annually sanctions more than 34 sports programs, 250 national championships, and over 30,000 age division events. AAU alumni include LeBron James, Amar'e Stoudemire, Diana Taurasi, Madison Bumgarner and Justin Verlander to name a few. A multi-sport organization, the AAU is dedicated exclusively to the development of amateur sports www.aausports.org
For more information, Contact:Lynn Luczkowski, L2 Communications Lynn@L2comm.biz or 413-478-1569/802-295-3888.
Williams Decides on Iowa
When Christian Williams wasn't on the court leading St. Teresa to the state championship game this winter in his senior year, he was wearing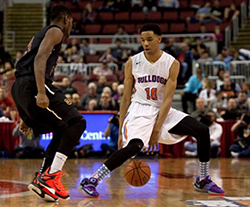 an Iowa stocking cap.
And while Williams said the cap wasn't meant to be a hint of where he would play his college basketball, when he got a call with a scholarship offer from University of Iowa head coach Fran McCaffery at 8 p.m. on Sunday night, Williams gave his commitment to the Hawkeyes.
"(McCaffery) told me back in the fall if I stayed patient and trusted him, he promised me he'd come to a game," Williams said. "He finally came to the state championship game. He said he liked what he saw and believed I could do things at Iowa.
"Then he asked me if I wanted to go to Iowa and I told him, 'Yes.' He said, 'Let's get it done then.'
" Williams was heavily recruited. Schools that offered him scholarships included Saint Louis, Illinois State, Northern Illinois, Bradley, Southern Illinois-Edwardsville, Wisconsin-Green Bay, Illinois-Chicago and Albany. Illinois and Minnesota were among the others showing interest.
Williams said his backup plan was Saint Louis or Northern Illinois, but Iowa was his first choice ever since first visiting the university as a junior.
"Right away it felt like that's where I needed to be," said Williams, who has attended an Iowa football game and a couple of basketball games in the last two years. "The organization felt like a family."
St. Teresa coach Tom Noonan said it was obvious from Williams' reaction to his first trip to Iowa that the Hawkeyes were the frontrunner.
"This is something he's wanted for a long time," Noonan said. "When he and his mother visited there a year-and-a-half ago, they both came back really impressed with how much of a family atmosphere it was. He felt at home there."
Iowa stayed in contact with Williams during the fall and early winter when Williams was attending St. Teresa but not playing sports there because of a residency issue. Noonan said when the issues first began last summer, Iowa was the first to contact him about it.
That dedication impressed Williams. "That really made me feel like I could trust them," Williams said.
Williams will be the first H&R-area high school athlete to play Big Ten basketball since Robinson's Meyers Leonard at Illinois (2010-12), and first from Decatur since Lewis Jackson at Purdue (2008-12).
Williams averaged 18.8 points and 8.6 rebounds for the Bulldogs, whom he led to a 27-5 record, Central Illinois Conference regular-season and tournament titles, and a second-place finish in Class 2A. He was named first-team all-state by both the Associated Press and Illinois Basketball Coaches Association.
Williams' AAU coach Gavin Sullivan of the Illinois Irish said Williams' size -- 6-foot-6 with a 7-foot wing span -- with the ability to handle the ball is what drew colleges to Williams.
"A guard that big with his vision with the ability to dribble past people and score is extremely attractive," Sullivan said.
A scholarship for a guard came open at Iowa when Trey Dickerson was granted a transfer by the Hawkeyes last month.
Noonan said Williams would likely begin his time as a freshman playing the wing, but Noonan and Williams said they eventually see him as a point guard.
"They like having long guards and he definitely fits that," Noonan said. "They mix up their defenses -- McCaffery will play man, 1-2-2 zone or a 2-3. Christian's versatility fits well with that."
Williams said he thinks he can make an impact as a freshman at Iowa, and so did Sullivan. But Williams has plenty of work to do before he's a finished product. He said shooting and ball-handling were points of emphasis for him. Sullivan said adding strength is a must for Williams.
"Christian is going to have to add some weight -- how many minutes you get as a freshman a lot of times depends on who's ahead of you and how ready your body is physically," Sullivan said. "And added strength will help him finish with dunks instead of layups. He can jump, but you better be able to finish strong in the Big Ten or you're going to end up in the first row."
Iowa is 21-11 and a No. 7 seed in the NCAA Tournament. The Hawkeyes will play Davidson in the first round on Friday.
Williams is the second Macon County athlete to choose Iowa this year. Maroa-Forsyth's Jack Hockaday signed a letter of intent to play football there


BEACH VOLLEYBALL: Upcoming Beach Volleyball Events!
This weekend, Arizona AAU Volleyball is hosting the 2nd event in their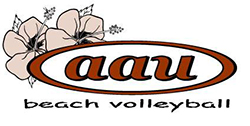 Winter Sand Series for girls 14U, 16U, and 18U. Pool play and playoffs will take place on March 21st with awards for 1st and 2nd place. The series will have one other event on April 11th and a District Championship on May 16th. The series events that have at least 5 teams per division will qualify the top 2 teams to the West Coast AAU Junior Olympic Games. For the District Championship, divisions with 5-9 teams will qualify the top 2 teams and divisions with 10 or more teams will qualify the top 4 teams to the West Coast AAU Junior Olympic Games!
There is also an event taking place at Dockweiler State Beach this weekend for boys ages 14U and 16U and girls ages 14U, 16U, 18U. This event will also qualify the top 2 teams from each division with at least 5 teams to the West Coast AAU Junior Olympic Games.
For more information on these events or to view the complete AAU Beach Volleyball Schedule, visit www.aaubeach.org or CLICK HERE.

INDOOR VOLLEYBALL: Upcoming AAU Volleyball Grand Prix and Super Regional Events!
This weekend there will be 3 more chances for teams to earn a free or discounted entry to the 2015 AAU Girls' Junior National Volleyball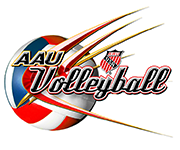 Championships in Orlando, FL or the West Coast Championships in Las Vegas, NV!
There are 2 Grand Prix events and 1 Super Regional event taking place in Utah, Indiana, and Illinois! Winners in divisions with 12 or more teams will receive a free entry. In divisions with less than 12 teams, the entry fee will be discounted based on the number of teams that participated. For more information, view the event flyers linked below or visit www.aauvolleyball.org
• Utah Grand Prix - 14U, 17U, 18U - Salt Lake City, UT
• Dunes March Madness Super Regional 12U - 14U - Rolling Prairie, IN
•Heart of Illinois Grand Prix - Bloomington, IL
NEAAU Grand Prix Winners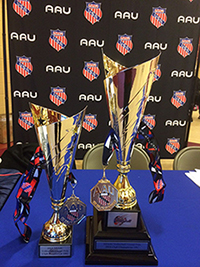 Last weekend the New England AAU hosted their first annual AAU Grand Prix Event at Rhode Island College! The inaugural event had almost 30 teams in 5 divisions. The winners of each division listed below have earned a partial entry fee to the 2015 AAU Girls' Junior National Championships in Orlando, FL or the AAU West Coast Championships in Las Vegas,
NV! 15U Club - Mass Premier Courts GUINAN 15U Open - Allegro Volleyball NATIONAL 16U Open - SMASH Volleyball 17U Open - CT Velocity
18U Open - Allegro Volleyball NATIONAL
For the complete results and photos, visit www.neaau.org or CLICK HERE.
Forgotten Freshman Justise Winslow May Be Key to Duke's NCAA Tournament Hopes
DURHAM, N.C. - Robin Davis walked into Houston's St. John's School more than a year ago and asked an administrator to pull her son out of class.
The start of the early signing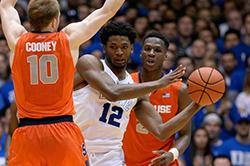 period was less than 24 hours away, and Justise Winslow - one of the nation's top uncommitted prospects - had yet to pick a college.
"Ready to get this over with?" Davis said a few minutes later as her son entered the room. The 17-year-old senior could only nod.
For the next three hours, in a courtyard just outside the dean's office, mother and son sat at a picnic table and spoke at length about Winslow's options.
He'd visited Arizona more than any other school and felt at home in Tucson. Signing with Florida was tempting after playing for Gators coach Billy Donovan the previous summer on Team USA's U19 team. And Robin wasn't shy about expressing her fondness for UCLA and the glitz and glamour of Los Angeles, where one of her older sons resides.
Finally, after a recruiting process that stretched nearly three years, Winslow reached a moment of a clarity. There was one school, he said, without any flaw. Tears welled in Winslow's eyes as he raised his head and looked at Robin.
"I'm going to Duke," he said, and then Winslow began to cry.
Robin stood and hugged her son as students and school officials trickled outside to congratulate Rivals' 12th-ranked player in the Class of 2014.
"I think the whole school knew we were out there talking," Robin said. "It was a very emotional moment. Everyone wanted what was best for Justise."
Sixteen months later, the decision has clearly paid off for Winslow.
And also for Duke.
As Duke begins the NCAA tournament this Friday in Charlotte, North Carolina, Winslow is averaging 12.3 points and 5.9 rebounds as a starter for the second-ranked Blue Devils. The 6'6" wing has been particularly effective during the past month, scoring 14.9 points and snaring 7.8 boards while earning a reputation as one of college basketball's top defenders.
Not bad for a player who, despite his lofty recruiting ranking, was often treated as an afterthought in a recruiting class that included the nation's No. 1 overall prospect in Jahlil Okafor and the top point guard guard in Tyus Jones. The twosome generated much more of a national buzz when they committed less than a week before Winslow, probably because they were regarded as a "package deal."
"The main concern - and probably the only concern - Justise had about Duke," Blue Devils assistant Jeff Capel said, "was that he didn't want to be seen as 'the other guy.' He didn't want to be viewed a third wheel."
The mere thought of that is laughable now.
Anyone who watches the 29-4 Blue Devils can see that Winslow - a projected top-10 pick in this summer's NBA draft - is every bit as important to Duke's success as Jones and Okafor. After a 23-point, nine-rebound effort in a late-February win vs. Syracuse, Okafor said Winslow was "the best player on the court."
Winslow is Duke's X-factor. The Blue Devils would've been good without Winslow. But with him the team's potential is limitless, a national championship hardly out of the question.
As the expectations continue to elevate, Winslow appears undaunted. While lot of 18-year-old freshmen would flounder when faced with so much pressure, Winslow thrives on it to flourish.
"Have I surprised myself?" he said. "Not really. I've been preparing for this moment my whole life."
Winslow pauses.

Read More >>

Kiesel fuel: Senior guard's four-year career culminates in NCAA berth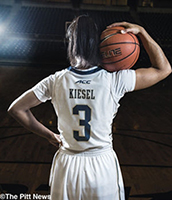 Brianna Kiesel couldn't make a shot. She couldn't even come close.
The starting point guard of the Pitt women's basketball team, who currently ranks fifth on the school's all-time scoring list with 1,893 points, has rarely had this issue of draining baskets over her past four seasons leading the Panthers. But these circumstances were different.
During the mid-1990s, Kiesel's father, Steve, her older sister, Ona, and she would play at Addison Miller Park in their hometown of Utica, N.Y. They'd run and shoot around together after their father had played pickup there.
"She was so little, she couldn't even get the small ball to the [regulation-size, 10-foot-high] basket, "Kiesel's father recalled with a chuckle. "She was so mad."
Steve can't remember exactly when his youngest child started turning those misses into makes, but when she did so just a year or two later, he wasn't surprised.
"She always kept trying to get better and better. She kept working and working at it,"he said.
That drive, first displayed on an outdoor court back home, has stayed with the 5-foot-7 senior and contributed to her exploits as much as any physical skill, which she possess in spades.
Since arriving in Oakland, the small but lightning-quick guard only missed one game of a possible 121, starting all the rest.
Her infectious attitude has also motivated her mostly young teammates to follow her lead, according to senior teammate Cora McManus. Together, Kiesel and company have brought Pitt (19-11, 9-7 ACC) to the verge of its first postseason appearance in five years and first NCAA berth in six.
"Even in offseason conditioning, she's out there sprinting. We've got to all be at that pace [and] catch her, run that hard, "McManus said. "People want to be her. You want to be that type of player."
Keith Danzy didn't need very long to see just how high a caliber player Kiesel was.
The director of the girls' program for Albany, N.Y.-based Amateur Athletic Union organization City Rocks, Danzy first met Kiesel when he went to scout her at a varsity game during her freshman year of high school. He'd stay for just a few minutes of the actual game and knew she'd fit into his program, which draws from all over the state of New York.
"I just watched her in warm-ups and [saw] how hard she was going, how deliberate she was in her warmups, "Danzy said. "She went through her routine with maximum energy, just working up a good sweat."
Danzy had seen enough and, before leaving, let Steve know that Brianna had a spot on his team.
Similarly powerful first impressions continued. McManus first met her when they came on their official visit to campus together in October 2010. Playing pickup with varsity players while in town, McManus was struck by her peer's energy.
"You could tell her work ethic from the jump, "she said.
The first two seasons featured little success, with the team unable to win a conference game in either. Ashlee Anderson, who played three seasons with Kiesel, said the losing took its toll on her ultra-competitive backcourt mate.
"I think she just tried to take the weight of it all on herself instead of looking at the bigger picture. That was one of things we always talked about amongst ourselves, not even with the coaches, was 'Bri, you don't have to do it all. That's what we're here for.' "
"It's a long season, and you're gonna burn yourself out trying to do it all by yourself, "Anderson continued
After the team showed little progress from the first to second losing campaign, the University firedhead coach Agnus Berenato April 1, 2013.
"My mind was all over the place definitely between struggling and not knowing what was going to happen, "Kiesel said.

AAU Baseball Grand Nationals
Don't forget the deadline date for Grand Nationals is May 26 UNLESS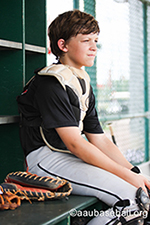 the event sells out earlier. All games will be played at ESPN Wide World of Sports with no offsite fields. So, you want to register early. Demand for the event is up about 40% this year so some divisions WILL sell out early. If you are planning on playing make sure you register right away so you don't get locked out. Registrations are on a first-come, first-served basis.
Teams in districts with qualifiers will need to qualify, but go ahead and register for Grand Nationals prior to playing in the qualifier. After the deadline date we will follow up and make sure all teams required to qualify have done so.
The entry fee is only $850 for a 7-game guarantee! That's a very rare offering in travel baseball. Make sure your team gets in by registering now. Build the dream.

AAU Primary Nationals Registration Now Available: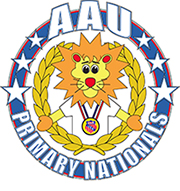 Do you have an athlete 8 years old or younger? If so, get excited! The online registration for the 2015 AAU Primary National Championships is now available! This event allows athletes 5, 6, 7, and 8 years old to compete against their own individual age groups! This unique event will take place from July 9th - 11th, 2015 at the ESPN Wide World of Sports.
For more information or to register your athlete, please visit www.aauathletics.org or CLICK HERE.
---
Online Registration Now Open for the 2015 AAU Club Championships!
Attention AAU Athletics Athletes, Coaches, Parents and Clubs,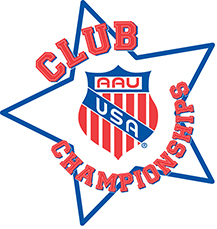 registration for the 2015 AAU Club Championships is now live! This event taking place from July 12th - 18th, 2015, will feature athletes and clubs from across the country, as well as, some international teams!
In addition to being the only AAU Track & Field National Championship that awards an overall Club Champion, this is also the last chance for athletes to qualify for the 2015 AAU Junior Olympic Games!
For more information on how to register for this event, please visit www.aauathletics.org or CLICK HERE.

Are you looking for a Tackle Football Program in your area? Why not start your own?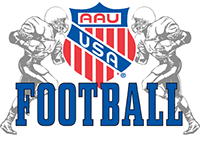 Tackle Football Program offers competition for athletes ages 6 & Under to 14 & Under at the local level, and 8 & Under to 14 & Under at the National Championship level. By hosting an AAU Tackle Football League, you will not only grow the sport in your area, but the top two teams from each age group will be eligible to compete at the AAU Tackle Football League Based National Championship in Orlando, FL!
For more information on how to start a program in your area, visit www.aaufootball.org or CLICK HERE.

Free Coaches Training
AAU National Hockey Chair, Keith Noll is pleased to announce that AAU Hockey is offering a free online coaching program for Coaches, Players & Parents. This course is brought to you by former Stanley Cup Champion, Mike Hartman!
To learn the skills that will enable you to make the right choices to achieve your goals, CLICK HERE.
Register today for the 2015 AAU Scholastic Duals!

AAU Wrestling is pleased to announce that registration is now available for the 2015 AAU Scholastic Duals! This event is taking place from June 27th - July 2nd, 2015 at the ESPN Wide World of Sports Complex at the Walt Disney World Resort® in Orlando, FL. Weigh-in order will be determined by order of registration, so guarantee your spot today!
For more information or to register for this event, CLICK HERE.
AAU 14-Under Youth Indoor National Championships: RECAP
"Thanks for running an awesome meet! Our kids loved the experience. I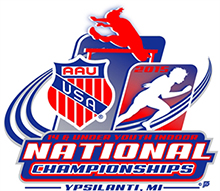 know it has taken a lot of work, commitment, and sacrifice to get it to this level and we really appreciate it."
"Thanks again for everything this weekend. My daughter and I had a wonderful time in Michigan and really enjoyed your meet. I can only imagine the amount of work something like that must take for you... We really enjoyed it!!!"
"My daughter took 4th place and did end up with three medals total. All in 4th place but her first meet ever, at the same location where my son had his last meet 4 years ago. My son was 17, and following the meet was indoor Nationals in Illinois but he passed away as a result of a car accident in between those two meets. He was never able to try for his medal that year and was most likely going to place in the top three, so this was a very special meet for my family in more ways than just one! She also had bib #141 and her brother/my son's football number was #4 so, although 1st place is the best. 4th place wins for her first time were very special to us! Thank you for the memories, tears, and smiles that AAU track was able to bring back to this momma! I think it's important for you to know how your organization touches lives where you may never even know."
The above statements from parents and participants, speak volumes to the success of the AAU 14-Under Youth National Track & Field Championship held at Eastern Michigan University-Bowen Field House Indoor Track in Ypsilanti, Michigan. With only a short time to plan, we can say that we most certainly met our goal of creating a fun filled, family oriented but competitive environment for all that attended this inaugural meet. Rocking and dancing to the sounds of Bruno Mars, Ariana Grande, Chris Brown and many other popular artist delivered through DJ Gerald or sitting on the edge of their seat being mesmerized by the announcing of races by Calvin Johnson, there were 492 registered participants accompanied by approximately 1500 or more spectators each day from as far as California and Texas to as close as Ohio and Indiana enjoying the ambiance created in Bowen. According to the positive feedback from the spectators, coaches, volunteers and event staff, this meet is expected to grow in participation next year and we will most certainly be ready for the challenge. We are already in the planning stages for next year to accommodate some of the events that have been requested such as multi-events, pole-vault and triple jump. We are also exploring moving the event to a 3-day event which is tentatively scheduled for March 4-6, 2016 at Bowen Field House again.
However, we must give an overwhelming thank you to the Michigan AAU Athletics Committee, National AAU Athletics Committee, National AAU Office staff, the Athletics Awards volunteers, Eastern Michigan University Athletics/Rec. IM staff, Ann Arbor/Ypsilanti CBV, Detroit Sports Commission, Greg Forman of G4-Photos (www.gregoryphotography313.com), Announcer Calvin Johnson and Sounds by DJ Gerald for the collective effort and working together to make this event a huge success and positive AAU experience. Thank you again for all of your contributions. Respectfully Yours,