RECAP: 2015 CENTRAL (ILLINOIS) MITE STATE CHAMPIONSHIP

The 2014-2015 Central (Illinois) Mite Ice Hockey season hosted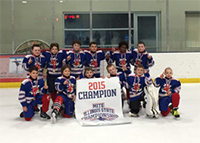 their championship games this past weekend. After all games were completed, the Jr. Ice Hogs came out on top over the Chicago Saints. According to tournament Director

Michael Rosado, "We had some great hockey games this weekend. In addition, I want to congratulate the Jr. Ice Hogs and the Chicago Saints (teams, families, managers, and coaches). Both teams played superb hockey all weekend and deserved to finish 1-2. I hope all of the teams and families had fun and came away with a good impression of the tournament."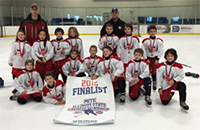 We hope both clubs are able to attend the 2015 Mite National Championships March 5th - March 8th in Minneapolis/St. Paul, MN, as we know you will both represent the Central (Illinois) District very well.
Congratulations to all the teams involved, and we hope to see you again next season!
AAU TRACK AND FIELD CLUB ACCEPTS UNSUNG HERO AWARD
Bay Area Youth Track and Field Club (BAYTAF) Accepted the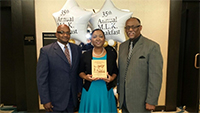 Unsung Hero Award for 20 years of track and field community service at the 35th Annual Tampa Organization of Black Affairs (TOBA)
BAYTAF is a League of AAU Clubs founded in 1991 by Samuel "Nate" Johnson, BAY AREA YOUTH TRACK AND FIELD (BAYTAF), INC. was created out of a need to unify efforts in promoting the sport of youth track and field throughout the Tampa Bay Area (i.e., Hillsborough and Pinellas Counties). It was also apparent that having a major track meet was not enough; athletes needed funds for training and travel to other competitions around the state. Through a coordinated effort of team representatives and civic organizations from around the Bay Area the BAYTAF Classic was created.

The BAYTAF objectives are simple:
| | |
| --- | --- |
| • | To promote the sport of youth track and field through events such as the BAYTAF Classic to allow our local athletes the opportunity to compete with other youth from around the state and country. |
| • | To use the proceeds raised from events such as this to help our local athletes reciprocate the support from other teams around the state by traveling to other local, state and national competition. |
| • | To develop, train and coordinate certified meet officials to manage track and field meets at all levels of competition (i.e., high school, college and national competition). |
Congratulations to BAYTAF for their award and commendable service to the sport of Track and Field!
AAU VOLLEYBALL SUPER REGIONAL TRILOGY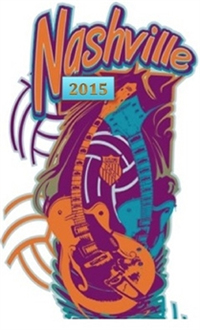 The first event in the 2015 AAU Super Regional Trilogy is almost here!

The Nashville AAU Super Regional will be taking place from March 14th – 15th, 2015 in Franklin, TN at the A-Game Sportsplex and Franklin Fieldhouse. Also a part of the trilogy is the Birmingham AAU Super Regional from
March 28th – 29th and the New Orleans AAU Super Regional from May 30th – 31st.

Winning teams in age divisions with 12 or more teams will receive a free entry fee to the AAU Junior National Volleyball Championships or the West Coast AAU Championships. For divisions with less than 12 teams, the entry fee will be discounted.

In addition to this great opportunity, this event also offers two other incentives! For every 5 teams a club sends to any one tournament in the AAU Super Regional Trilogy: Nashville, Birmingham, or New Orleans, that club will receive one free* hotel room for two nights in that particular city. Also, any team that attends all three tournaments in the AAU Super Regional Trilogy will receive $100 off tournament entry fees for the New Orleans AAU Super Regional and one free* hotel room per team for two nights in New Orleans. *Free rooms will be based on club staying at a participating hotel. The list of our participating hotels can be found on Louisiana Volleyball and AAU Super Regional Trilogy websites. Free rooms will not be available for reservations at properties outside of our participating hotels.

For more information on the AAU Super Regional Trilogy visit www.aauvolleyball.org or CLICK HERE.
SIX-FOOT-FOUR AND 13 YEARS OLD
Original article posted by Sophie Jane Evans on DailyMail.com
Standing at 6ft 4ins with inches left to grow, he has the height, the ball skills and the drive.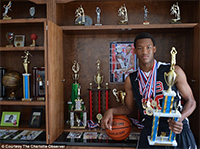 Meet Wendell Moore, 13, from Charlotte, North Carolina, who has been deemed the best basketball player in the country
Early offers: Indeed, the teen – who currently stands at 6ft 4ins - has already received letters from two top Division I schools, including Duke University (pictured) in Durham, North Carolina, while still in eighth grade in the class of 2019.
Indeed, the youngster has already received letters from two top basketball schools - Duke University and the University of North Carolina at Chapel Hill - while still in eighth grade.
Speaking of his abilities, Wendell said: "This is a God given talent. I have to use it to the best of my ability or it can be easily taken away if I don't work as hard as I can every time I step on the floor."
The teenager, who ironically plays in the 'small forward' position, towers over his teammates during their regular practices with the AAU club, CP3 All-Stars. And he stands a head above his rivals.
Dominic Bishop, an assistant coach on the North Carolina-based team, said the player did not only have the right height
Interested: Wendell has also received a letter from the University of North Carolina at Chapel Hill (pictured) for the game, but also, the right attitude to succeed.
'He came in and he was ready to work. I'd never seen someone ready to work like that,' said Mr Bishop, who has been training with Wendell since 2013.
Speaking to WSOC-TV, Mr Bishop who played collegiately at Creighton University, added that Wendell's talent is only likely to improve in future years - as long as he keeps himself grounded.
"Everything you see right now is not what it's going to be like in two, three years," said the coach. "Just stay humble and as long as you stay humble you'll be OK."

Wendell's skills and drive have seen have compared to the top pick in last year's NBA Draft, 19-year-old Andrew Wiggins, from Canada, who currently plays for the Minnesota Timberwolves.

In Wendell's case, he will be competing for Cox Mill High School in two years, unless he decides to make the jump to a program like Findlay Prep to enhance his on court talentIn Wendell's case, he will be competing for Cox Mill High School in two years, unless he decides to make the jump to a program like Findlay Prep in a bid to further enhance his on court talent.

But one thing is certain - the teenager will not be giving up his passion anytime soon.
"Basketball is a place I can go to when there's things on my mind," said Wendell. "Or if I'm just trying o be me I can go to the gym and that's where I am."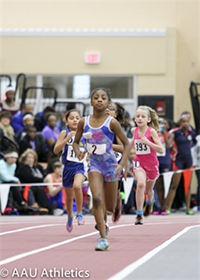 2015 AAU NORTHERN INDOOR NATIONAL CHAMPIONSHIPS- PHOTOS
Photos from the 2015 AAU Northern Indoor National Championships held at Auburn High School field house in Rockford, Illinois!
REGISTER TODAY FOR THE 2015 SPRING YOUTH NATIONALS!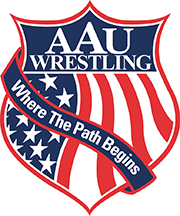 Online registration for the 2015 AAU Spring Youth Nationals is now available! This event will be held in Kingsport, TN at the Buck Vann Huss Dome March 13th – 14th, 2015.

This event will be sold out once 800 wrestlers register, so don't miss out on your spot! Sign Up Today!

To register, CLICK HERE.

For more specific information about the event, including: age/weight classes, hotel info, and more; CLICK HERE
ARE YOU LOOKING FOR A TACKLE FOOTBALL PROGRAM IN YOUR AREA!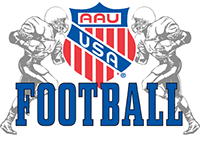 Why not start your own?

The AAU Tackle Football Program offers competition for athletes ages 6 & Under to 14 & Under at the local level, and 8 & Under to 14 & Under at the National Championship level.

By hosting an AAU Tackle Football League, you will not only grow the sport in your area, but the top two teams from each age group will be eligible to compete at the AAU Tackle Football League Based National Championship in Orlando, FL!

NORTHERN INDOOR NATIONALS, VIDEO RECAP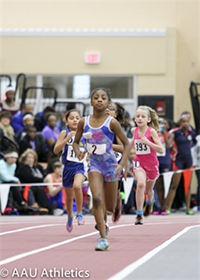 The video recap from the 2015 Northern Indoor Nationals is available to watch on The Real AAU You Tube Channel! The video features a recap of the running and field events, including footage taken using a GoPro! Don't miss out on your chance to be featured in the next video recap by participating in the 2015 14-Under Youth National Indoor Championship held
March 7th – 8th, at Eastern Michigan University's Bowen Fieldhouse in Ypsilanti, MI!
For the 2015 Northern Indoor Nationals video recap – CLICK HERE
To register for the 2015 14-Under Youth National Indoor Championship – CLICK HERE
WILL YOU BE CHOSEN?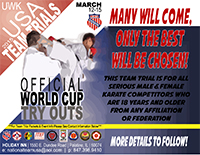 AAU Karate athletes 18 years and older - come take part in the Team Trials March 12th through the 15th in the suburbs of Chicago, IL. This team trials is for all serious Male and Female Karate competitors from any federation and/or affiliation.
For more information on the event, please contact AAU Karate at (847) 398-9410 or nationalteamusa@aol.com.
2015 NEW ENGLAND DISTRICT TWIRLING CHAMPIONSHIP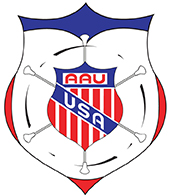 Join us March 15, 2015 in Upton, MA for the 2015 New England District Twirling Championship!

The competition is open to the New England and Connecticut districts and will follow current AAU Baton Twirling rules. All entries must be postmarked by February 15th.

Click here for registration information today!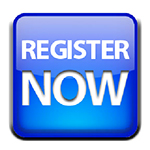 2015 AAU TAEKWONDO GEORGIA DISTRICTQUALIFIER
Register today for the 2015 AAU Taekwondo Georgia Qualifier! The event will be held in Dacula, GA on March 7th.

For more information, click here.
We can't wait to see you in Georgia!
4th ANNUAL TEXAS STALLIONS RELAYS
Calling all track and field enthusiasts and youth runners, jumpers & throwers, you are invited to attend.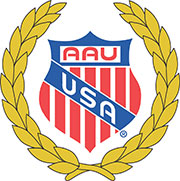 The 4th Annual Texas Stallions Relays promises to be a fun and exciting event with over 500 youth athletes competing in 3 relays, 8 open running events and 5 field events. We are letting the adults get in on the action by offering Open/Master 200m Dash, events for the 6 & under as well as continuing the Parent/Coaches 4 x 100M Relay.
Competition takes place in 12 age divisions – 4 & Under (Pee Wee), 5/6 Year (Munchkin), 7/8 Year (Primary), 9 Year (Sub-Bantam), 10 Year (Bantam), 11 Year (Sub-Midget), 12 Year (Midget), 13 Year (Sub-Youth), 14 Year (Youth), 15/16 Year (Intermediate), 17/18 Year (Young), and Open/Masters for 20 and up. Awards will be given to the top eight participants in each event. This event is sanctioned by the Amateur Athletic Union of the U. S., Inc. Volunteer & Sponsorship Opportunities available.
Registration: Pre-Registration available online until 3/19/15 and on-site registration available at 7:00 am, Morning of Event.
Cost: Spectators and Athletes $6 per person. 5& Under nonparticipants Free.
More Info: For more details, visit www.texasstallionsrelays.com
AAU SULLIVAN AWARD; GUIDELINES FOR NOMINATION OF AN AMATEUR ATHLETE

What do Michael Phelps, JJ Reddick, Tim Tebow, Missy Franklin and John Urschel have in common? They are ALL AAU Sullivan Award Winners!

Nominate YOUR favorite collegiate or Olympic athlete TODAY for the 85th Annual James E. Sullivan Award!
Guidelines:
1.
Any amateur athlete (collegiate or olympic level and above), in any sport, may be considered.
2.

Qualities of individuals nominated should emphasize leadership, character, sportsmanship, and their accomplishments in the world of sport.

3.
The AAU Sullivan Award Committee may take nominations based on information from anyone.
4.
The athlete must be in attendance for the award presentation, except for extraordinary circumstances, in order to receive the award.
5.
AAU Sullivan Award recipients are eligible for re-nomination for this honor.
6.
Required Materials: head shot, 1-2 action pictures in their sport, a paragraph bio of their 2014 accomplishments, and a highlight video (preferably 3-5 minutes long with 5 varied action shots). We would like to create a 30 second video for each nominee at the Award Presentation.
7.

Deadline for nomination submission is March 2nd, 2015.



For additional information, please contact Pam Marshall with the AAU National Office at (407) 934-7200 or via email at sullivan@aausports.org.
APPLY FOR THE 2015 AAU HIGH SCHOOL SULLIVAN
AWARD

The 2015 AAU High School Sullivan Award is back and we need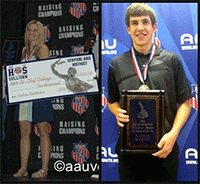 YOUR applications! This award is available to high school seniors who are or have been an AAU participant in any sport. The AAU High School Sullivan Award and Scholarship Program emphasizes certain qualities in the individual athletes, including leadership, character, sportsmanship, academics and accomplishments in their sports.
The AAU Sullivan Committee will be awarding a total of $35,000 in Scholarship Funds to eight (8) different recipients; four (4) male and four (4) female athletes. The top female and male winner will receive a $10,000 scholarship provided to the school they choose to attend the following year. The six remaining finalists will each receive a $2,500 scholarship to the school that they choose to attend.
Winners will be chosen through both electronic and personal reviews from all of the completed and properly submitted applications. The deadline to apply is April 1st, 2015 and the scholarship winners will be announced in June.
Last year, Audrey Faulhaber and Nathan Sherfey were recognized as the two winners of the 2014 AAU High School Sullivan Award. They were selected from hundreds of deserving applicants and were each awarded the top scholarship prize of $10,000 to the school of their choice. For the full story on Audrey and Nathan, CLICK HERE.
To apply for the 2015 AAU High School Sullivan Scholarship Award, CLICK HERE.
Scholarship Management System provided by WizeHive
Follow us on FACEBOOK to keep track of EVERYTHING AAU, including the Sullivan Award and High School Sullivan Award! Have a Twitter? Follow @TheRealAAU for all the latest updates and news about the AAU!
DEJA REYNOLDS KEYS IMHOTEP CHARTER - CREDITS HER AAU EXPERIENCE
Originally posted by Donald Hunt Philadelphia Tribune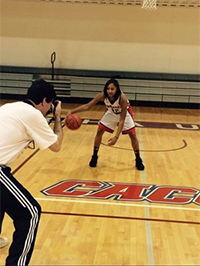 The Public League playoffs will be starting pretty soon. Imhotep Charter, the defending league champions, will be one of the teams to watch in the postseason and a big reason why is the play of its 5-foot-9 senior Deja Reynolds, one of the top players in the city.
Reynolds has been playing some great basketball for the Panthers. She's averaging 15 points a game. She seems to be on top of her game going into the playoffs.
"We're feeling pretty good right now," Reynolds said. "We're getting better as we head into the playoffs. Bionca Dunham and the rest of my teammates have really helped me out."
Reynolds is a complete player. She can handle the ball, look for the open man, play good defense and rebound. Her shooting is one area of her game that has really developed from last year.
"My jump shot is much better," Reynolds said. "I think that's the one thing that has really improved is my outside shot. I really worked on that part of my game. I think everything else is about the same as far as my handle and going to the basket. But my shooting is much better."
Reynolds will play her college basketball at Temple University next season. She credits her AAU team, Philly Triple Threat, for helping her build a solid for the basketball foundation.
"I would recommend Philly Triple Threat for anybody," Reynolds said. "I've actually been coached by just about everybody. I got a lot of help from David Hargrove, Randy Miller, Eric Worley and Messiah Reames. They do a good job of getting you ready for college."
Imhotep Charter has an 11-0 record in the Public League. The Panthers' only four losses have come against non-league competition. The experience of playing for a championship should help them in the postseason.
"I think we're playing well heading down the stretch," Reynolds said.
Imhotep Charter is one of the best teams in the PIAA District 12 AA division. The exciting part of the season is ahead for the Panthers