JESSE OWENS RECOGNIZED AS INAUGURAL AAU GUSSIE CRAWFORD LIFETIME ACHIEVEMENT AWARD RECIPIENT
More than 80 years after bringing home four Olympic gold medals for Team USA in the 1936 Berlin Games, legendary track and field athlete Jesse Owens was honored posthumously with the inaugural AAU Gussie Crawford Lifetime Achievement Award.
Owens specialized in sprints and the long jump and was recognized in his lifetime as perhaps the greatest and most famous athlete in track and field history. His achievement of setting three world records and tying another in less than an hour at the 1935 Big Ten track meet in Ann Arbor, Michigan has been called the greatest 45 minutes ever in sport and has never been equaled. He was the most successful athlete at the 1936 Berlin Olympics and, as an African American man, was credited with single-handedly crushing Hitler's myth of supremacy.
Gina Hemphill-Strachan, granddaughter of Owens, was on-hand at the AAU Sullivan Award Ceremony on April 11 to accept the award on behalf of her grandfather.
"It's a testament to the changes of growth and it's a testament to the changes of progress that I'm able to stand here tonight and accept this award on behalf of my grandfather," said Hemphill-Strachan. "It celebrates so much more than just his remarkable athletic accomplishments, but it celebrates the impact he made as a man in this world."
The AAU Gussie Crawford Award was established by President Dr. Roger J. Goudy in 2017 to honor Crawford, voted the first female president of the AAU in 1988, as a trailblazer in amateur sports. The award is intended to recognize those athletes whose efforts, both on and off their playing surface on the national or international stage, have paved the way for great change in amateur sports.
Click here to view the photo gallery from Monday evening's reception honoring Gussie Crawford.
CARLINI BECOMES FIRST VOLLEYBALL PLAYER TO WIN AAU SULLIVAN AWARD
Wisconsin Volleyball star Lauren Carlini became the first volleyball player to earn the AAU Sullivan Award on Tuesday, April 11, as she was honored as America's top amateur athlete at the New York Athletic Club at the AAU James E. Sullivan Award Ceremony presented by Eastbay.
A four-time All-American at the University of Wisconsin, Carlini ranks first in program history with 74 career double-doubles and second in career assists with 5,599. Carlini, the first four-time All-Big Ten pick in Wisconsin history, was a member of the bronze medal-winning U.S. National Team at the 2016 Pan American Cup.
"I'm honored to be the first volleyball player to win this award," Carlini said. "Volleyball is growing and gaining popularity, so I hope this keeps it going."
Click here to relive the ceremony.
AAU SULLIVAN AWARD FINALISTS GET VIP TREATMENT AT THE EMPIRE STATE BUILDING
Finalists for the AAU James E. Sullivan Award visited the Empire State Building on Tuesday, April 11 in advance of the AAU James E. Sullivan Award Ceremony at the New York Athletic Club. Soaring 1,454 feet above Midtown Manhattan, Lauren Carlini, Laurie Hernandez, Kyle Snyder, Ginny Thrasher, Ashleigh Johnson and Aly Raisman took in the views from atop the World's Most Famous Building.
Click here to see behind the scenes of their VIP tour.
FORMER AAU SULLIVAN AWARD WINNER JIM RYUN HONORED ON 50TH ANNIVERSARY
Fifty years after earning the 37th AAU Sullivan Award, 1968 U.S. Olympic gold medalist Jim Ryun was recognized during the AAU James E. Sullivan Award Ceremony presented by Eastbay at the New York Athletic Club on Tuesday, April 11.
"Fifty years ago I had the privilege of winning the AAU Sullivan Award and it still remains one of my treasured trophies at home for many reasons," Ryun said. "One reason is that it honors the athlete, but most of all it honors the high moral character and the contributions they've made and will continue to make."
Ryun was the first high school athlete to run a mile in under four minutes. In 1966, at age nineteen, Ryun set world records in the mile (3:51.3) and the half-mile (1:44.9).
Along with the AAU Sullivan Award, Ryun received numerous awards, including Sports Illustrated magazine's "Sportsman of the Year" award, the ABC's Wide World of Sports Athlete of the Year and the Track & Field News' Athlete of the Year award as the world's best track & field athlete.
LESS THAN THREE WEEKS TO REGISTER FOR AAU NATIONALS
Don't miss out on this huge event! The 44th AAU Girls' Junior National Volleyball Championships registration deadline is approaching.

Make sure to get your registration and payment in by May 8th to be a part of the action. Volleyball, theme park fun, two water park parties, and much more await you in Orlando, FL this June!

For more information, CLICK HERE.

---
LAST CHANCE TO REGISTER FOR THE WEST COAST CHAMPIONSHIPS IN LAS VEGAS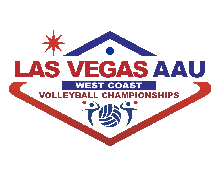 Just a little over a week left to register for the West Coast Championships. This tournament is taking place from May 26-29 for girls teams from 12U to 18U.

Register now as spots will fill up fast! More information on this tournament at the Westgate Las Vegas Resorts and Casino can be found HERE.

AAU TAEKWONDO SHINES IN SPAIN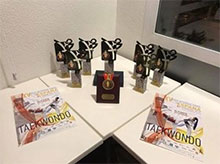 Alicante, Spain - On the heels of a dominating showing in Germany last year, the AAU Taekwondo Team (led by Head Coach Greg Tubbs) solidified its standing as USA's top grass-roots taekwondo program by outperforming the competition in multiple divisions.

The Spanish Open (G1) welcomed its sparring competitors on Saturday March 25, hosting cadets and juniors. Team AAU/USA racked up medals early for day one of competition, while earning an overall cadet third place – three gold and three bronze
medals.
To Read Entire Story, Click Here
2017 AAU KARATE NATIONALS - UPDATES
The Nationals are right around the corner and our hotels are filling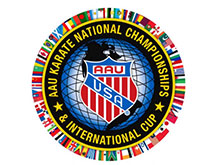 up. If you have not made your hotel reservation, you will want to do so ASAP by Clicking on the following link – Hotel Link. If you do not see a hotel to fit your needs of your Team or Family, please contact jennifer@aausports.org.
Also, the entry forms for Individual Athletes, Coaches, Referees and Clubs have now been posted on the AAU Karate website at the following links:
Any additional questions on the upcoming event, please visit www.aaukarate.org or contact jennifer@aausports.org.
AAU VOLLEYBALL VEGAS CUP
DIVISIONS:

14'S & 16'S
FEE:
$275

LOCATION:

Las Vegas, Nevada

May 6 & 7, 2017
For more information, contact info@aausnvolleyball.com
AAU BOYS' & GIRLS' BASKETBALL SPRING EVENTS
AAU BASEBALL HIGHLIGHTED EVENTS ARE LISTED BELOW
Click here for more information and the full listing of events

Dates are subject to change
4th ANNUAL AAU VS. CANCER SUPER REGIONAL
Dates: 4/29/17-4/30/17
Location: Oxford, NC
Entry Deadline: April 22, 2017
CINCO DE MAYO
Dates: 5/6/17-5/7/17
Location: Southern California
Entry Deadline: April 30, 2017
NC AAU CENTRAL SPRING STATE
Dates: 4/29/17-4/30/17
Location: Clemmons, NC
Entry Deadline: April 22, 2017
SANDLOT AAU GRAND NATIONALS QUALIFIER
(10u-13u)
Dates: 5/12/17-5/14/17
Location: Cincinnati, OH
Entry Deadline: May 5, 2017
OLD SCHOOL WOOD BAT
Dates: 4/29/17-4/30/17
Location: Southern California
Entry Deadline: April 22, 2017
AAU MOTHER'S DAY SHOOTOUT
Dates: 5/13/17
Location: Oxford, NC
Entry Deadline: May 6, 2017
AAU APRIL SUNDAY DOUBLEHEADER
Dates: 4/30/17
Location: Southern California
Entry Deadline: April 23, 2017
AAU VOLLEYBALL HIGHLIGHTED EVENTS ARE LISTED BELOW

Click here for the full listing of events
Dates are subject to change
17U LADY BEARS VOLLEYBALL TOURNAMENT
Dates: Apr. 29, 2017
Location: Dillsburg, PA
Entry Deadline: Apr. 22, 2017
2017 CAN-AM CLASSIC
Dates: May 20-21, 2017
Location: Detroit, MI
Entry Deadline: May 8, 2017
D1 VOLLEYBALL CAMPS
Dates: June 5-7, 2017
Location: Salt Lake City, UT


Entry Deadline: Until filled

ELEVATE SUMMER BASH
Dates: Jun. 16-17, 2017
Location: Allen, TX
Entry Deadline: Jun. 14, 2017
LANDER INVITE
Dates: April 22-23, 2017
Location: Lander, WY
Entry Deadline: April 22, 2017
Informatio Flyer: Click Here
Xplosion Spring Showdown
Dates: May 13, 2017
Location: Virginia Beach, VA
Entry Deadline: May 8, 2017
Informatio Flyer: Click Here
Elevate Summer Bash
Dates: June 16-17, 2017
Location: Allen, TX
Entry Deadline: June 14, 2017
Informatio Flyer: Click Here

AAU BEACH VOLLEYBALL

DISTRICT BEACH
CHAMPIONSHIP
Dates: Mar. 4 - Jul. 8, 2017
Location: Mansfield, TX


Entry Deadline: Varied

P1 BEACH SERIES
Dates: Mar. 19 - Jul. 8&9, 2017
Location: Mansfield, TX


Entry Deadline: Varied

2017 CARPE DIEM BEACH SERIES
Dates: Jun. 17, 2017
July 22, 2017
Aug. 5, 2017
Aug. 12, 2017
Aug. 26, 2017
Location: Holland, MI


Entry Deadline: Varied