BE ON THE LOOKOUT FOR THE AAU'S NEW DIGITAL MARKETING CAMPAIGN!


As many of you already know, the AAU has partnered with .Com Marketing, one of the top internet marketing firms in the country. The Amateur Athletic Union is very excited about this partnership and even more pleased to announce that this dynamic team has already resulted in some awesome ideas!

On February 1st, the first campaign, "I _____" was released. The AAU member would fill in the blank of what they do in their sport, for example, I run, I dribble, I jump, etc. This campaign also included a variation of the previous idea, but instead using "I am _____". The AAU member would then fill in their sport, for example, I am Basketball, I am Baseball, I am Volleyball, etc.

Since then, two Pandora radio ads, two 15 second video commercials, among many other graphics and banners have already been created based on these ideas.

We look forward to creating even more NEW campaigns with Dot Com Marketing and can't wait to see what else this partnership will offer the AAU!

To see exactly what .Com Marketing and the AAU have come up with, CLICK HERE.
PLAY AT THE NEXT LEVEL: TIPS FROM BERECRUITED

Division I college coaches can't send "recruiting materials" prior to the start of an athlete's junior year of high school. However, they can send questionnaires and general university information such as university brochures.
TIP:
If you receive a questionnaire or university brochure, follow up with an email saying thank you and definitely fill out the questionnaire and send it back! Reply to all universities and remain in touch until its time to start narrowing down your choices.
Join our official recruiting partner,
beRecruited
, to be seen by college coaches.
PASSING OF OUR FRIEND AND FELLOW COACH- KAREEM SMITH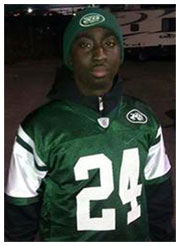 Steve Marcellino of the Minutemen organization informed us of the passing of Kareem Smith. Kareem was a truly dedicated and outstanding coach who was a familiar face at all of our AAU events. Steve wrote the following in Kareem's honor:
About 8 years ago a young man approached me and asked if he could volunteer his services to help coach one of my teams. He was soft spoken but very well spoken. As I got to know him, I recognized that this man had a passion for the game. However, his desire to teach and coach young men was coupled with an intense caring and nurturing heart. He wanted to help young people. He always worked very hard to give young student athletes the opportunity to compete against the best. More importantly, he helped these students build their character and develop learning habits that went well beyond the basketball court.
"I was privileged to help Kareem is his early formative years of coaching. As he grew within our Minutemen organization, he took on ever increasing responsibilities both on and off the court. As we all know, a coach is a teacher. One of the hardest things teachers face is the challenge of motivating their students. The great ones develop a sixth sense to bring out the best in everyone. Great coaches build a team that is greater than the sum of its parts. Kareem was a great one."
"As a young man not yet 30, he had great success in coaching at Sacred Heart High School and then at Cardinal Spellman leading them to two CHSSA championship. On the tough AAU circuit he brought his Minutemen teams to the Sweet Sixteen and Elite Eight in the National Championships. He justifiably could have been proud of his success, but true to his character, he remained the humble coach instead pushing his players into the spotlight".
"I was always happy to be with him and share his good humor and enthusiasm. One of the best moments I have had in over 40 years of coaching basketball was being present to cheer him on when he won his first JV CHSAA championship."
John Wooden wrote a wonderful book entitled "They call me Coach". In this book he describes the honor, regard and importance of that title. The title "Coach" is not worn lightly. It is earned by the respect of one's players and the dedicated, caring, selfless leadership of the individual.
As Coach Wooden said "You can't live a perfect day until you do something for someone who will never be able to repay you".
Kareem you lived many a perfect day and everyone who had the good fortune to know you is the better for it. We proudly call you Coach. May God bless you and your family.
JOSH HAMILTON SURPRISES WEST LOUISVILLE WARRIORS
Originally posted on FoxSports.com
The West Louisville Warriors got a huge surprise from Angels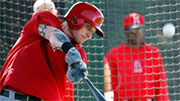 slugger Josh Hamilton.
During a recent visit to the Louisville Slugger Museum and Factory, the Warriors, a local AAU club, received a big-time surprise visit from Hamilton.
Hamilton posed for pictures, signed autographs and even gave batting tips and pointers to the team while the Louisville Slugger folks distributed bats and gear to the Warriors.
Click Here for the full video below of the special moment.
MICHIGAN VOLLEYBALL HAS A BUSY SCHEDULE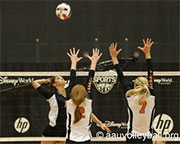 Over the next few months, Michigan Volleyball Academy will host THREE different tournaments at the MVP Fieldhouse in Grand Rapids, Michigan.
The first of the three events is the MVA Winter Blast on March 8th and 9th. This tournament will have 14-18 Open and 13-18 Club age groups. The entry fee for this event is $295, due by February 23rd! This tournament will pay the entry fee into MJVCA Championship/Grand Prix for 14-18 Open winners.
*Team must meet eligibility requirements listed on www.mjvba.com.
REGISTER for the MVA Winter Blast TODAY!

To view the EVENT FLYER for the MVA Winter Blast, CLICK HERE.

If you can't make it to the MVA Winter Blast, no worries! The MVA Spring Kickoff is only a couple of weeks later on March 29th and 30th. Teams will range in age from 12 through 18 for this event; 12-14 divisions will play on Saturday and ages 15-18 will play on the 30th. The $150 entry fee is due by March 24th.
REGISTRATION FOR 12-14 AGE DIVISIONS HERE.

REGISTRATION FOR 15-18 AGE DIVISIONS HERE.

To view the EVENT FLYER for the MVA Spring Kickoff, CLICK HERE.

Finally, the MVA Spring Fling will wrap up the three events on May 10th and 11th. This event will include 14-18 Open and 13-18 Club age groups. Mark YOUR calendars! The $295 entry fee is due by April 27th! This tournament will pay the entry fee into AAU Nationals for the 14-18 Open winners, so bring your best game to this event!
REGISTER NOW for the MVA Spring Fling!
To view the EVENT FLYER for the MVA Spring Fling, CLICK HERE.

GREAT EXPOSURE IN THE AAU CARIBBEAN TOURNAMENT
The AAU Caribbean Tournament, also known as the Puerto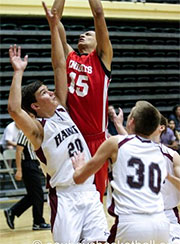 Rico District Championship, will take place at the Pedrin Zorrilla Basketball Court and will be exclusively for 7th, 8th and 9th graders. Event coordinator, Albert Lebron, says hosting this tournament is a great way to spread the word about the AAU in Puerto Rico.
"Actually, what we try to do is create AAU awareness in the Caribbean because even though AAU is very big in the United States, a lot of people don't know too much about AAU in Puerto Rico," explained Lebron. "A lot of people don't have the money to be traveling to the States so having AAU in Puerto Rico allows more groups to join AAU and at the same time be able to go through that experience of playing AAU in Puerto Rico."
The entry fee for this tournament is only $495 per team and those that register multiple teams can receive a discount. The entry deadline to register is February 28th and the entry fee must be paid in full three weeks prior to the event. The entry fee guarantees each team a three game minimum and there will be first and second place team trophies, along with individual medals.
The championship games on Friday will be available online nationwide, which Lebron said is great for these athletes.
"In Puerto Rico, there's not a lot of visibility for these kids," said Lebron. "They don't have the funding or they don't have the chance to promote themselves in the States so this actually gives them an opportunity to show what they can do nationwide."
Not only will athletes have the chance to get exposure and recognition nationwide, but they are also donating to a great cause. Popps Sports Management Group, a non-profit company that will be presenting the tournament, will collect all the money generated from this event and donate it to the Make-A-Wish foundation in Puerto Rico and the San Jorge Children's Hospital, which specializes in treating children with cancer.
Lebron thinks this tournament is different than many others in Puerto Rico and will help grow the AAU in Puerto Rico.
"Puerto Rico does a lot of local tournaments where they come in and you can play six or eight games and profit from it and that's the end of it," explained Lebron. "Our organization is mostly targeted toward showcasing at the international level how the AAU works."
For more information on the AAU Caribbean Tournament, CLICK HERE.
TEST YOUR SKILLS IN UTAH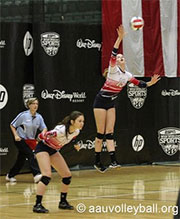 Utah will host FOUR AAU Volleyball events that could grant you FREE entry to YOUR choice of TWO AAU National Championships, starting with two events that are a part of the Utah Grand Prix. Both of these events will take place in March on consecutive weekends, starting on March 14th and 15th in Lehi and Woods Cross, Utah.
Both events will have an entry fee of $250, due three weeks before the tournament you are registering for. The number of entries depends on the number of courts available to don't wait until the last minute to enter or you might miss your chance to participate!
The March 14-15 event will feature girls' teams in 10-15 year old age divisions and the second tournament on March 21-22 will host girls' in 16-18 age divisions.
For more information on the Utah Grand Prix, CLICK HERE.
The other two events that will be in Utah are a part of the Utah Golden Spike Super Regional tournament. This will also be broken into two separate tournaments, the first on April 11-12 and the second on May 2-3 in Lehi and Woods Cross, Utah. The first event will host 15-18 year old girls' teams and the second tournament will feature girls' in the 10-14 age division.
Both tournaments will have an entry fee of $300 per team, due three weeks before the event you are registering for.
For more information on the Utah Golden Spike Super Regional, CLICK HERE.
EIVA TOURNAMENT CONTINUES
The EIVA Grand Prix on March 8th is just the beginning of a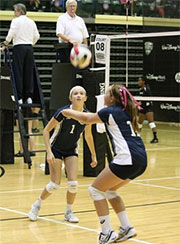 series of tournaments from the Eastern Idaho Volleyball Association. EIVA will be hosting three more tournaments all throughout April and into the beginning of May.
In ALL of the tournaments, the entry fee for each team will be $150. The registration deadline will vary depending on the tournament.
COME PLAY IN THE DUNES MARCH MADNESS
Rolling Prairie, Indiana will be home to the AAU Volleyball Dunes March Madness tournament. This event will be split into two separate weekends, the first for ages 15 through 18 and th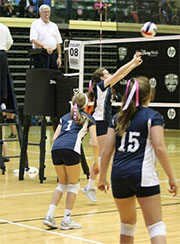 e second for ages 12, 13, and 14. Both are AAU Super Regional events, meaning that the winning teams in each division will receive FREE entry into either the AAU National Championships in Orlando, FL or the West Coast Championships in Las Vegas, NV.
The first event will be March 15th and 16th for ages 15-18 and the following weekend (March 22-23) will be for ages 12-14. The entry fee varies depending on age, with competitors ages 14-18 costing $500 per team and ages 12 and 13 costing $350 per team.
For more information on these two events, view the EVENT FLYER.
GUEST SPEAKERS AT AAU MITE/SQUIRT NATIONALS
AAU PRESENTS MIKE HARTMAN and PAUL LUBANSKI AT THE AAU MITES & SQUIRTS CHAMPIONSHIPS – AND
THE "25th ANNUAL LET'S PLAY HOCKEY CONSUMER EXPO" – ST. PAUL, MN. – RIVERCENTRE

9:00 AM – 10:15 AM
– Hartman: "A Roadmap To Becoming Your Personal Best"
10:20 AM – 11:30 AM
- Lubanski: "How To Improve Your Team Organically-Immediately" National Hockey League veteran Mike Hartman--AAU National Hockey Development Director and Paul Lubanski - AAU Michigan Coaching Director, will address coaches and attendees at the AAU Mite/Squirt national Championships Thursday morning, March 6th in St. Paul, MN.

Both will speak on March 6th at the St. Paul RiverCentre--meeting room #5 (175 West Kellogg Blvd., St. Paul, MN. 55102). The meeting room is in the same venue for the concurrently running "25th Annual Lets Play Hockey Expo" the world's largest consumer hockey trade show expecting over 50,000 to attend. The Xcel Energy Center, home to the Minnesota Boy's State High School tournament and the Minnesota Wild is directly connected to the St. Paul RiverCentre that had over 110,000 attending last year's Boys' High School Championships.

Hartman, who won a Stanley Cup as a member of the New York Rangers-- will speak at 9 am and outline his personal "against-all-odds" story of perseverance, commitment and success.

His unique message is tailored for those with aspirations of high achievement. For example, he touches upon often overlooked yet critical steps on the road to success such as: finding INTERPERSONAL HARMONY, evaluating your LIFE INTELLIGENCE and SELF WORTH and how to break away from your COMFORT ZONE via daily RITUALS.
HIGH SCHOOL SULLIVAN
The AAU Sullivan Committee is proud to announce the 2014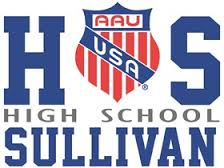 AAU High School Sullivan Award and Scholarship Program.
The Committee will be awarding a total of $35,000 in Scholarship Funds to eight (8) High School Seniors; four (4)
male and four (4) female athletes.
The AAU will be awarding the 4th AAU High School Sullivan Award and Scholarship. This award is to honor AAU member athletes in a particular sport who is a well-rounded individual, shows outstanding athletic abilities, leadership skills, great sportsmanship and strength of character; not only during sporting events but in their community as well.
Apply today on the AAU High School Sullivan Website –
Click Here
.
APPLY FOR THE MIDDLE ATLANTIC SCHOLARSHIP TODAY!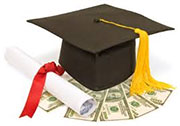 High school seniors can register for the Middle Atlantic District AAU scholarship NOW! There will be seven separate scholarships, the top two are worth $5,000 each and will be awarded to one male and one female AAU member. There will be an additional FIVE scholarships, each worth $2,000 for a total of $20,000 in scholarships!
To be considered for this scholarship, applicants must have a current AAU membership, fill out the application properly and in a timely manner and have the potential to improve on existing performances or academics. Athletic and academic involvement are required, along with good sportsmanship, community service and other achievements. Three recommendations are necessary to be considered for this scholarship and applicants must explain the proposed use of monies.
In order to be accepted, applications must be admitted by Monday, March 15th. For more information on this scholarship opportunity, please visit the Middle Atlantic District AAU website.
Click HERE for the Conditions and Criteria to receive this award.
CLICK HERE for the Individual Application

REGISTER FOR THE 2014 AAU FROSH-SOPH NATIONAL DUALS CHALLENGE
April 18,19, and 20th, Castle Rock, Colorado will be invaded by AAU Wrestling as the 2014 AAU Frosh-Soph National duals participants' arrive in town. Don't let your team miss out on this one!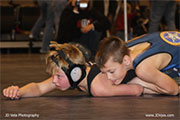 The challenge will take place at the Douglas County Fairground and Event Center and will feature a Folkstyle Dual Team tournament format: pool rounds on Saturday with five duals, eight team brackets on Sunday with three matches for a total of 8 team duals. All matches will be 2 minutes in length. Weight classes will be: 98, 106, 113, 120, 126, 132, 138, 145, 152, 160, 170, 182, 195, 220, 285 (plus a 3 pound allowance – must weigh-in wearing singlet.)
Participants must be 2013-2014 Freshmen or Sophomores in high school. Team entry fee is $800 per team with $100 deposit due by March 15th to secure a tournament spot. The top three teams in each championship bracket will receive a team award. Undefeated wrestlers will receive a gold medal, 1 loss wrestlers, a silver medal, 2 losses a bronze medal and 3 losses a copper medal. Wrestlers must wrestle at least six matches to qualify for any medal.
For questions please contact the tournament director, Tom Blair at trblr4@hotmail.com or 970-619-0186
For more details, view the event flyer
HERE
.
GREAT COMPETITION AT MIDDLE ATLANTIC GRAND PRIX
On April 26th and 27th, the Spooky Nook Sports Complex in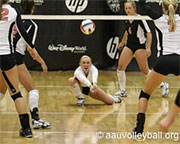 Lancaster, PA will be home to the Middle Atlantic AAU Grand Prix. This two day event will feature 14-18 age divisions in wave format. There will be two waves on Saturday and one crossover Sunday morning that will be followed by playoffs.
The entry fee for this event is $415 per team, which guarantees each team a six game minimum for all divisions. The deadline to get your team registered is April 11th. Please enter online at http://www.str8dnsports.com.
Winners of each division will receive a FREE entry into the AAU National Championships in Orlando, FL or the West Coast Championships in Las Vegas, NV.
For more information, CLICK HERE.
NEW ENGLAND AAU GIRLS' BASKETBALL 2014 STATE CHAMPIONSHIP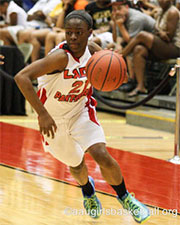 On May 3rd and 4th New England Girls' Basketball will hold the 2014 Vermont State Tournament! The tournament will be held at the University of Vermont in Burlington, Connecticut and will feature grades 4 through 12. Teams participating will have a minimum 3 game guarantee and will have the opportunity to win trophies and medals. Don't miss your team's chance to qualify for the AAU National Championships,
Earn New England AAU Team Ranking Points, and qualify for the New England AAU Power Ranking Championships!
For additional tournament info
CLICK HERE
!
For info on New England AAU
CLICK HERE
!
AIHL PLAYOFF DATES AND LOCATIONS ANNOUNCED

The AIHL is proud to announce the 2014 playoff formats,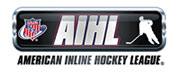 schedule dates, and locations.

In the Elite Division the top 4 teams from each division will qualify to play a best of 3 series in their division semi-finals.

The winners of these division series in each conference will open play in Feasterville, PA at the National Championships.
New England - Mid Atlantic - Great Lakes (Eastern Conference)
Pacific South - Pacific North - Wild Card (from National Finals host division) (Western Conference)
In the Minor Division we will have 2 tiers this year. The teams seeded 1-4 teams will be Tier 1 and the teams seeded 5-8 will be Tier 2.

Most divisions across the country will have both tiers. The teams who make it will play a best of 3 series in the division semi-finals.

The winners of these series will play each other for the right to go to Feasterville, PA for the National Finals and compete against the opposing Division & Conference Champion in their individual Tiers.
GEORGIA GRAND PRIX ON MY MIND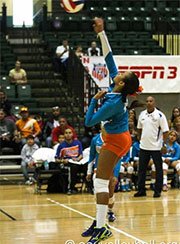 The VolleyOne Training Center will be home to the Georgia Grand Prix on May 10th and 11th in Kennesaw, Georgia. Girls ages 12U-18U are welcome to attend. The entry fee per team is $300, which is due by April 25th.
Division winners will receive FREE entry to the AAU Nationals Championships in Orlando, FL or the West Coast Championships in Las Vegas, NV.
To register, CLICK HERE. For more information, please CLICK HERE.
2014 AAU NORTHEAST REGIONAL GYMNASTICS MEET
Gymnasts! Get ready, the 2014 AAU Northeast Regional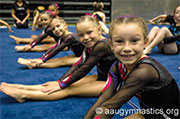 Gymnastics Meet is just around the corner, hosted by ASGA Windsor, CT on May 31st. This meet will feature groups of all ages: all levels in excel and levels 3-9. The athlete entry fee is $55 and the team fee is $5 per team. The top half on every event (level/age group) will receive a medal and the top half AA will receive a trophy. All girls will be recognized and receive a medal.
With registration every gymnast will receive a special gift. Make all entry fees payable to All Stars Gymnastics c/o 2014 AAU Northeast Regional 430 Hayden Station Rd. Windsor, CT 06095.

For MORE INFO contact:
Meet Director, All Stars Gymnastics
Michelle L. Hill
860-623-1609
Michelle_Hill80@yahoo.com
OR
Connecticut AAU Gymnastics Chair
Linda Brown
860-986-9011
linda5815@comcast.net