2015 Memberships Now Available
SIGN UP TODAY!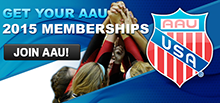 Youth Athlete fees are $14 for regular or $16 for *extended benefit Memberships.


READY SET PARTICIPATE!

Be Prepared
Background screening a new benefit of membership for all Adult and Non Athlete Members.
(Adult and Non Athlete Membership are not instant). Non Athlete fees are $16 for regular or $18 for *extended benefit Memberships.

JOIN NOW: CLICK HERE

KNOW YOUR BENEFITS OF MEMBERSHIP!
Insurance Coverage click here for our insurance summary
Only ONE youth membership required for Participation Opportunities in more than 30 sports
Click here for the find an event list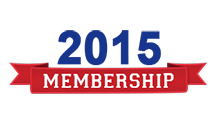 The AAU is one of the largest, non-profit, volunteer sports organizations in the United States. A Multi-sports organization that is dedicated exclusively the promotion and development of amateur sports and physical fitness programs for it's members.

*The Extended Coverage (AB) coverage program was developed to extend coverage for AAU members while participating in events hosted by organizations that are not member clubs of the AAU. Coverage in this program is provided for properly registered athletes or non-athletes for events in the United States of America (including its territories and possessions) and Puerto Rico.
124th AAU NATIONAL CONVENTION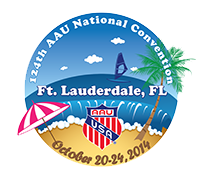 October 20th – 24th
Ft. Lauderdale, Florida
Convention Schedule:
Click Here

Attendee & Guest Online Registration: Click Here

Hotel Reservations: Click Here

Travel Information: Click Here


AAU VOLLEYBALL NATIONALS NOMINATED FOR AWARD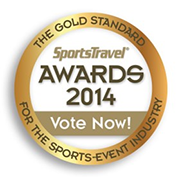 SportsTravel has announced that the 2014 AAU Girls' Junior National Volleyball Championships have been nominated for a 2014 SportsTravel Award. Events are nominated by the readers of SportsTravel, the sports world's event magazine. Criteria for nomination and voting include superior organization of and attendance at the event, a superior experience for the competitors and/or spectators at the event and how the site or venue served to enhance the event. Final balloting is open through September 15, 2014. Winners will be announced at the TEAMS' 14 Conference & Expo, November 10-13, 2014, in Las Vegas.
Over 2,100 teams ages 10 to 18 competed in the AAU Girls' Junior National Volleyball Championships in Orlando, FL on June 16-24, 2014. With nearly 31,000 participants and 42,000 spectators, this is the largest volleyball tournament in the world. Competition was held on a total of 175 courts at both the Orange County Convention Center and ESPN Wide World of Sports.
"Events such as this one are a prime example of the achievement of excellence in the organization and management of sporting events," said Timothy Schneider, publisher of SportsTravel magazine, which organizes the TEAMS Conference & Expo. "SportsTravel readers are the leaders of the sports-event industry and they know what it takes to execute a high-quality event. TheSportsTravel Awards program is an opportunity for them to honor their peers for a job well done."
2014 WEST COAST AAU JUNIOR OLYMPIC GAMES BEACH VOLLEYBALL CHAMPIONSHIPS

This year was another great year of high level beach volleyball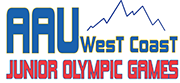 action in Hermosa Beach, California. Pairs traveled from Texas, Florida, Georgia, Hawaii, Arizona, Nevada, North Carolina and Utah as well as many other states for a total of 13 states participating from the United States as well as from Puerto Rico and Canada. These pairs qualified at events held throughout the season from around the country; the best of the best came to compete. We had a total of 482 athletes striving for the Gold medal. Check out the results and photos below.
Results: Click Here
Photos: Click Here
For the first time ever, the AAU Beach Program held a Club Championships during the West Coast AAU Junior Olympic Games event. It was a success and we look to expand this each year. Check out the results – Click Here.

TEAMS COMPETE IN THE 2014 GLOBAL CHALLENGE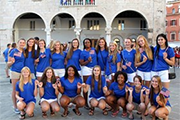 Players from across the United States came together in Nice, France on July 10 to embark on a 10-day volleyball journey through France and Italy, before travelling to Pula, Croatia to compete in the 2014 European Global Challenge. The two teams, Augusta RED and Augusta BLUE, were organized by Dana Wall, North Carolina AAU District Director, and comprised of AAU members. Augusta Sportswear provided the uniforms.
Play started in Savona, Italy as teams scrimmaged against Italian league teams in Savona and Cacare, Italy. Players, coaches and parents enjoyed some sightseeing and great food in between the scrimmages. The Global Challenge began on July 14 after the Opening Ceremonies in the historical downtown of Pula, Croatia. Teams from Italy, Hungary, Slovenia, Montenegro, Russia, Croatia and the United States participated in the tournament.

Team Augusta BLUE was able to repeatedly defeat defending champions Pula, Croatia and Pisogne, Italy to make it into the top 8 teams. Augusta RED defeated Modena, Italy to advance into the Contenders Bracket. Marie Beal from Augusta RED and Madison Sroufe from Augusta BLUE made the All-Tournament Team.

Read More >>
RECAP ON 2014 AAU DIVING NATIONAL CHAMPIONSHIPS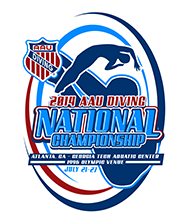 This past July, the AAU Diving Nationals headed to Atlanta, Georgia. Our competitors had the unique and amazing opportunity to compete for Gold and the National Title in the Venue of the 1996 Olympic Games. How awesome is that?! We had our 2nd largest Diving Nationals ever held with over 400 divers in attendance. The AAU Aquatics Program would like to congratulate all of the champions and thank all of those that came to compete. It was a great event and look forward to having you join us for 2015! Start your training!
RECAP 21ST AAU BEACH JUNIOR VOLLEYBALL NATIONALS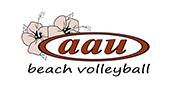 On July 12-13, 2014, AAU Beach Volleyball took over Hermosa Beach, CA for the 21st AAU Beach Junior Volleyball Nationals. There were 15 states including: AL, AZ, CA, CO, FL, GA, HI, IA, IL, KS, LA, TX, UT, VA, WA and 4 countries/territories: USA, Canada, Puerto Rico and Australia. There were a total of 496 athletes creating 248 pairs competing in the sand. Over 50 courts were utilized to make it one of the largest AAU Beach Nationals ever held.
For the results -Click here.

Be sure to check out all of the action photos from the event – View Photos

Plan to participate with us next year.

ATHLETICS:
2014 XC Dates - AAU Athletics is proud to announce the date for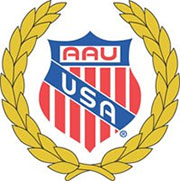 the 2014 AAU Cross Country National Championship! On December 6th, 2014, Lawrence, KS will welcome athletes, coaches, and parents from across the USA. Athletes will run through Rim Rock Farm at the University of Kansas. Competition is available for athletes 6 & under through 17-18 years old. Athletes who are still 18 years of age on the day of the AAU National Cross Country National Championship Meet are eligible to compete in the 17-18 Men's or Women's division.
For more information, visit www.aauathletics.org
HOCKEY: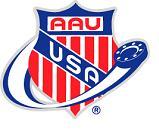 Free Coaches Training - AAU National Hockey Chair, Keith Noll is pleased to announce that AAU Hockey is offering a free online coaching program for Coaches, Players & Parents. This course is brought to you by former Stanley Cup Champion, Mike Hartman! To learn the skills that will enable you to make the right choices to achieve your goals, CLICK HERE.
Recap - 2014 Junior Olympic Games

We have wrapped up another year of the AAU Junior Olympic Games! This year Des Moines, IA played host to the 12

days of competition for 19 different sports. Just over 12,000 athletes and 1,600 coaches took part in the unique

event that is the largest multi-sport event in the United States. The Track and Field competition was fierce this year with 32 National Championship Records being broken at Drake University including Vashti Cunningham from Las Vegas, NV breaking the 15-16 girls high jump record set in 1982 with a jump of 6-1. Trampoline and Tumbling took place over 4 days of competition with athletes also competing in a team competition for their Districts with the Central District, Iowa District, and Ohio District coming out on top. Wresting had an intense team dual freestyle competition over 5 days at the Iowa Events Center. Baton Twirling, Bowling, Cheerleading, Field Hockey, Gymnastics, Jump Rope, Karate, Kung Fu, Sport Stacking, Strength Sports, Swimming, and Taekwondo athletes all battled for gold as well.


The Celebration of Athletes on July 28th was a night to remember for the stadium full of spectators. Motivational speaker Chris Norton
inspired athletes with his story of battling back from a paralyzing injury, USA Bobsled Silver Medalists Lauryn Williams and Elana Taylor encouraged athletes to keep reaching for their dreams, and a fireworks display to remember capped off the night. We are excited to begin planning for another great year in Hampton Roads, VA in 2015!

For complete results for every sport: CLICK HERE

For individual sport recap stories: CLICK HERE

RECAP: WEST COAST AAU JUNIOR OLYMPIC GAMES

On July 26th and 27th, nearly 500 AAU members flocked to the beach to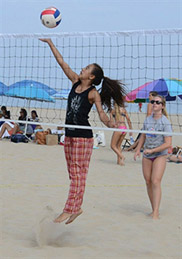 compete in the West Coast AAU Junior Olympic Games' Beach Volleyball competition. More than fifty courts were set up on Hermosa Beach in California for the 241 teams from three different countries to show off their skills.
Most of the teams came from California, but a whopping 51 teams traveled all the way from Texas to compete in the two day event! Florida had the third most with 26 teams. One of the Florida teams was invited to the USA HP Camp in Hermosa but decided they wanted to compete in the West Coast AAU Junior Olympic Games instead. They were unable to qualify in their own area, so they traveled to a neighboring state to participate in a qualifying tournament! Although this may not be uncommon for other sports, it is a testament to the growth of beach volleyball and the quality event of the West Coast AAU Junior Olympic Games and we are so ecstatic that they chose to participate in our AAU event!

CLICK HERE for FULL RESULTS.

CLICK HERE for ACTION PHOTOS!
FORMER AAU SULLIVAN NOMINEE SHINES

84th Annual AAU Sullivan Award nominee, Shoni Schimmel is having no problem adjusting to the WNBA. Last night, she led the Atlanta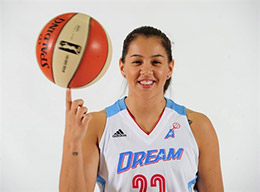 Dream to a win over the league-best Phoenix Mercury, clinching the No. 1 seed in the Eastern Conference for the first time in franchise history.

Schimmel collected a total of 24 points in the game, the highest out of her teammates. She didn't start the game but after being brought in from the bench and dominating the floor, she stayed in and played a total of 27 minutes. She captured six rebounds on the night and 3 assists, along with making six of her seven free throws.

Read More>>
2014 EDITION OF THE BEST BASKETBALL PLAYERS OF AAU YEAR BOOK IS AVAILABLE!

It's that time of year again! The 2014 Edition of The Best Basketball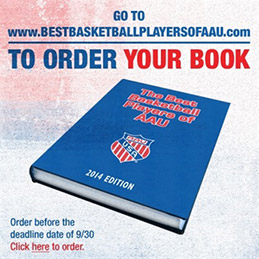 Players of AAU Year Book is looking for the BEST players to include in its pages! You can include YOUR talented player's stats and information and it will be published in the book. Get your orders in before the September 30th deadline! Books will be shipped 9-10 weeks after that, just in time for the HOLIDAY SEASON!

EVERYONE registered in these two AAU sports in 2014 can order the book. Boys and girls basketball members that submit their information are included for no cost in the book and there is no obligation to purchase.

Find out everything you need to know about this year's book HERE: www.bestbasketballplayersofaau.com!
2014 AAU JUNIOR OLYMPIC GAMES - SWIMMING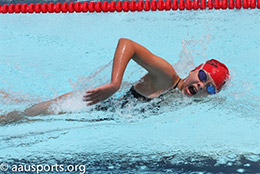 Check out the ACTION PHOTOS from the Swimming competition in Des Moines for the 2014 AAU Junior Olympic Games!
ABRIL BUSTAMANTE IS THE 2013 AAU BEACH VOLLEYBALL POY

AAU Beach Volleyball member, Abril Bustamante took home the 2013 AAU Beach Volleyball Player ofthe Year honors for her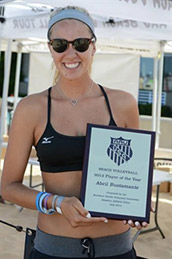 accomplishments in the AAU BeachVolleyball tour.

She won the Best of the Beach (16U) last year and the West Coast AAU Junior Olympic Games in the 18U division this year. She is also a member of the Los Angeles ICG Indoor Volleyball National Team. She helped the national team claim the gold medal in both Scotland and South Korea.

Bustamante is a senior at Redondo Union High School and a member of the varsity volleyball team and beach volleyball team. She has already committed to play sand volleyball at the University of Southern California after high school.

Congratulations to Abril and we can't wait to see what accomplishments she achieves in her college career and beyond!
2014 EDITION OF THE BEST VOLLEYBALL PLAYERS OF AAU YEAR BOOK IS AVAILABLE!

Want to show off your stats to fellow AAU members? The 2014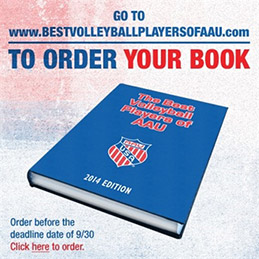 Edition of The Best Volleyball Players in AAU Year Book is the perfect way to do just that! Enter YOUR stats and information into the form and it will be submitted into the book, forever marking YOU as one of the greatest Volleyball players in the AAU! Get your orders in before the September 30th deadline! Books will be shipped 9-10 weeks after that, just in time for the HOLIDAY SEASON!

Find out everything you need to know about this year's book HERE: www.bestvolleyballplayersofaau.com!
RECAP - 2014 AAU JUNIOR OLYMPIC GAMES WRESTLING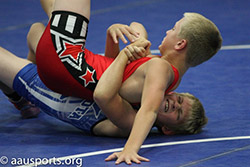 The Wrestling portion of the 2014 AAU Junior Olympic Games wasfierce and intense, as expected! Wrestling took over a part of the Iowa Events Center from July 28th until August 2nd. After the competition was over, 110 athletes took home a medal, with only 12 of these being a gold. Another 21 of those were silver, 23 were bronze and 54 were copper.

Out of the 18 teams that participated in the Wrestling competition, Brecksville Ohio left with 4 gold medals, the most out of any team. Potomac Valley Red was right behind them with three gold medals. Ohio Scarlet, Minnesota Black and Potomac Valley Black all had two gold medals each.

Overall, Minnesota Black took home 15 medals, the most out of anyone. Brecksville Ohio and Ohio Scarlet followed close behind with 14 each. Minnesota Black earned four gold, four silver, 2 bronze and five copper medals to round out their total count. Brecksville Ohio racked up three gold, four bronze and seven copper, while Ohio Scarlet grabbed two gold, six silver, three bronze and three copper.

AAU Wrestling named Austin Assad from Brecksville Ohio the Joel Ferrell Outstanding Performance Memorial Award. He took home one of the Brecksville Ohio's gold medals and had a great meet!

Congratulations to everyone who participated and we can't wait to see you at the 2015 AAU Junior Olympic Games!

CLICK HERE for the FULL RESULTS.

CLICK HERE for ACTION PHOTOS
EVENTS
---
Boys' & Girls' Basketball
(listed in date order)
---
FAIRFIELD BALLERS & NBBA DOUBLE HEADER LEAGUE
Date: Sept. 14, 21, 28 & Oct. 5 & 12, 2014
Location: Benicia, CA
Entry Deadline: Sept. 7, 2014
Information Flyer: Click Here
---
Hockey -
(listed in date order)
---
AAU TURKEY TOURNAMENT
Date: Nov. 28, 29 & 30, 2014
Location: Oak Park, MI
Entry Deadline: Nov. 1, 2014
Information Flyer: Click Here
---
AAU TOP SHELF HOLIDAY TOURNAMENT
Date: Dec.. 27 & 28, 2014
Location: Saint Clair Shores, MI
Entry Deadline: Nov. 22, 2014
Information Flyer: Click Here
---
2014 AAU Junior Olympic Games Photo Galleries

---

As a member of the Amateur Athletic Union, you can save with special discounts on Nationwide® auto insurance.
Click here
to take advantage of your exclusive members-only discount or call
1-866-633-5747
---