2014 PRIMARY NATIONALS WILL HAVE NEW LOGO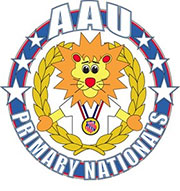 AAU Athletics is proud to present the new AAU Primary Nationals logo! This logo features the newest member of the AAU, Leo the AAU Lion! Leo is available to all of our members, from youth athletes to non-athletes. All you have to do is CLICK HERE to create your very own Leo the AAU Lion!

For more information on Leo the AAU Lion, CLICK HERE.

The Primary Nationals will be taking place July 4th – 6th, 2014 at the ESPN Wide World of Sports. We can't wait to see you and your Leo there! Continue to check www.aauathletics.org for more information on when online registration will be available.


UHU JUNIOR HOCKEY TOURNAMENT RETURNS TO LAS VEGAS
The Amateur Athletic Union (AAU) and United Hockey Union

(UHU) will return to Las Vegas Nevada in order to host their 2nd Annual Junior National Championship on April 16-20th 2014. During the 2012-2013 season, top level teams from 3 major AAU Junior leagues converged upon Las Vegas seeking the first ever UHU National Championship.
For more information on this exciting event, visit
www.aauicehockey.org
.
AAU Ice Hockey Monthly Newsletter,
February:
Click Here
2014 AAU Folkstyle World Championship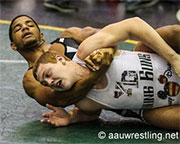 Online registration is now available for the 2014 AAU Folkstyle World Championships/Black Hills Nationals.
This event will take place March 21st – 22nd, 2014 at Black Hills State University. Competition will be available for divisions Tot to Masters.
For more information or to register your athletes,
CLICK HERE
.
Read the FULL story HERE
AAU SULLIVAN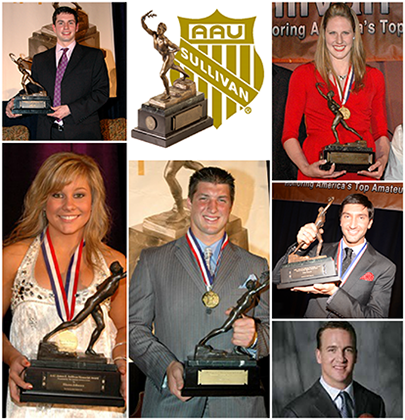 Searching for America's Top Amateur Athlete?
The Amateur Athletic Union is searching for America's Top Amateur Athlete. If you know of a Collegiate or Olympic Athlete that demonstrates the qualities of leadership, character, sportsmanship, and the ideals of amateurism – we want you to nominate him or her today. Nominate on the
AAU Sullivan Website
or on
The Real AAU Facebook
.
In its 84th year of honoring the Top Amateur Athlete in America, the AAU Sullivan Committee is proud of the history of the award and what it stands for; the AAU Sullivan Award goes far beyond athletic accomplishments and honors those who have shown strong moral character. Past recipients include Mark Spitz, Jackie Joyner-Kersee, Peyton Manning, Tim Tebow, Shawn Johnson and Missy Franklin; for a complete list of recipients –
Click Here
.
Nominate the
Olympic or collegiate
athlete that you feel deserves this award, an athlete that hold all of the qualities listed above. Who will join the list of 83 outstanding athletes previously awarded the AAU James E. Sullivan Award?
Nominate on the
AAU Sullivan Website
or on
The Real AAU Facebook
.
GO FOR THE GOLD WITH NEW 2014 MEDALS!
Our medals have changed for the 2014 year.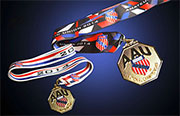 AAU Medals now have no date, but come with an exclusive dated AAU lanyard!
AAU medal lanyards can be changed from year to year.
You spoke we listened!
Shipping charges for all medal orders have been adjusted.
• Orders under $50 pay a flat $10 shipping fee
• Orders from $51 to $249 pay a flat $25 shipping fee
• Orders $250 and over pay 10% of order as
shipping fee
Save time and money order your medals today!
For medal order form
click here

COMING SOON SPRING 2014 Electronic Medal Orders!


Read FULL story Here
CARPE DIEM VOLLEYBALL HOSTS BEACH VOLLEYBALL CHAMPIONSHIPS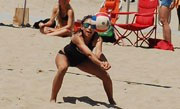 The MJVBA and the AAU will join together to hold the Midwest Beach Volleyball Championships in Holland, Michigan. The event will be played at Holland State Park on June 15. This one day tournament will feature ages 12U through 18U and will be hosted by Carpe Diem Volleyball. The cost to enter is $30 per two person team. Walk-ups will be allowed on June 14th but there is no guarantee that those who do will be in the tournament. A late fee will also apply to walk-ups.
The top three teams will qualify for the AAU Junior Olympic Games and the first, second and third place teams of each division will be awarded medals.

TO REGISTER, CLICK HERE
For more information,
CLICK HERE
THREE INCENTIVES TO PLAY IN THE TRILOGY
The 2014 AAU Super Regional Trilogy includes tournaments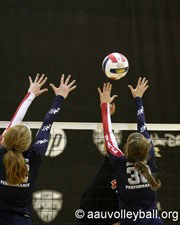 in three great cities over a 3 month span. Winning teams will earn
FREE ENTRY
into the AAU National Championships in Orlando, Florida or the West Coast Championships in Las Vegas, Nevada. For every five teams a club sends to any one tournament in the AAU Super Regionals Trilogy, that club will receive one free hotel room for 2 nights in that particular city. Any team that attends ALL THREE tournaments in the trilogy will receive $100 off tournament entry fees for the New Orleans AAU Super Regional and one free hotel room per team for the two nights of stay in New Orleans.
The first tournament of the trilogy is the AAU Super Regional in Nashville, Tennessee. This event will be on March 15th and 16th and will only cost $475 per team.
View the
EVENT FLYER
Two weeks later, the AAU Super Regionals will be in Birmingham, Alabama on March 29th and 30th. The entry fee for the second part of the trilogy is also $475 per team.
View the
EVENT FLYER
Last but not least, the Allstate Sugar Bowl will be in New Orleans, Louisiana on May 31 and June 1st. This last leg of the trilogy will also be $475.
View the
EVENT FLYER
TAKE PART IN THE WEST COAST FINALE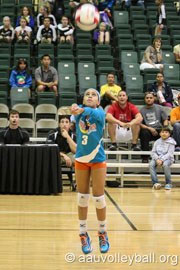 The Town and Country Resort and Convention Center in San Diego, California will be home to the West Coast Finale on June 5-7. Ages 14-18 are welcome to participate in Open and Premier Divisions. The cost to play is $800 per team, but if you register BEFORE MARCH 31st, you will receive $50 off your entry fee.
Winner teams in age divisions with 12 or more teams will receive free entry to the AAU Junior National Volleyball Championships or the West Coast AAU Championships. For divisions with less than 12 teams, the entry fee will be discounted.
There will be three days of competition and your entry fee guarantees a 7 match minimum.
CLICK HERE TO REGISTER
ENTRY FLYER HERE
DON'T MISS YOUR CHANCE TO QUALIFY
The AAU Minnesota State Taekwondo Championships and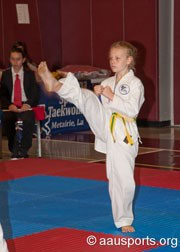 National Qualifier is approaching FAST! On March 8th, you can find Forms (Poomsae), point sparring, Olympic sparring, board breaking, and officials certification all at Kennedy High School in Bloomington, Minnesota.
At this event, you can qualify for TWO prestigious events, the 2014 AAU Junior Olympic Games and the 2014 AAU National Championships!
TO REGISTER NOW, CLICK HERE
For more information, view the EVENT FLYER or visit www.aautaekwondo.org.
GET YOUR CUSTOM MEDAL AT THE AAU GEORGIA QUALIFIER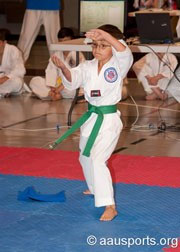 Need a reason to participate in the Georgia AAU District Qualifier? Here's FOUR! First, this is a National Championship AND 2014 AAU Junior Olympic Games qualifying event! That means that ANYONE for ANY PART of the United States may qualify for those tournaments at this event. Second, last year this tournament saw over 300 OLYMPIC PLAYERS from all over the Southeast U.S.
There will also be three new categories this year, point fighters, board breaking competition, and a special needs division!
Last, but certainly not least, CUSTOM MEDALS will be awarded to the top four in each division. This large, custom medal is designed specifically for this event, so you can only win them here! The medals will consist of the highest quality, with sewn through ribbons, just like in the OLYMPICS!
The team with the most participants will also receive a special trophy.
The Taekwondo competition will be near Atlanta, Georgia in Dacula High School. You must PRE-REGISTER for this event by Sunday, February 24. The cost to enter is $69 for up to two events, with each additional events being another $10 each. Teams will be $30 each, but sparring teams will be $50 per team. There is also a $20 coaches pass fee.
Late registration will be from February 24-March 1, but there will be a $25 late fee added to the entry cost. Absolutely NO registrations will be accepted after March 1st. Online registration is the only way to register for this event.
For more information on this tournament, CLICK HERE
BUSY MONTH FOR TAEKWONDO NATIONAL QUALIFIERS
If you're still looking for a Taekwondo National Qualifier, we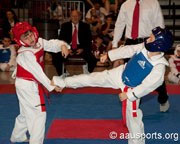 have plenty to go around! The Lake Erie and Ohio AAU Taekwondo District Championship will be held on March 8th in Akron, Ohio. Competition will begin at 9AM sharp at the John S. Knight Center. Master Ryan Andrachik will be hosting this event for all age groups.
The entry fee will be $70, due no later than Saturday, March 1st. This will be a great opportunity, don't miss out!
For more information, view the
EVENT FLYER
TWO TAEKWONDO EVENTS COMING TO FLORIDA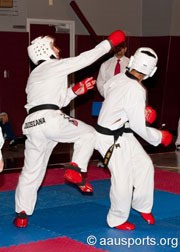 Florida will play host to two Taekwondo events in the next few months, the first in February in Tavares and the second in March in Orlando.
The first is appropriately called the Tavares Challenge, which will take place at the Big House in Tavares on February 8th. Competition will start promptly at 9AM and will conclude at 5PM.
The fee to participate is $49 per event plus an extra $7 for each additional event. Anyone 5 years or older can come out and participate but REGISTER TODAY! The deadline is tomorrow, February 4th.
For more information on the Tavares Challenge,
CLICK HERE
The second tournament,taking place in Orlando, is the Florida AAU Taekwondo Festival on March 15th. Competition will begin at 9AM and conclude at 5PM at Legacy Middle School.
The entry fee is $49 and is due by March 10th.
For more information on the Florida AAU Taekwondo Festival,
CLICK HERE
QUALIFY FOR THE AAU BASKETBALL NATIONALS
Register for the 2014 AAU Boys' Pacific NW District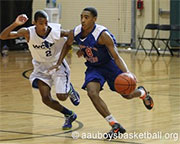 Championship Tournament TODAY! The deadline to register is March 6th but you won't want to wait until the last minute for this tournament!
This event will take place in the Seattle, Washington area on March 15th and 16th. The cost to play is $275 per team and you MUST be an AAU member to participate.
You can earn your team's spot in the AAU National Championships! Don't delay, REGISTER TODAY!
View the
EVENT FLYER
for more information
MCDONALD'S ALL AMERICAN ROSTERS ANNOUNCED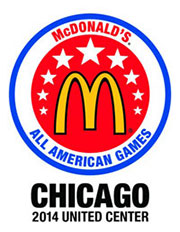 The rosters for the 37th Annual McDonald's All-American Game were announced yesterday! The AAU is proud to announce that all but one of the players on both the boys' and girls' teams are AAU alumni! Being selected to play in the McDonald's All American Game is a great honor and they will share that honor will some of the greats that played and are playing basketball at a professional level. You can find the full boys' and girls' rosters below.

This year the game will be played at Chicago's United Center on April 3rd. The girls' will kick off the action at 6PM CT, followed by the boys' game starting at 8:30PM CT. If you would like to see the action up close and personal, tickets range from $15 for upper level seats to $140 for courtside seats.

The first McDonald's All American Game was in 1978 at The Spectrum in Philadelphia, Pennsylvania. Some notable All American Game alumni from previous years are Magic Johnson, Michael Jordan, Shaquille O'Neal, LeBron James, Kobe Bryant, Derrick Rose, and Carmelo Anthony, just to name a few.

Being selected is a great honor and the AAU is proud to say that most of the athletes playing in the games are our very own AAU members.

Good luck to all of the men and women participating! We can't wait to see what the future has in store for you!
Read Full story
Here
MEN'S BASKETBALL CHAMPIONSHIP DEBUTING IN D.C.
The 103rd AAU National Men's Basketball Championship,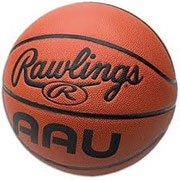 presented by the JV Warrior Boys and III Aces Basketball Team, will be held on June 6-8. For the first time ever, this tournament will be held in our nation's capital, Washington, D.C.
Tournament Coordinator, Ulysses McFadden, was a former participant in this tournament with the III Aces Basketball Club in 1999 in Des Moines, Iowa and again in 2005 in Sacramento, where they placed 4th in the entire tournament. Back then, their wish was to have this event in the nation's capital and now, 15 years later, III Aces will host the National Men's Basketball Championship in Washington, D.C. To make it even more special, the games will be held on the courts at H.D. Woodson Senior High School, McFadden's high school alma mater.
"It's the President's town. That should be an attraction to everyone and make them want to come to D.C." McFadden said. "Playing for the first time in the nation's capital...that should pull everybody."
The entry fee for this event is $1,050, which includes a three game guarantee in pool play. The fee will also include individual and team awards. First place will receive $4,000, individual medals, and championship tee shirts. Second, third, and fourth place will all receive individual medals and a cash award, as well.
The tournament will be played by NCAA rules, with a 24-second shot clock. All players and coaches must be registered with the AAU prior to the tournament and all player rosters are to be forwarded no later than May 3rd.
Many of the AAU members that are participating in the National Men's Basketball Championship also competed in AAU youth tournaments when they were kids. Now, years later, sixteen teams, consisting of ten players each, will compete to claim the crown, but only one will take it home. McFadden thinks that's the best part of the tournament.
"The winner will have bragging rights for the whole year," McFadden said. "They are the national winner for AAU on the adult side."
For more information on scheduling, registration and rules, please
CLICK HERE
CHOOSE HOW MANY GAMES YOU PLAY!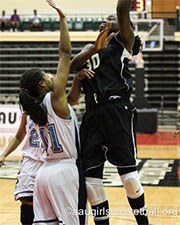 On March 29-30, Hattiesburg, Mississippi will be home to the 7th Annual H.O.O.P. 4 Life Shootout. Girls ages 11U through 16U are welcome to participate. Best part about this tournament is YOU control how many games YOU want to play.
The entry fee is $60 per game with at least a two game minimum purchase. Discuss how many you'd like to play but make sure you register by MARCH 21!
For details on this event, CLICK HERE
ARKANSAS AAU HOSTS DISTRICT TOURNAMENT
Arkansas AAU Girls' Basketball will host their District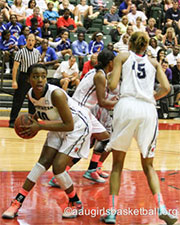 Tournament on April 5th and 6th for 9th through 12th grade girls. The event will take place in Bryant, Arkansas and will have pool play followed by a single elimination tournament. The first, second and third place teams will receive medals. The entry fee for this tournament is only $150 due, by March 29th.
The next weekend the 2nd through 8th grade girls will roll into town to take part in the District Tournament on April 12th and 13th. As with the previous event, pool play will be followed by a single elimination tournament with medals being awarded to the first, second and third place teams.
The entry fee is the same at $150 but this deadline is April 5th.
For more information on these tournaments, check out the event flyers below.
9th-12th Grade
2nd-8th Grade