AAU BOYS' BASKETBALL ELITE TOURNAMENTS COMING TO LOUISVILLE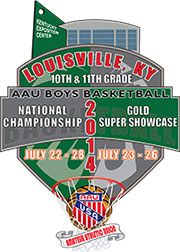 Amateur Athletic Union (AAU) Boys' Basketball President Henry Forrest and Louisville Sports Commission Executive Director Karl Schmitt announced today that the AAU has awarded its high school Boys' grades 10 through 12 Division I National Championships and Gold Super Showcases – the elite AAU competition - to Louisville, Ky., for three years starting in 2014.

The AAU Boys' Basketball events will be held at the Kentucky Exposition Center (KEC).

"Louisville is a perfect location for the AAU Boys' Basketball Division I National Championships and Super Showcases for so many reasons," Forrest said. "We will be in the heart of basketball country where there is tremendous fan avidity and enormous media interest in the sport. Louisville is centrally located in the US and easy to reach for a large number of our teams and their families, fans and college coaches; and the Kentucky Exposition Center is a premiere, event-friendly facility located in close proximity to hotels, inter-state highways and the airport.

"Besides location and facilities, another reason we're coming to Louisville is the experience and cooperation of our partners in the local community," added Forrest. "We are working closely with the management teams from the KEC, the Convention & Visitors Bureau and Louisville Sports Commission, all experts in staging major events. In addition, we forged a tremendous partnership with Eddie Ford, one of the longtime, premiere promoters of youth basketball in the Midwest and South."
Ford, owner and operator of the 31-year-old Kentucky HoopFest, the nation's oldest travel team basketball tournament held annually at KEC, will provide 12 hardwood courts as well as his expertise and operational support for the AAU event.

"Hosting the AAU Boys' Basketball National Championships and Showcases is a huge win for Louisville," Schmitt said. "Sports fans in the local community and the region will have a chance to watch the best high school basketball players in the nation every summer. Additionally, the event will generate more than 8,400 hotel room night stays every year, and attract significant media, high profile coaches and sports personalities to our town. We look forward to the opportunity."

"When it comes to high school and college basketball, our city and region is best in the world, so it's fitting and exciting that the AAU Boys' Basketball competition is coming to Louisville," Louisville Mayor Greg Fischer said. "Many of the super players we've cheered and appreciated in recent years in our local programs have been showcased at AAU, so it will be great for our local fans to see them compete at these elite Championships and Showcases."

The 2014 AAU Boy's Basketball National Championships is expected to attract 340 teams, 200 officials, more than 900 college coaches and scores of national media and will generate more than $3 million in annual economic impact. Detailed information regarding general admission tickets will be announced in January 2014.

"Our national championships and showcase events attract the best-of-the-best AAU teams and elite high school players in the US and several foreign countries," said AAU Treasurer Ron Crawford. "Alums of these games help fill the rosters of the leading college programs and NBA teams on a regular basis. Our championships take place during an open recruiting period for colleges, so representatives from nearly every team in all divisions of the NCAA and the NAIA will attend, including the biggest names in the coaching business."

Players participating in the event the last three years have included:
2012 – Andrew Wiggins (Kansas); Julius Randle, Andrew Harrison, Aaron Harrison and Dakari Johnson (Kentucky)
2011 – Nerlens Noel (Kentucky/Phil. 76ers), Anthony Bennett (UNLV/Cle. Cavs), Montrezl Harrell (Louisville), Archie Goodwin (Kentucky/Phoenix Suns), Mitch McGary (Michigan), Alex Poythress (Kentucky)
2010 – Chane Behanan (Louisville), Austin Rivers, (Duke/NO Pelicans), Bradley Beal (Florida/Wash. Wizards), Ben McLemore (Kansas/Sac. Kings), Andre Drummond (UConn/Det. Pistons), Michael Carter-Williams (Syracuse/ Phil. 76ers), Wayne Blackshear (Louisville).

"AAU Boys' Basketball has worked diligently and successfully for several decades to develop young players and promote basketball," said Marcellus "Boo" Williams, Jr., AAU's National Chair for Boys' Basketball. "Our national championships have helped bring together college coaches and elite players in a positive environment, and we believe the move to Louisville will help us grow the tournament and better serve the game."
The AAU national championships will be held in the South Wing of the KEC, which is comprised of more than 420,000 square feet of modern convention center space and amenities. KEC is located one mile from the Louisville International Airport, three miles from downtown Louisville and within a five-minute drive from 13,000 hotel rooms.

"We're elated that the AAU Boys' Basketball has selected Louisville and KEC to host its most high-profile events," said Kentucky State Fair Board President & CEO Rip Rippetoe. "Along with the Sports Commission and the Convention & Visitors Bureau, our team at KEC is dedicated to delivering a great experience for all the AAU participants, fans, coaches and media who come to Louisville. And we appreciate Eddie Ford working diligently to help us put all the parts in place to ensure a seamless transition for the AAU."

About the AAU
Founded in 1888, the Amateur Athletic Union (AAU) is one of the largest, non-profit, volunteer, sports organizations in the United States. The philosophy of "Sports for All, Forever," is shared by over 500,000 participants and over 50,000 volunteers. The AAU is divided into 57 distinct Districts which annually sanction more than 34 sports programs, 250 national championships, and over 30,000 age division events. A multi-sport organization, the AAU is dedicated exclusively to the promotion and development of amateur sports and physical fitness programs.

About Louisville Sports Commission
The Louisville Sports Commission (LSC) is a Louisville, Kentucky-based 501(c)(3) organization whose mission is to create a legacy of economic and social vitality through sports. LSC attracts and hosts sporting events and activities that have a positive economic impact on Louisville, enhance the area's image as a premier sports destination, promote healthy lifestyles and improve the quality of life for community members of all ages.

More information is available online at www.louisvillesports.org and www.facebook.com/louisvillesportscommission.
JOHN URSCHEL NAMED 84th JAMES E. SULLIVAN AWARD WINNER


Lake Buena Vista, Fla. – In ceremonies on April 11, 2014 at its national headquarters, the Amateur Athletic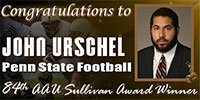 Union (AAU) announced Penn State Football Guard, John Urschel, has been named the 84th Annual James E.
Sullivan Award winner, which honors the nation's outstanding amateur athletes. Presented annually since 1930, the Sullivan award is based on character, leadership and sportsmanship. Notable recipients of the AAU Sullivan Award include: Mark Spitz, Jackie Joyner–Kersee, Florence Joyner, Peyton Manning, Michael Phelps, J.J. Redick, Tim Tebow, Shawn Johnson and last year's recipient Missy Franklin.
"It is an honor to receive this award. I thank the National Football Foundation who nominated me for this award, I am extremely grateful," said Urschel in his acceptance speech. "Words can't describe how honored I am to be named the most outstanding amateur athlete of the year. I am honored to represent all that is good about athletics and the lessons you can learn through sports; lessons of discipline, commitment, toughness and
perseverance in the face of adversity."
Urschel was selected for his athleticism and sportsmanship as outstanding football player for Penn State, as well as for his achievements off the field of play. In 2013, John was honored on the field during the BCS National Championship in recognition of winning the Campbell Trophy, was named to his second First Team Academic All – America Team and received his third Academic All –District selection. He earned a bachelor's in mathematics in May 2012, a master's in mathematics a year later, and he is currently working on a second master's degree in math education – all while maintaining a perfect 4.0 GPA.
Notably, John Urschel is the seventh football player to win the AAU Sullivan Award in its 84–year history. He will be
in the company of football greats and past Sullivan recipients Peyton Manning (1997), Tim Tebow (2007), and
Andrew Rodriguez (2011) to name a few.
In addition to his numerous athletic achievements, Urschel excels in the community and in the classroom. He taught two college–level math courses, Integral Vector Calculus and Trigonometry and Analytic Geometry, in 2013 and had several research papers published in major academic journals. He jointly ran a 2013 summer program in computational mathematics and is a member of a genome re–assembly research group. He was the keynote speaker at the 2013 Big Ten Kickoff Luncheon where he addressed nearly two thousand attendees on the four
qualities he wished for all college student–athletes: 1) master your craft in your sport; 2) make a mark in the community; 3) help young players along their journey; and 4) prepare for the day your athletic career ends.
"I am extremely pleased and would like to congratulate John Urschel for his selection as the 2013 AAU James E.
Sullivan Award winner," said Henry Forrest, President of the AAU. "John is an outstanding athlete whose resume
stands out among the hundreds of thousands of amateur athletes who have worked and trained tirelessly to
develop their dreams into reality. John characterizes all of the pillars that this award stands on. He demonstrates character and leadership both in the academic community and on the football field. On behalf of the AAU, we welcome John as the 84th member of this elite group of amateur athletes."
WITH HEARTFELT CONDOLENCES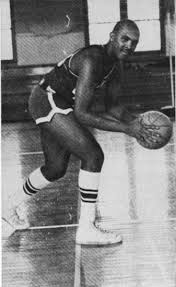 It is with deepest regret, we announce that former longtime AAU Basketball Sport manager, and AAU Basketball official William "PeeWee" Summers has passed away at age 71 of complications from diabetes.
He will be missed by all of the people's lives he touched, but will be remembered for all of the wonderful and silly "PeeWee" moments shared. We would like everyone to remember PeeWee by sharing a "PeeWee Story" with a friend.
To read more about PeeWee and his background
CLICK HERE
.
2014 AAU JUDO FREE STYLE NATIONAL CHAMPIONSHIPS
The 2014 AAU Judo Freestyle Nationals hosted by Wall to Wall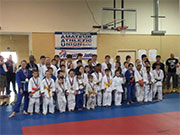 Martial Arts took place on Saturday, April 5th in Denham, Louisiana.
When James Wall was asked how the tournament went, he said, "Our competitors all fought with heart and courage and made me extremely proud. Our Referees and Technical Officials were outstanding. Our Coaches and Assistant Coaches did a great job of helping our players on and off the mat."
Thank you to all participants, coaches, officials and parents for making this event a huge success!
For results from this great event,
Click Here
.
2014 AAU JUNIOR OLYMPIC GAMES – BATON TWIRLING
Do you plan on competing at the 2014 AAU Junior Olympic Games in Des Moines, Iowa?
If so, don't miss out on the opportunity to be a part of the Baton Twirling Showcase. This year's theme is "Twirlin Down on the Farm."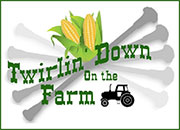 All participants will have the opportunity to make new friends and experience a performance like no other – where twirlers from all over the United States come together to display their talent of baton twirling.
For more information on this event,
Click Here
.
AAU TAEKWONDO ONLINE REGISTRATION

AVAILABLE

Currently for Gulf, Florida and Florida Gold Coast Championships.
Don't Miss Out on these Great Events – Register Today!
DIAMONDS A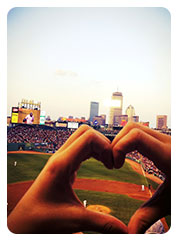 RE A MOM'S BEST FRIEND

Mom. Baseball. Love.
May 10–11, 2014
10U – 11U – 12U – 13U
ESPN Wide World of Sports
$350 entry fee
3-game guarantee
Umpires and baseballs included.
Grand Nationals qualifier
Take mom to the incomparable ESPN Wide World of Sports to see her all-time favorite player dedicate his game to her.
SUMMER NATIONAL EVENTS
AAU Baseball is gearing up for another summer of awesome events for AAU-member teams of all ages. Check it out: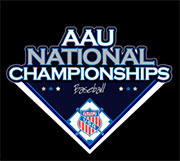 Grand Nationals
9U/10U: June 15-21 * ESPN Wide World of Sports * Orlando, FL
11U/12U/13U: June 22-28 * ESPN Wide World of Sports * Orlando, FL
Wood Bat Championship
14U: June 15-21 * ESPN Wide World of Sports * Orlando, FL
High School: June 15-21 * ESPN Wide World of Sports * Orlando, FL

Nationals
14U/Underclassmen/Upperclassmen: July 19-24 * Baltimore Orioles Complex * Sarasota, FL

Junior Olympic Games
11U/12U: July 24-28 * Beaverdale Baseball Complex * Des Moines, IA

Entry fees for Grand Nationals and Nationals are $850/team. The Wood Bat Championship is $750. Cost for the Junior Olympic Games is $595.

For full information on all the above events, visit www.aaubaseball.org. Don't let your team miss these opportunities.
NEBRASKA DISTRICT QUALIFIER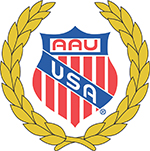 The Nebraska District Qualifier is taking place May 31st, 2014 in Omaha, NE at Benson High School. The top 16 finishers from each event will qualify for the Region 14 Qualifier in Brooklyn Center, MN.
This is the first step to qualifying for the 2014 AAU Junior Olympic Games! For more information on how to register for the Nebraska District Qualifier, visit
www.aauathletics.org
or
CLICK HERE
.
PLAY AT THE NEXT LEVEL

Tips from beRecruited
5 Tips to a Great Highlight Video:
1. Keep your video between 4-6 minutes long. Coaches don't have time to watch lengthy videos from hundreds of recruits. A great highlight video should display your best skills. First impressions are important!
2. Within the highlight video, post your contact information, athletic and academic stats. For example, at the beginning or end of your video post your contact information, GPA and athletic awards/stats.
3. Before each highlight begins, it is important to identify which athlete you are if you play on a team. One great way of doing this is to spot shadow.
4. Show a variety of different skills so the coach can see that you excel in a variety of areas. For example, if you are a baseball player who plays first base, don't just show clips of you fielding ground balls. Also include clips of you throwing and batting.
5. Keep your video simple and appropriate. There's no need to include tons of cool graphics and a montage of photos. Coaches just want to see clips of your skills.
Play at the next level with our recruiting partner
beRecruited
AAU FOOTBALL ENDORSES HEADS UP FOOTBALLSM
In an effort to ensure the safety of all AAU Football participants, AAU Football is working with USA Football's Heads Up FootballSM program.
USA Football's Heads Up FootballSM program has earned unprecedented endorsements for youth player safety from experts in medicine and athletics.
Nearly 2,800 youth leagues across the United States registered for the program in 2013 for the betterment of their young athletes – and more than 50 percent of all leagues are expected to join the movement for a better and safer game this season.
To find out more information on how to register your league, visit
www.aaufootball.org
or
CLICK HERE
.
UNITED HOCKEY UNION JUNIOR NATIONALS


Attention Ice Hockey fans! The time has come for the United Hockey Union Junior Nationals! Teams from three leagues:

Northern States Junior Hockey League (NSJHL), Midwest Junior Hockey League (MWJHL), and the Western States Hockey League (WSHL) have been battling it out for the chance to compete in Las Vegas this weekend.
This exciting event will take place at the Las Vegas Ice Center from April 16th – 20th. In addition to the competition between the top two teams from each league, there will also be a Best of the Rest competition between four all-star teams comprised of players whose teams did not make the championship bracket.
To find out who takes the gold, keep an eye on
www.aauicehockey.org
.
ELEMENTARY SCHOOL DUALS RECAP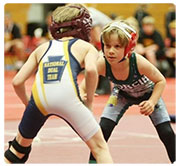 Last weekend, the city of Kingsport hosted the AAU Elementary School Duals. The event was the largest it's ever been with 24 teams from 11 different states!
After three days of fierce competition the winner of the Gold Division was Team Pennsylvania East with a score of 58-30 against Michigan Black.
To find out who came out on top in the other divisions, visit
www.aauwrestling.net
or
CLICK HERE
.
LEE PAMULAK MIDDLE SCHOOL NATIONAL DUALS RECAP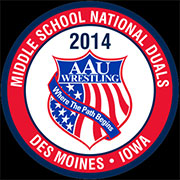 Lee Pamulak Middle School National Duals are a wrap for 2014. The tournament was held on April 12th and 13th in HyVee Hall in Des Moines, Iowa. The event hosted 34 teams and 2 All-Star teams that consisted of alternates from other teams.
On Saturday the duals started with six pools of six teams (745 wrestlers) who wrestled a round robin style tournament to decide what brackets the teams would advance to on Sunday.
READ MORE>>
DENVER BOYS' AND GIRLS' INTERNATIONAL BASKETBALL SUPER REGIONAL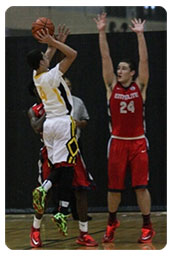 The Denver Boys' and Girls' International Basketball Super Regional tournament will roll into Denver, Colorado from May 30 through June 1st.
The event is open to 4th through 12th grade boys' and 5th through 12th grade girls' teams. The cost is $310 per team and the deadline to enter is May 16th, 2014.
Teams will have a 3 game minimum and the format will be pool play followed by bracket play. Trophies and medals will be awarded to first and second place teams.
For details and event info, view the official event flyer
HERE
!
SHOOT FOR GOLD AT ARIZONA BOYS DISTRICT STATE CHAMPIONSHIPS
Are
YOU
shooting for the gold on the road to AAU Nationals? Don't miss your chance to participate in the Arizona Boys District State Championships!
The competition will take place May 16th through 18th, 2014 at the KROC Corps Community Center. Cost to participate is $300 dollars per team open to ages 8U-17U.
Your team will be guaranteed a minimum of 3 games and the tournament will have a pool play followed by bracket play format.
For details and even info, view the official event flyer
HERE
!
SIGN UP TODAY FOR AAU GYMNASTICS AGE GROUP NATIONALS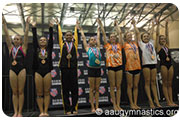 The AAU Gymnastics Age Group National Championships are headed to Orlando, Florida this summer from June 11th, through 15th. The event will be held at ESPN Wide World of Sports at the Walt Disney World Resort.
Competition will feature artistic (traditional) gymnastics, freestyle gymnastics, and freestyle acrobatics- crew jams. Athletes and coaches must register online at
www.aaugymnastics.org
by May 6th to be eligible to participate. Come, be a part of this outstanding gymnastics event!
For details and event info, view the official event flyer
HERE
!
GRAB YOUR BATTING GLOVES AND COME DOWN TO FLORIDA
The inaugural AAU Wood Bat Championship has expanded to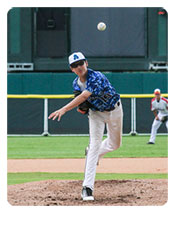 include 14U teams as well as high school-aged teams. All games will be played at the ESPN Wide World of Sports. Get your entry in early as we are only accepting 20 total teams between the two age groups.
The 2014 AAU High School & 14U Wood Bat Championship will take place on June 15-21. The entry fee is $850 per team with a five game guarantee. The deadline to register is May 26th, so register soon! Teams may be comprised of high school teams, athletes from multiple high schools or travel ball players currently in high school.
Come on out and join us at the Spring Training home of the Atlanta Braves and showcase YOUR skills!

Click HERE
for more info.
GET SANDY AT THE 2014 AAU BEACH TOURNAMENT SERIES
Orlando Volleyball Academy (OVA) will be hosting the 2014 AAU Beach Tournament Series from the middle of May through July. There will be boys' and girls' divisions ranging in age from 12 through 18 years old.

Medals will be awarded to first and second place winners and the top two teams in each age division for each date will qualify for the West Coast AAU Junior Olympic Games in Hermosa Beach, CA on July 12th and 13th. The entry fee is $70 per team.

For more information, CLICK HERE.
VOLLEYBALL ON FACEBOOK

Introducing the NEW Volleyball Facebook page!

Everything you need to know about AAU Volleyball is right here, from event information to pictures and results, this is YOUR one stop source for everything AAU Volleyball!

Click HERE to check it out and LIKE US NOW!