TRACK AND FIELD EVENTS COMING UP SOON
How to qualify for the 2017 Junior Olympic Games


AAU Primary Nationals
July 7-8th, 2017
ESPN Wide World of Sports, Orlando FL

AAU Club Championships
July 9th -15th, 2017
ESPN Wide World of Sports, Orlando FL

AAU West Coast Primary Nationals
June 30th , 2017
Reed High School, Reno Nevada

AAU West Coast Nationals
June 29th – July 2nd, 2017
Reed High School, Reno Nevada

AAU Cross Country Nationals
December 2nd , 2017
Charlotte, NC
(Save the date flier attached)

---
TRACK & FIELD NEWS

AAU Track & Field Day
June 1st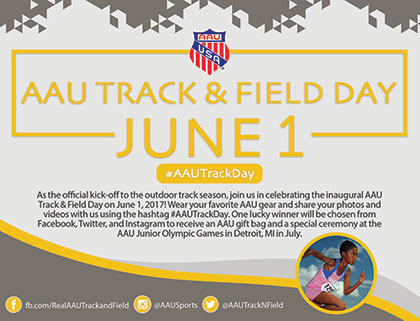 Amateur Athletic Union Announces June 1st as Inaugural National AAU Track and Field Day

Inaugural celebration to recognize the beginning of district championship season for more than 50,000 AAU Track and Field athletes

More than 50,000 track and field athletes across the country begin their road to AAU Junior Olympic Games with the start of district championship season on June 1 every year. As such, the AAU will begin recognizing that date as National AAU Track and Field Day with the inaugural celebration taking place this June 1, 2017.

"More than anything, National AAU Track and Field Day gives us an opportunity to stop and recognize all of our incredible athletes academic and athletic achievements," said Charles Oliver, AAU Track & Field National Chair. "It also allows us to say thanks to moms, dads, grandparents, coaches, teachers, sponsors, and the like."

Athletes across the nation will show their AAU pride by dawning their favorite AAU gear. Members will have an opportunity to earn special giveaways through contests held via social media using the hashtag #AAUTrackDay. The winners will also receive a special recognition at the AAU Junior Olympic Games in Detroit, Michigan should they be in attendance.

"It's said that 'it takes a village to raise a child'," said Oliver. "We want everyone to wear their favorite AAU gear on June 1 to show how many people are a part of the 'AAU village' and that we are all proud of our involvement within the organization."

Mark your calendars now and join us for the Inaugural National AAU Track and Field Day on June 1, 2017.

AAU VOLLEYBALL NEWS
LAST CHANCE TO REGISTER, 44TH AAU GIRLS' JUNIOR NATIONAL VOLLEYBALL CHAMPIONSHIPS



The deadline to register for the 44th AAU Girls' Junior National Volleyball Championships is here! Teams must be registered and paid by 11:59 pm EST on Monday, May 8th. Don't miss out on your shot at a National Title!

Join us in Orlando, Florida for theme park fun, two water park parties, and a whole lot of volleyball! To register or for more information, CLICK HERE.
JVA WORLD CHALLENGE DELIVERS A GAME CHANGING EVENT ONCE AGAIN

2007 marked the first ever JVA National Championship. Until 2010 the event was a year-end championship in mid-June. Fast forward to 2017 and the JVA World Challenge championship is the largest and most competitive JVA event to date.

There are many reasons why the JVA World Challenge is a game changing event for our sport, from the moment you arrive, until the last whistle, followed by the anticipation of next year.

Read more >>

ENGLEWOOD POLICE HELP TEEN CHASE BASKETBALL DREAM
Giving back to the community, Englewood police have raised money to support a native teen who's playing AAU basketball this spring.
As a freshman, 15-year-old Nakie Graham started varsity last season for Garfield High School, where coaches believe his physical and mental maturity could make him a first-team All League player someday.
Nakie is honing his skills this spring playing for the Englewood-based Bulls Basketball Club, an elite traveling team that competes against some of the best squads in the Amateur Athletic Union across the Metropolitan area.
"We have some talented individuals on our team, several of whom who play basketball at the college level," said Nakie's Bulls coach and mentor, Teshawn R. Warren.
A small budget makes covering the cost of facility space, travel and equipment tough, however, Warren said.
So the league turned to the community for support – and Englewood police answered the call.
They were impressed with Nakie – who grew up in the rough-and-tumble Rock Creek Terrace apartment complex just off Route 4 – and quickly raised nearly $500 for him, Lt. Matthew de la Rosa said.
The oldest of four children, Nakie was most often found down at the Broad Avenue courts – "kind of a must, growing up there," he said.
"I was a football baby but started to love basketball as I got older," Nakie said, "and it became a part of my everyday routine to go play ball with my friends."
"During the summer days we spent hours out there to only take breaks to chase the ice cream truck."
After his family moved to Garfield, Nakie said, he "started to take basketball very seriously."
Besides making varsity, he's kept his GPA above 3.0 – a must for participating on the Bulls spring team.
"Although I had to move out of Englewood, it will always be home to me," Nakie said. "It will always be the place that helped me build my love for sports and showed me my potential for greatness."
"Sports is my way of telling my story. It shows what I can accomplish with hard work and dedication."
74-YEAR-OLD POWERLIFTING AND ONEIDA NATION MEMBER SETS FOUR WORLD RECORDS AT THE 2017 AAU NORTH AMERICAN CHAMPIONSHIPS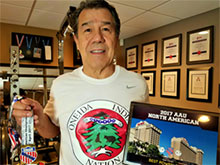 Amazing senior powerlifter Ray Fougnier recently set four new world records and was named Best Lifter of all male participants at the Amateur Athletic Union's 2017 North American Championships (April 7-9) in Laughlin, NV. Having grown up on the Oneida Indian Nation's homelands in Central New York, Fougnier is sponsored by the Nation and hopes that his incredible athletic success will help inspire all Native Americans and seniors to embrace healthy living and exercise at any age.
Ray Fougnier, an inspiring 74-year-old powerlifter and member of the Oneida Indian Nation recently set four world records at the 2017 AAU (Amateur Athletic Union) North American Powerlifting, Weightlifting, Feats of Strength, Strongman & Mas Wrestling Championships. Based on his age, weight and overall performance, Fougnier was also named Best Lifter among all competing men at the April 7-9 event in Laughlin, Nevada.

Competing in the 181-pound weight class, Fougnier set new world records in the squat (286 lb.), bench press (201 lb.), deadlift (419 lb.), and in the total score for the three categories (906 lb.). The new benchmarks replace the records previously set by Fougnier at the 2016 event.

Fougnier's sponsor, the Oneida Indian Nation congratulates him on this latest in his incredible string of athletic achievements and will continue to proudly support his mission of inspiring and motivating all Native Americans to lead a healthy lifestyle and embrace exercise regardless of age. Even though Ray didn't join powerlifting until his 70s, the self-trained phenom has achieved great success in the sport, setting numerous state and world records across multiple weight divisions.

Last year, Ray set three world records at the 2016 AAU World Powerlifting Championship in Las Vegas, Nevada, where he competed in a higher 198-pound weight class.
A retired teacher and former head of the American Indian program at Cornell University, Fougnier grew up on the Oneida Indian Nation's homelands located in Central New York. He now splits his time living in suburban Detroit, Michigan and Pigeon Forge, Tennessee.

Read More >>
2017 AAU KARATE NATIONALS - UPDATES
The Nationals are right around the corner and our hotels are filling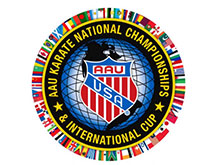 up. If you have not made your hotel reservation, you will want to do so ASAP by Clicking on the following link – Hotel Link. If you do not see a hotel to fit your needs of your Team or Family, please contact jennifer@aausports.org.
Also, the entry forms for Individual Athletes, Coaches, Referees and Clubs have now been posted on the AAU Karate website at the following links:
Any additional questions on the upcoming event, please visit www.aaukarate.org or contact jennifer@aausports.org.
AAU VOLLEYBALL VEGAS CUP
DIVISIONS:

14'S & 16'S
FEE:
$275

LOCATION:

Las Vegas, Nevada

May 6 & 7, 2017
For more information, contact info@aausnvolleyball.com
AAU BOYS' & GIRLS' BASKETBALL SPRING EVENTS