REGISTRATION IS NOW OPEN FOR THE 2017 AAU JUNIOR OLYMPIC GAMES
TRACK AND FIELD EVENTS COMING UP SOON
How to qualify for the 2017 Junior Olympic Games


AAU Primary Nationals
July 7-8th, 2017
ESPN Wide World of Sports, Orlando FL

AAU Club Championships
July 9th -15th, 2017
ESPN Wide World of Sports, Orlando FL

AAU West Coast Primary Nationals
June 30th , 2017
Reed High School, Reno Nevada

AAU West Coast Nationals
June 29th – July 2nd, 2017
Reed High School, Reno Nevada

AAU Cross Country Nationals
December 2nd , 2017
Charlotte, NC
(Save the date flier attached)

---
TRACK & FIELD NEWS

AAU Track & Field Day
June 1st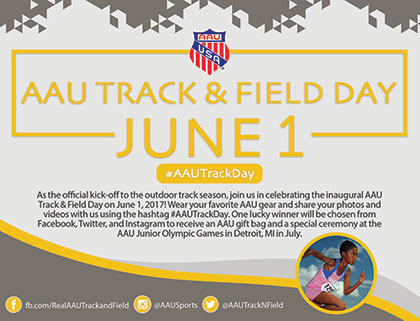 Amateur Athletic Union Announces June 1st as Inaugural National AAU Track and Field Day

Inaugural celebration to recognize the beginning of district championship season for more than 50,000 AAU Track and Field athletes

More than 50,000 track and field athletes across the country begin their road to AAU Junior Olympic Games with the start of district championship season on June 1 every year. As such, the AAU will begin recognizing that date as National AAU Track and Field Day with the inaugural celebration taking place this June 1, 2017.

"More than anything, National AAU Track and Field Day gives us an opportunity to stop and recognize all of our incredible athletes academic and athletic achievements," said Charles Oliver, AAU Track & Field National Chair. "It also allows us to say thanks to moms, dads, grandparents, coaches, teachers, sponsors, and the like."

Athletes across the nation will show their AAU pride by dawning their favorite AAU gear. Members will have an opportunity to earn special giveaways through contests held via social media using the hashtag #AAUTrackDay. The winners will also receive a special recognition at the AAU Junior Olympic Games in Detroit, Michigan should they be in attendance.

"It's said that 'it takes a village to raise a child'," said Oliver. "We want everyone to wear their favorite AAU gear on June 1 to show how many people are a part of the 'AAU village' and that we are all proud of our involvement within the organization."

Mark your calendars now and join us for the Inaugural National AAU Track and Field Day on June 1, 2017.

AAU VOLLEYBALL NEWS
LESS THAN TWO WEEKS to register for AAU Nationals in Orlando, FL!



The registration deadline is approaching fast! All teams must be registered and paid by 11:59 PM EST on May 8th in order to participate in this one of a kind tournament. You don't want to miss out on the fun this June! For more information, CLICK HERE.
Register now while you still can for the West Coast Championships in Las Vegas!



The registration deadline is upon us! Make sure you register by 11:59 pm EST this Friday, April 28th to be a part of the action! More information on this tournament at the Westgate Las Vegas Resort and Casino can be found HERE.
AVCA Thirty Under 30



The 2017 Thirty under 30 list honoring coaching talent at all levels has been announced! 15 members on the list are current or former AAU members from across the nation. CLICK HERE to see who was selected!
Fab 50 Athletes selected!



Volleyball Magazine announced its 2017 Girls' Fab 50 in a recent issue of the magazine. Thirty-nine of the 50 honorees are either current or former AAU Members. CLICK HERE to see the honorees!
PCA DEVELOPMENT ZONE
Athletes hoping for college recruitment should consider the importance of character. So should the coaches and parents of those athletes. Take it from Mike Brey, University of Notre Dame basketball coach and a member of the National Advisory Board for Positive Coaching Alliance, an AAU national partner. In this video, Coach Brey explains what he looks for in terms of character in his recruits, seeking information from the student-athlete's social media accounts, school officials, teachers, and the general student population. This video is one of more than 1,500 free multi-media resources for youth and high school sports coaches, parents, student-athletes and administrators within PCADevZone.org, courtesy of Positive Coaching Alliance.
AAU TAEKWONDO SHINES IN SPAIN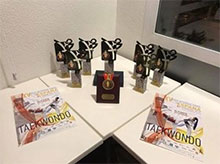 Alicante, Spain - On the heels of a dominating showing in Germany last year, the AAU Taekwondo Team (led by Head Coach Greg Tubbs) solidified its standing as USA's top grass-roots taekwondo program by outperforming the competition in multiple divisions.

The Spanish Open (G1) welcomed its sparring competitors on Saturday March 25, hosting cadets and juniors. Team AAU/USA racked up medals early for day one of competition, while earning an overall cadet third place – three gold and three bronze
medals.
To Read Entire Story, Click Here
2017 AAU KARATE NATIONALS - UPDATES
The Nationals are right around the corner and our hotels are filling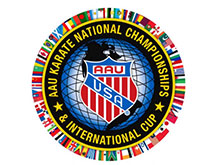 up. If you have not made your hotel reservation, you will want to do so ASAP by Clicking on the following link – Hotel Link. If you do not see a hotel to fit your needs of your Team or Family, please contact jennifer@aausports.org.
Also, the entry forms for Individual Athletes, Coaches, Referees and Clubs have now been posted on the AAU Karate website at the following links:
Any additional questions on the upcoming event, please visit www.aaukarate.org or contact jennifer@aausports.org.
AAU VOLLEYBALL VEGAS CUP
DIVISIONS:

14'S & 16'S
FEE:
$275

LOCATION:

Las Vegas, Nevada

May 6 & 7, 2017
For more information, contact info@aausnvolleyball.com
AAU BOYS' & GIRLS' BASKETBALL SPRING EVENTS
AAU BASEBALL HIGHLIGHTED EVENTS ARE LISTED BELOW
Click here for more information and the full listing of events

Dates are subject to change
CINCO DE MAYO
Dates: 5/6/17-5/7/17
Location: Southern California
Entry Deadline: April 30, 2017
SANDLOT AAU GRAND NATIONALS QUALIFIER
(10u-13u)
Dates: 5/12/17-5/14/17
Location: Cincinnati, OH
Entry Deadline: May 5, 2017
AAU MOTHER'S DAY SHOOTOUT
Dates: 5/13/17
Location: Oxford, NC
Entry Deadline: May 6, 2017
AAU VOLLEYBALL HIGHLIGHTED EVENTS ARE LISTED BELOW

Click here for the full listing of events
Dates are subject to change
2017 CAN-AM CLASSIC
Dates: May 20-21, 2017
Location: Detroit, MI
Entry Deadline: May 8, 2017
ELEVATE SUMMER BASH
Dates: Jun. 16-17, 2017
Location: Allen, TX
Entry Deadline: Jun. 14, 2017
Xplosion Spring Showdown
Dates: May 13, 2017
Location: Virginia Beach, VA
Entry Deadline: May 8, 2017
Informatio Flyer: Click Here
Elevate Summer Bash
Dates: June 16-17, 2017
Location: Allen, TX
Entry Deadline: June 14, 2017
Informatio Flyer: Click Here

AAU BEACH VOLLEYBALL

DISTRICT BEACH
CHAMPIONSHIP
Dates: Mar. 4 - Jul. 8, 2017
Location: Mansfield, TX


Entry Deadline: Varied

P1 BEACH SERIES
Dates: Mar. 19 - Jul. 8&9, 2017
Location: Mansfield, TX
Entry Deadline: Varied

2017 CARPE DIEM BEACH SERIES
Dates: Jun. 17, 2017
July 22, 2017
Aug. 5, 2017
Aug. 12, 2017
Aug. 26, 2017
Location: Holland, MI


Entry Deadline: Varied