2015 AAU NATIONAL MITE CHAMPIONSHIP HIGHLIGHTS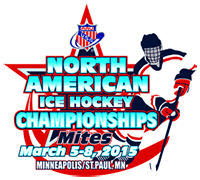 The 2015 AAU National Mite Championship in Minneapolis/St. Paul, MN has officially come to an end. In the Tier One Division, the team from Livonia, MI came back from a 7-3 defecit in the third period to tie the game and force overtime against the hometown Minnesota Made Hockey team. Once in overtime, the Livonia team could not be held back, eventually scoring the game winning overtime goal to clinch the championship with a score of 9-8.

CLICK HERE for an awesome highlight package of this amazing championship game!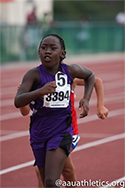 MINNESOTA TRACK & FIELD DISTRICT QUALIFIER
On June 20th and 21st, 2015 Track Minnesota Elite will host the Minnesota District Qualifier. This event qualifies athletes that finish in the top sixteen (16) in their event(s) for the 2015 Region 14 Qualifier. The 2015 Minnesota District Qualifier will be held at Brooklyn Center High School in Brooklyn Center, MN.

CLICK HERE for the meet information and schedule!
MY AAU STORY: AAU GIRLS' BASKETBALL-THE JENNA CURRY STORY
Originally posted on SpeakEasyOhioU.com by: Shelby Dermer
She traded a jersey and shoes for a clipboard and a whistle.
Jenna Curry's sports career was going right on track as she blossomed in two sports in high school. Playing for Sissonville High School in West Virginia, Curry was a standout as goalkeeper for the Indians for all four years of high school, earning back-to-back 1st Team All-State and All Kanawha Valley Honors. She even was named the Class AA West Virginia Goalie of the Year in 2010.

But despite soccer success, Curry's first love was on the basketball court.

Curry was heavily recruited going into her senior campaign after her breakout season as a junior–where she eclipsed the 1,000 points mark and averaged nearly 20 points per game and nine rebounds as she helped lead the Indians to their third straight Cardinal Conference Title. Her sophomore and junior year she was 1st Team All-Conference, All-Kanawha Valley and All-State, just like soccer.

Curry ended up signing to play basketball for Ohio University following her Junior season.

Life was going great for Curry going into her final year of High School basketball, until the ball dropped to a new year in 2011, which would bring disaster.

Facing rival Scott High School on January 3rd, 2011, Sissonville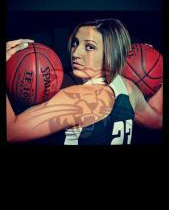 trailed by three with under a minute remaining in the contest. Curry took a shot to try to tie the game and immediately knew the shot was off the mark. While racing to get her own rebound, Curry collided with another players' knee and fell awkwardly to the ground and knew right away something was wrong.

"I immediately knew that something was wrong because normally I would pop right back up after getting hurt and this time I was screaming in pain," Curry stated.

Soon after, Curry found out that she had torn her ACL, an injury that would require surgery and would end her playing career at Sissonville.

With her basketball career facing a questionable future and college right around the corner, Curry sought the medical opinion of a few doctors, hoping to receive some good news.

"The first doctor that I went to basically told me that I would never be able to play basketball again. I was so angry and upset with him I got up and told my mom we were leaving the doctor's office. I had already signed with Ohio University and there was no way that one doctor was going to determine my future."

Seeking some guidance, Curry called Semeka Randall; head coach at the time for Ohio and wanted a second opinion. She was referred to a surgeon at the Cleveland Clinic, who told Curry that after surgery and proper rehab, she would be good to go in college.

Normal rehabilitation for a torn ACL is around 9-12 months, but Curry had different ideas. She decided to try to play as a true freshman for Ohio, after just six months of rehab, a decision she would later regret as she would tear the same ACL again in November of 2011, the second time in an 11 month span.
Wanting another chance, Curry took the smart route and elected to go with a full one-year rehab after another surgery to the same knee.

"I rehabbed and worked very hard every single day sometimes twice a day trying to get my weight down from the surgeries, getting mobility in my leg. It was hard work. I was on crutches for almost 2 and half months. 12 months drug by and finally I was released to play basketball again," Curry said.

After one year of waiting, she finally got completely healthy and was looking forward to her college debut, and had a certain game on the schedule as her grand return to center stage–a December 15th road contest against Marshall in her home state of West Virginia.

"Being from West Virginia, this was a game that a lot of my family and friends had planned on attending."

The day before the team traveled to Marshall for the game, Curry's chance of playing took a major twist of fate when she fell to the ground during practice, re-injuring the same knee. Coaches and the training staff thought maybe it was just a tweak, but Curry knew otherwise.

"I fell on the ground and started screaming, pissed off at the world knowing what had happened. My coaches tried to tell me maybe I just tweaked it but I knew what had happened."

An MRI on the knee confirmed Curry's original diagnosis; she had torn the same ACL for the third time in less than two years basketball once again took a backseat to an injury.

When Ohio hired a new coach at the beginning of the 2013 season, Bob Bolden, he decided that with Curry's history of knee injuries, she was no longer needed on the team.
She never appeared in a single game.

This took quite the toll on Curry, who had worked her whole life for a chance to play at the collegiate level. "I was devastated because my world revolved around basketball."

Now that her playing career was over, Curry thought back to all that she had sacrificed for the game for years when she was in the process of trying to get recruited. "I missed birthday parties, family vacations and shut everyone out because I was in a gym somewhere trying to get better."

"I went into depression and shut everyone out," Curry said after her third injury.

Though her playing career was over, a new career was just beginning.

Curry decided to start an AAU Basketball League. She asked for the assistance of a former teammate, Cierra Jones to go into the business with her. Together, they founded a non-profit AAU organization called WV Team Infinity.

After beginning with just one girls' team, the organization took off; and in just a short period time- that one team turned into 10 teams, eight boys and two girls and the organization took off.
Curry began coaching and is now helping her players achieve the same dream that she had.

"We are dedicated to doing whatever is necessary to help young boys and girls reach the next level in their basketball career."
Although ten different teams are a part of WV Team Infinity, Curry is head coach for one of the two girls' teams, the 15U club and is assistant coach of the 16 and 17-year old team as well.

Through Team Infinity, Curry and her teams have traveled to all kinds of tournaments in 2014–in places such as: Lexington, Cleveland, Cincinnati and Toledo.

2015 shows even more opportunities for the team, as they will travel to Raleigh, North Carolina, Virginia, Columbus, Tennessee and Washington D.C for even more tournaments against the nation's elite competition.

Curry credits her players and the parents of her team for their dedications to making Team Infinity so successful.

Read More >>
UPCOMING AAU VOLLEYBALL GRAND PRIX AND SUPER REGIONAL EVENTS!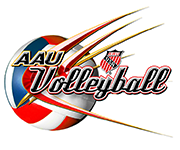 This weekend is going to be full of AAU Volleyball events! There will be 4 Grand Prix events and 2 Super Regional events taking place in Idaho, Indiana, Tennessee, North Carolina, Rhode Island and Maryland! In these tournaments, the winning team in each age group receives a free or discounted entry to the AAU Junior National Volleyball Championships in Orlando or the West Coast Volleyball Championships in Las Vegas. Winners in divisions with 12 or more teams will receive a free entry. In divisions with less than 12 teams, the entry fee will be discounted based on the number of teams that participated. For more information, view the event flyers linked below or visit www.aauvolleyball.org.

TEXAS VOLLEYBALL'S 2015 TOUR BEGINS!
This weekend kicks off the first event in the Texas Volleyball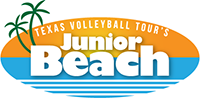 Tour's Junior Beach Series! This series is made up of 4 different circuit events which will take place from March 14th – May 3rd and will end with the District Championship from
May 23rd – 25th in San Antonio, TX. These events will offer competition for girls ages 12U, 14U, 16U, and 18U. Each of the circuit events that have at least 5 teams per division will qualify the top 2 teams to the West Coast AAU Junior Olympic Games. For the District Championship, divisions with 5-9 teams will qualify the top 2 teams and divisions with 10 or more teams will qualify the top 4 teams to the West Coast AAU Junior Olympic Games!

For more information on this weekend's event, visit www.texasvolleyballtour.com or CLICK HERE.

For the complete AAU Beach Volleyball Schedule, visit www.aaubeach.org or CLICK HERE.
AAU BOOTH AT LETS PLAY HOCKEY CONSUMER EXPO SECURES TOP NOTCH HELP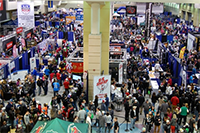 Massive crowds attended "The Let's Play Hockey/Baseball/Lacrosse Expos" in St Paul, Minnesota last weekend. The event had a new all-time attendance record of 135,618 at the Boys' High School Hockey State Tournament held at the Xcel Energy Center, home of the Minnesota Wild. The Lets Play Hockey Consumer Expo Friday and Saturday at the River Centre had record crowds as well.

AAU National Hockey Chair, Keith Noll , stated, "Hundreds of the Mite athletes attended the Expo while in Minnesota for the AAU National Mites Championships." Noll went on to comment, "the athletes received a free bag and t-shirt from the AAU and Black Biscuit while attending the Expo."

Several NHL Hockey stars were in attendance signing autographs.

AAU Hockey, Lacrosse, Baseball, Softball, Minnesota AAU and the AAU Sports programs were well represented during these events.

For complete results on the 2015 AAU National Mites Hockey Championships including statistics, team pictures, and video of the championship games. www.aauicehockey.org
VOTE TODAY! AAU ANNOUNCES 85TH ANNUAL SULLIVAN AWARD SEMI-FINALISTS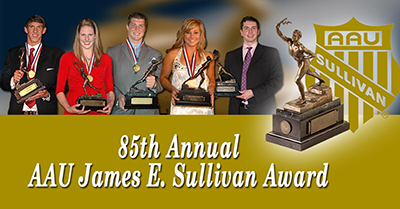 Online Contest Software provided by WizeHive

Lake Buena Vista, March 9, 2015 – AAU President/CEO Dr. Roger Goudy and AAU Sullivan Award Chair Melissa Willis announced voting is officially open today for the 85th Annual AAU James E. Sullivan Award. Fourteen (14) nominees including Ohio State Buckeye running back Ezekiel Elliott and Olympic Figure Skating Gold Medalists, Meryl Davis & Charlie White, are among the AAU Sullivan hopefuls.

Voting is open to everyone (sport fans, news media, coaches, family, friends) and is located at www.aausullivan.org or www.aausports.org.

Known as the "Oscar" of sports awards, and older than The Heisman, the AAU Sullivan Award honors the outstanding amateur athlete in the United States. It has been presented annually by the AAU since 1930 as a salute to founder, past president of the AAU, and a pioneer in amateur sports, James E. Sullivan. Besides athletic achievement, the AAU Sullivan Award also looks for leadership, character and sportsmanship. Past recipients of the award include: Bruce Jenner (1976), Peyton Manning (1997), Michael Phelps (2003), J.J. Redick (2005), Tim Tebow (2007), Shawn Johnson (2008), and Missy Franklin (2012)

"We are excited to open the voting for this year's AAU Sullivan Award with such an accomplished group of athletes," said Dr. Goudy. "From a Heisman Trophy winner (Marcus Mariota) to a freshman center at Duke University (Jahil Okafor) as well as the first female American luge athlete to medal at the Olympics
(Erin Hamlin), this year's class truly represents the very best in amateur athletics."

Semi-finalist voting will close March 15th. The top six (6) finalists will then be named. Finalists will attend the award ceremony on April 19, 2015 at 2:00pm during which time the winner will be announced. Tim Morehouse, 1988 Olympic Silver Medalist in fencing, will emcee the event.

Also, this year's ceremony marks the return to the prestigious New York Athletic Club (NYAC). Founded in 1868, the NYAC was one of the first organized amateur athletic clubs in the United States."With its rich and storied history, the return of the award to the New York Athletic Club signals the AAU's commitment to both recognizing the excellence of today's athletes while also celebrating the accomplishments of those who came before," said Willis.

Rounding out the list of semi-finalists are: Simone Biles (Gymnastics), Shawn Barber (Pole Vault), Adeline Gray (Wrestling), Micha Hancock (Volleyball), Haley Ishimatsu (Diving), Katie Ledecky (Swimming), Kaleena Mosqueda-Lewis (Basketball), Ollie Schniederjans (Golf), Maggie Steffens (Water Polo).

For more info on the event, including voting, past winners, event details and full bios on the nominees, visit aausullivan.org.

Read More >>

2015 14-UNDER YOUTH INDOOR TRACK AND FIELD NATIONAL CHAMPIONSHIPS- PHOTOS
Photos from around the oval at the
2015 AAU 14-Under Youth Indoor National Championships held in Ypsilanti, Michigan at the University of Eastern Michigan's Bowen Field-House.
Click Here

NAISMITH TROPHY BOY'S AND GIRL'S HIGH SCHOOL ALL-AMERICA TEAMS ANNOUNCED

UPDATE: The Naismith Trophy Boy's and Girl's High School All-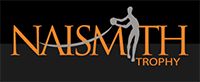 America Teams, presented by Hilton Worldwide, were announced today!

CLICK HERE for the Boy's High School All-America Team

CLICK HERE for the Girl's High School All-America Team

The Naismith Trophy High School Player of the Year Boy's and Girl's Midseason Teams presented by Hilton Worldwide were released today! Each team consists of 15 of the top players in the United States and this year all of the players on both the boys' and girls' teams are AAU alumni!

Below is the history of the award taken from the Naismith Trophy website.

The Naismith Awards were founded by the Atlanta Tipoff Club to recognize accomplished athletes, coaches, officials and contributors to high school and college basketball. Named in honor of Dr. James Naismith, the creator of the game of basketball, the first Naismith trophy was awarded in 1969 to UCLA's Lew Alcindor, later known as Kareem Abdul-Jabbar. The trophy was sculpted by Marty C. Dawe of Atlanta and has become among the most prestigious national honors awarded each year to top basketball players in the nation. The Women's Player of the Year Award was first given to Anne Donovan of Old Dominion University in 1983.

Each year the club's board publishes the "Naismith Watch" list that is made up of the top 50 players to watch in men's and women's college basketball. The organization also releases a list of 30 mid-season Naismith candidates. At the end of the season the Naismith Trophy is awarded to the player of the year in men's and women's college basketball. A national voting academy of leading basketball coaches, administrators and journalists narrows the group down to four finalists based on player performance throughout the season. The final four Naismith finalists will make up the ballot and the player of the year is voted on by the group.

In 1982 the Atlanta Tipoff Club established the Outstanding Contribution Award to honor men and women who have had a positive impact on the game of basketball.

The Naismith Men's College Coach of the Year Award and the Naismith Women's College Coach of the Year Award were established in 1987 and were originally given to the coaches of the men's and women's NCAA Division I Tournament Champions. In 1989, the governing board changed the selection criteria to the voting process used today in which the Atlanta Tipoff Club's Board of Selectors first votes to compile a top 25 list of coaches for each award. Then, through additional votes, the list is narrowed down to four and finally, the national winner.

Also in 1987, to honor the nation's best boy's and girl's high school basketball players, the Naismith Trophy Boy's High School Player of the Year and the Naismith Trophy Girl's High School Player of the Year were established. The board compiles a top 10 list of players from across the country for both awards. The winners are then selected by board vote.

The Naismith High School Boy's Coach of the Year and Girl's Coach of the Year categories were added in 2008.
Winners are chosen for the following awards:
Men's and Women's College Player of the Year
Men's and Women's College Coach of the Year
Men's and Women's College Official of the Year (Lifetime Achievement)
Men's and Women's Outstanding Contributor to Basketball (Lifetime Achievement) delivered by UPS
National Boy's and Girl's High School Player of the Year Presented by Hilton Worldwide
National Boy's and Girl's High School Coach of the Year

THERE'S NOTHING SMALL-TOWN ABOUT MEGAN GUSTAFSON'S GAME
Originally posted on Prep Zone Wisconsin by Dave Lubach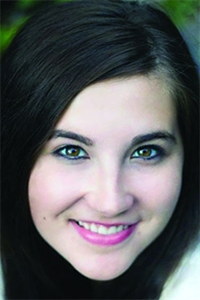 Megan Gustafson was too young to remember many of the details of South Shore High School legend Jolene Anderson's memorable WIAA state tournament experience.

But as she sat in the stands at the Alliant Energy Center in Madison as a grade school student, watching Anderson transition from small-town curiosity to Wisconsin basketball legend, one thought came back consumed her during the long ride back home to the shores of Lake Superior.

"I thought it would be super cool to help your team to go state and play like that," Gustafson said.

A little more than a decade later, Gustafson hopes to deliver a similar story line – and an even happier ending – for her school, with an enrollment of 47, located in a town few could locate on a map.

Time to shine
Anderson, a high-scoring, 5-foot-8 guard, arrived at a 2004 WIAA Division 4 semifinal against Elkhart Lake-Glenbeulah as the state's all-time leading scorer and a University of Wisconsin recruit. But Anderson was an unknown to a large segment of state basketball fans. Port Wing, where South Shore is located, sits just west of Superior and is almost a 6-hour drive from Madison.

"That whole area is a mystery," said Mark Noll, coach and director of Team Wisconsin Basketball, an AAU program based in the northwestern part of the state for which both Anderson and Gustafson played.

Anderson convinced fans she was the real deal, delivering a performance for the ages. She scored 46 points and grabbed 28 rebounds as the Cardinals advanced to the state title game, which they eventually lost. Anderson finished her prep career with 2,881 points before starring at the University of Wisconsin, where she finished as the Badgers' all-time scoring leader and earned all-Big Ten honors. She is now playing professionally in Europe.

Fast forward 11 years to 2015. Gustafson is the state's new scoring leader, taking the torch from the girl she watched play while growing up, as South Shore (25-2) prepares for Thursday's Division 5 semifinal game at 3:15 p.m. against Wisconsin Rapids Assumption (24-3) at the Resch Center in Ashwaubenon.

Gustafson, whose team was just happy to be there when she was a sophomore, returns as a senior with bigger plans.

The first time to state "was out of the blue," Gustafson said. "Everyone was shocked we were there. This year we want to get down there and win a game or two."

And this time, like Anderson before her, Gustafson will hit the state floor with a legion of state fans eager to see what all the fuss is about.

South Shore's second-year coach Ryan Tiberg is among those happy she's getting the opportunity in the spotlight.

"I got a couple of emails (Sunday) from friends and an old coach from back home in Glenwood City, who said they were so happy that the state is going to get a chance to see Megan play," Tiberg said. "Up here it's been going on for some time, but Milwaukee or Madison doesn't get a chance to see her play. So we're excited for Thursday. She'll get a chance to show what she can do."

Record(s) holders
The comparisons with Anderson are inevitable, and Gustafson seems to embrace them. In this small community where everyone knows everybody, and where she considers her senior class of 12 students all "brothers and sisters," the Gustafson and Anderson families are tight.

Jolene's sister, Janice, is a freshman at UW-Eau Claire after graduating from South Shore last year. Gustafson considers her a close friend.

"We're both from South Shore, and it's pretty cool that we both come from such a small school," Gustafson said of Anderson. "Obviously, people are going to make the comparisons. She was a great player. I remember watching her and it's nice to know her family. Her family is great. Jolene's legacy has been at South Shore for such a long time."

So it also comes as no surprise that Gustafson brings her own element of mystery to the state tournament this weekend – along with a chance to extend her own legacy.

In leading the Cardinals here, Gustafson has put up the kind of monster stat nights usually only found in a video game. A sampling includes:

• The 46 points (on 20 of 28 shooting from the field) and 18 rebounds in an 81-45 win over Chequamegon on Feb. 16, the game in which she surpassed Anderson's all-time scoring record with a free throw early in the second quarter. "The most important thing I remember that when I set that record, I just wanted to make the free throw," Gustafson said. "I thought, 'Well, I better make this.'"

Read More >>
DOUBLE-GOAL COACH® AWARD WINNERS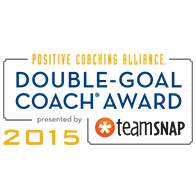 We are excited to announce the 25 winners of the Double-Goal Coach Award, presented by TeamSnap. PCA National Advisory Board Member Julie Foudy will conduct a panel discussion among selected winners of PCA's Double-Goal Coach Awards.
LOOKING FOR A TACKLE FOOTBALL PROGRAM IN YOUR AREA, WHY NOT START ONE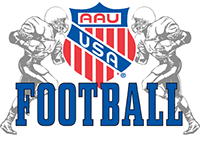 The AAU Tackle Football Program offers competition for athletes ages 6 & Under to 14 & Under at the local level, and 8 & Under to 14 & Under at the National Championship level. By hosting an AAU Tackle Football League, you will not only grow the sport in your area, but the top two teams from each age group will be eligible to compete at the AAU Tackle Football League Based National Championship in Orlando, FL!
For more information on how to start a program in your area, visit www.aaufootball.org or CLICK HERE.
INSIDE AAU TAEKWONDO NEWSLETTER

Do you need help keeping up to date with stories and events within AAU Taekwondo? Read over the "Inside AAU Taekwondo" newsletter to see what events are coming to your area!

Click here to read today!
REGISTER TODAY FOR THE 2015 AAU SCHOLASTIC DUALS

AAU Wrestling is pleased to announce that registration is now available for the 2015 AAU Scholastic Duals! This event is taking place from June 27th – July 2nd, 2015 at the ESPN Wide World of Sports Complex at the Walt Disney World Resort® in Orlando, FL.

Weigh-in order will be determined by order of registration, so guarantee your spot today!
For more information or to register for this event, CLICK HERE.
THE NEW MINNESOTA AAU WEBSITE IS NOW LIVE!
PLEASE GO TO: MINNESOTAAAU.ORG TO VIEW THE NEW SITE.

Once you are on the site, browse to see what we have going on but also follow these instructions to log in:



AAU Minnesota invites you to join the Sport Ngin Network. By creating an account and joining the Network, AAU Minnesota will be able to communicate better and keep you informed of upcoming events and news. Your Sport Ngin Account is universal and will allow you to connect with other organizations on the Sport Ngin Network.
Stay connected and click on the link below to join now.
DO YOU KNOW AN ORGANIZATION THAT COULD USE $5,000?

Nominations are now being accepted for the NCYS 2015 S.T.R.I.V.E. Award for "Organization of the Year" presented by AIG.
S.T.R.I.V.E. ~ Sports Teach Respect Initiative Values and Excellence!

The National Council of Youth Sports (NCYS) and AIG are proud to present the 2015 STRIVE Award for Organization of the Year. This award recognizes organizations that embrace a "kids first" approach, evidenced by their implementation of recognized best practices and policies that protect kids by promoting responsible health, wellness and safety within their organization.

Criteria for selection includes demonstrating a heartfelt passion and a commitment and a contagious spirit for helping kids succeed in youth sports activities while maintaining a commitment to established safety procedures. This award praises organizations' commitment to kids' health, wellness and safety, demonstrating to young people that it is possible for Sports to Teach Respect, Initiative, Values and Excellence without compromising safety.

Click here for Nomination Form and Official Rules: www.ncys.org/strive Nominating is easy as 1-2-3. Simply fill out the one-page nomination form and write a one page testimonial.

We will be striking up the band and honoring with the winning organization on Capitol Hill in Washington D.C. in July during National Youth Sports Week. There will be lots of publicity for your hometown and your organization! No one is more deserving of the S.T.R.I.V.E. Award than your organization and those who make youth sports programming such a great All-American success. Don't delay, nominate today! www.ncys.org/strive

Deadline for S.T.R.I.V.E. Nominations is April 20, 2015.
Don't Delay, Nominate Today!

About the National Council of Youth Sports (NCYS).
The National Council of Youth Sports (NCYS) leads the amateur youth sports industry as the largest known youth-serving organization in America. The NCYS is well-regarded for its advocacy in promoting healthy lifestyles and safe environments for stronger neighborhood and communities. Founded in 1979, the NCYS members comprise the Who's Who in youth sports. The NCYS membership represents more than 200 organizations/corporations serving 60-million boys' and girls' registered in organized amateur youth sports programs. NCYS is the portal and a united voice for amateur youth sports, leading the industry in promoting and enhancing the value of participation through advocacy and education. NCYS' reason to exist is to enhance the youth sports experience in America with a passion to create a better, more wholesome society for today and for generations to come!

Contact us: youthsports@ncys.org 772-781-1452. Additional information about NCYS can be found at www.ncys.org | LinkedIn: www.linkedin.com/groups | Facebook: www.facebook.com/ncys.org | Twitter:@youthsportsNCYS