GRAND NATIONALS DEADLINE APPROACHING
Don't miss the entry deadline for AAU Baseball's Grand Nationals. May 22 marks the latest date you can enter this event.

Held June 18-24 at Disney's ESPN Wide World of Sports Complex in Orlando, Florida, the entry fee for a five-game guarantee is only $850.

The format is pool play with all teams moving into the double-elimination round. The pool play will determine the seeding. Where there are more than 12 teams in an age group, there will be Diamond and Gold divisions. It is not too late to sign up. Don't miss this prestigious event. You have until May 22.

For any questions, contact Debra Kimbrell, debra@aausports.org, 407.828.3459.
TRACK AND FIELD EVENTS COMING UP SOON
How to qualify for the 2017 Junior Olympic Games


AAU Primary Nationals
July 7-8th, 2017
ESPN Wide World of Sports, Orlando FL

AAU Club Championships
July 9th -15th, 2017
ESPN Wide World of Sports, Orlando FL

AAU West Coast Primary Nationals
June 30th , 2017
Reed High School, Reno Nevada

AAU West Coast Nationals
June 29th – July 2nd, 2017
Reed High School, Reno Nevada

AAU Cross Country Nationals
December 2nd , 2017
Charlotte, NC
(Save the date flier attached)

---
TRACK & FIELD NEWS

AAU Track & Field Day
June 1st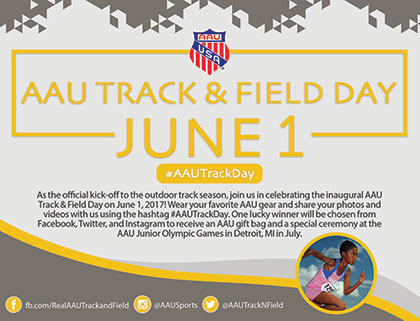 Amateur Athletic Union Announces June 1st as Inaugural National AAU Track and Field Day

Inaugural celebration to recognize the beginning of district championship season for more than 50,000 AAU Track and Field athletes

More than 50,000 track and field athletes across the country begin their road to AAU Junior Olympic Games with the start of district championship season on June 1 every year. As such, the AAU will begin recognizing that date as National AAU Track and Field Day with the inaugural celebration taking place this June 1, 2017.

"More than anything, National AAU Track and Field Day gives us an opportunity to stop and recognize all of our incredible athletes academic and athletic achievements," said Charles Oliver, AAU Track & Field National Chair. "It also allows us to say thanks to moms, dads, grandparents, coaches, teachers, sponsors, and the like."

Athletes across the nation will show their AAU pride by dawning their favorite AAU gear. Members will have an opportunity to earn special giveaways through contests held via social media using the hashtag #AAUTrackDay. The winners will also receive a special recognition at the AAU Junior Olympic Games in Detroit, Michigan should they be in attendance.

"It's said that 'it takes a village to raise a child'," said Oliver. "We want everyone to wear their favorite AAU gear on June 1 to show how many people are a part of the 'AAU village' and that we are all proud of our involvement within the organization."

Mark your calendars now and join us for the Inaugural National AAU Track and Field Day on June 1, 2017.

2017 AAU KARATE NATIONALS - UPDATES
The Nationals are right around the corner and our hotels are filling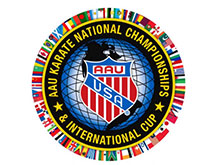 up. If you have not made your hotel reservation, you will want to do so ASAP by Clicking on the following link – Hotel Link. If you do not see a hotel to fit your needs of your Team or Family, please contact jennifer@aausports.org.
Also, the entry forms for Individual Athletes, Coaches, Referees and Clubs have now been posted on the AAU Karate website at the following links:
Any additional questions on the upcoming event, please visit www.aaukarate.org or contact jennifer@aausports.org.
2017 BOYS' JUNIOR NATIONAL VOLLEYBALL CHAMPIONSHIPS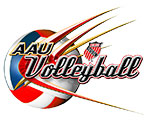 The registration deadline for Boys Nationals is quickly approaching! All teams must be registered and paid by 11:59 pm EST on May 26th! We have teams from California, Florida, Illinois, Puerto Rico, South Carolina, Virginia, and the Virgin Islands! For more information on this exciting event in Orlando, CLICK HERE.
---
SETTING, SPIKING, AND DIGGING PINK
The Amateur Athletic Union is proud to be partnering with the Sideout Foundation for this year's Girls' Junior National Volleyball Championships! We will be joining forces through the Dig Pink campaign to help raise money and awareness for stage IV breast cancer research.

Teams donating $25 or more will have the opportunity to win a FREE entry into next year's tournament! Don't forget to wear your pink in support of the cause on the following days: June 17th, June 21st, and June 25th.

For more information, CLICK HERE.
NOMINATE A COACH OR ATHLETE: 2017 JACK KELLY FAIR PLAY AWARD
The Jack Kelly Fair Play Award was established by the United States Olympic Committee in 1985 to honor the late USOC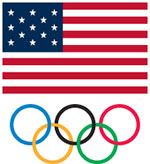 President and former AAU President Jack Kelly Jr. The award is presented to an athlete, team, coach or official in recognition of an outstanding act of fair play and sportsmanship displayed during the past year.
Fair play can be described as an athlete who is dedicated to playing fair, obeying the rules and upholding the spirit of the game. Sportsmanship is demonstrating gracious behavior before, during and after competition.
Nominees are now being sought for this distinguished honor, which will be officially presented during the 2017 U.S. Olympic and Paralympic Assembly in Colorado Springs, Colo., on October, 12-13. Please use the attached form to nominate a deserving individual from your organization for this award. Nomination deadline is Monday, June 5, 2017.
Click here to nominate your AAU player, team, official or coach.
REGISTRATION IS NOW OPEN FOR THE 2017 AAU JUNIOR OLYMPIC GAMES
AAU VOLLEYBALL HIGHLIGHTED EVENTS ARE LISTED BELOW

Click here for the full listing of events
Dates are subject to change
2017 CAN-AM CLASSIC
Dates: May 20-21, 2017
Location: Detroit, MI
Entry Deadline: May 8, 2017
ELEVATE SUMMER BASH
Dates: Jun. 16-17, 2017
Location: Allen, TX
Entry Deadline: Jun. 14, 2017
Xplosion Spring Showdown
Dates: May 13, 2017
Location: Virginia Beach, VA
Entry Deadline: May 8, 2017
Informatio Flyer: Click Here
Elevate Summer Bash
Dates: June 16-17, 2017
Location: Allen, TX
Entry Deadline: June 14, 2017
Informatio Flyer: Click Here

AAU BEACH VOLLEYBALL

DISTRICT BEACH
CHAMPIONSHIP
Dates: Mar. 4 - Jul. 8, 2017
Location: Mansfield, TX


Entry Deadline: Varied

P1 BEACH SERIES
Dates: Mar. 19 - Jul. 8&9, 2017
Location: Mansfield, TX
Entry Deadline: Varied

2017 CARPE DIEM BEACH SERIES
Dates: Jun. 17, 2017
July 22, 2017
Aug. 5, 2017
Aug. 12, 2017
Aug. 26, 2017
Location: Holland, MI


Entry Deadline: Varied
AAU BOYS' & GIRLS' BASKETBALL SPRING EVENTS